Weather & Climate – Shaba NR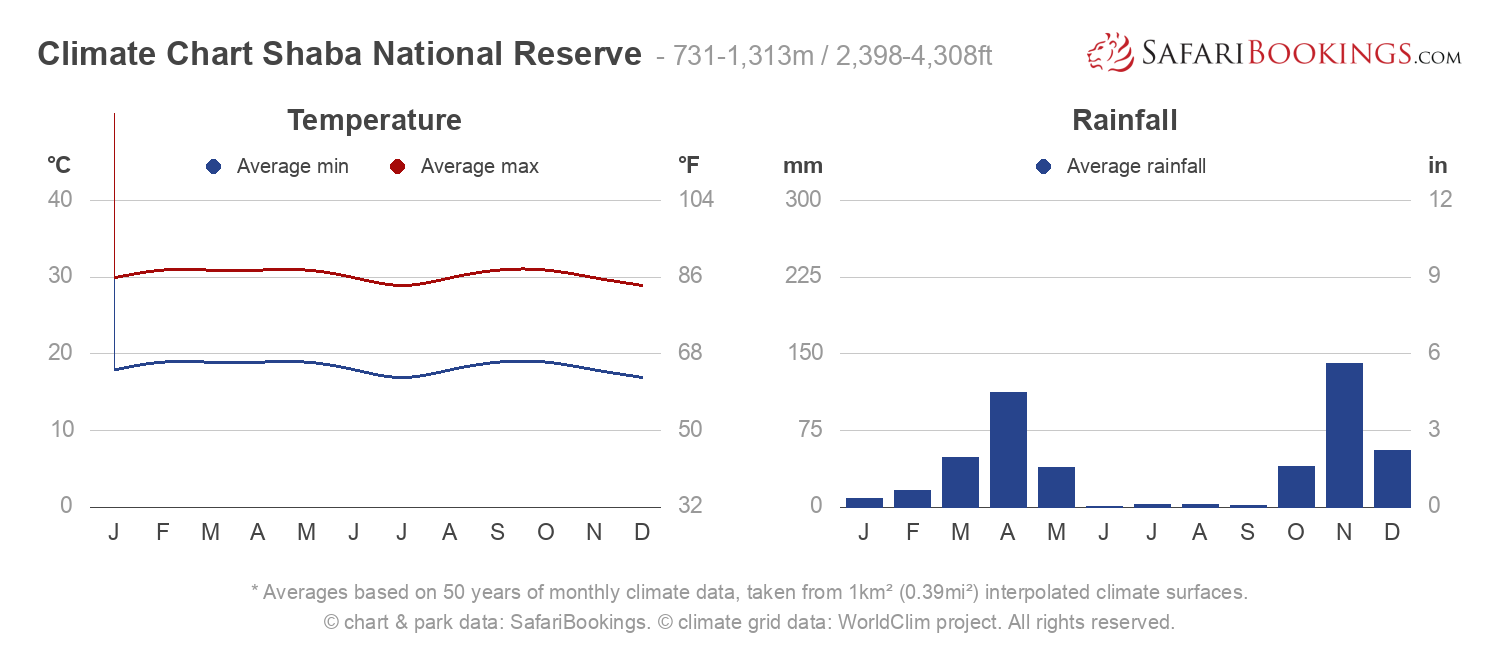 Climate Chart Shaba National Reserve
– 731-1,313m / 2,398-4,308ft
* Averages based on 50 years of monthly climate data, taken from 1km² (0.39mi²) interpolated climate surfaces.
© chart & park data: SafariBookings. © climate grid data: WorldClim project. All rights reserved.
In general, Shaba has a hot and dry weather pattern. The average temperatures are 32°C/90°F in the daytime, and 16°C/61°F at night. If early morning game drives are on the itinerary, bring warm clothing. Shaba has a low annual rainfall which tends to occur as short, heavy, widely-scattered showers. The 'long rains' generally occur between mid-March and mid-May, while the 'short rains' fall between mid-October and mid-December. The peak months for rainfall are April and November.
Dry season
–

June to September
It is very dry with almost no rain and hot, sunny days.
June & July – The days are full of sunshine. Afternoon temperatures average around 31°C/87°F.
August & September – Daytime temperatures rise in the build-up to the breaking rains. During the day in September, the mercury will average 32°C/90°F, although peaks are much higher.
Wet season
–

October to May
There are two Wet seasons – the 'short rains' and the 'long rains'. Separating the two Wet seasons is a brief, dry period during January and February.
October, November & December – The rains frequently break sometime in October. November is one of the wettest months. Storms in the afternoon are typical. The average temperature is 32°C/90°F, but it sneaks higher prior to rain and cools down afterwards.
January & February – This dry patch separates the short and long rains. Its beginning and duration is unpredictable. February is the hottest month – the average afternoon temperature is 34°C/93°F and it peaks higher.
March, April & May – The long rains typically begin to fall mid- to late-March. While it rarely rains all day, brief afternoon showers are common. April is the wettest month. Roads become slippery as driving conditions worsen. Afternoon temperatures are around 33°C/91°F.
Want to Visit Shaba NR?
Shaba National Reserve
Shaba NR Photos
View Photos
(23)