Weather & Climate – Skeleton Coast NP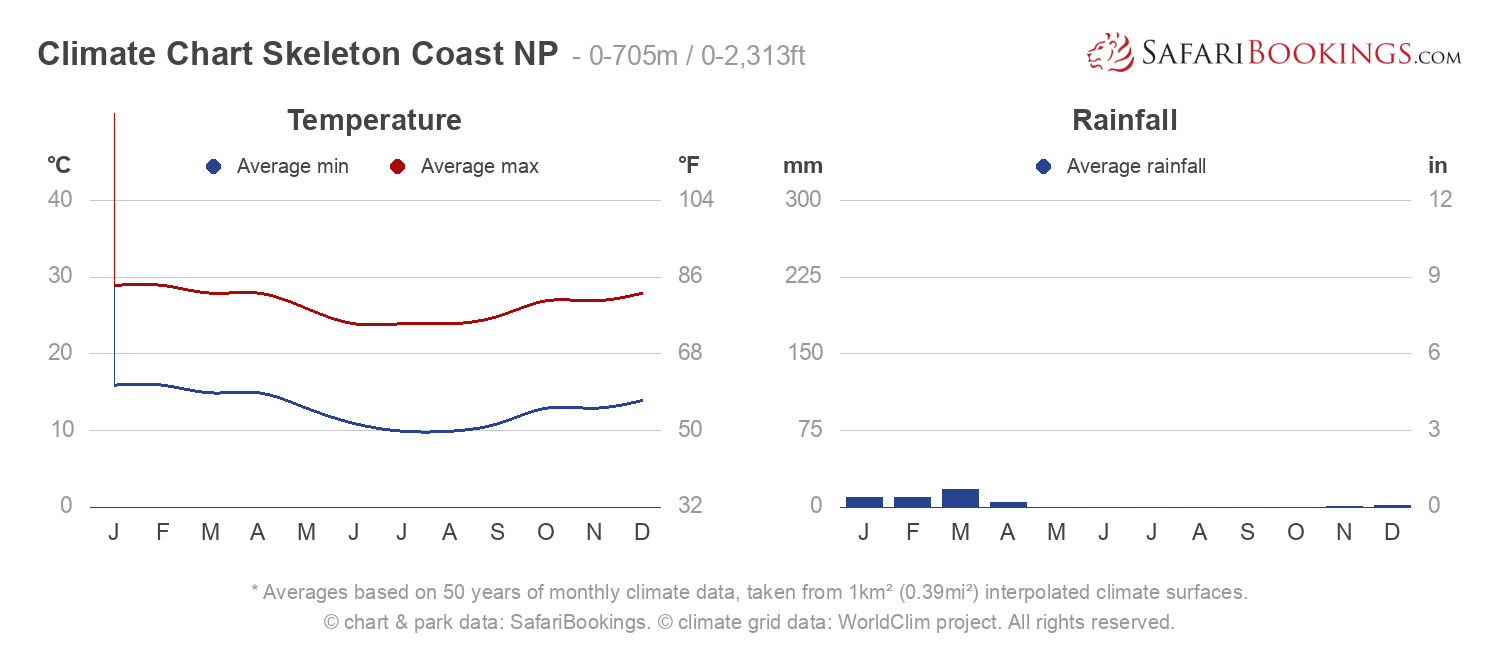 Climate Chart Skeleton Coast National Park
– -87-705m / -285-2,313ft
* Averages based on 50 years of monthly climate data, taken from 1km² (0.39mi²) interpolated climate surfaces.
© chart & park data: SafariBookings. © climate grid data: WorldClim project. All rights reserved.
The Skeleton Coast is characterized by heavy fog and a desert climate tempered by cold sea breezes. Early mornings tend to be very misty, but this often clears by mid-morning. Aside from the fog, it is mostly sunny and precipitation is low.

The altitude in the park varies widely from below sea level to 705m (-285 to 2,313ft). Temperatures drop by about 6.5°C for every increase of 1,000m (or 3.5°F per 1,000ft), leading to varied climatic conditions within the park.
Dry season
–

May to October – Winter
This is the coolest time of the year. Rainfall is practically absent. These winter months experience heavy fog and strong westerly winds, coming off the ocean and cooling things down.
May, June, July & August – Mornings tend to be foggy, but it is mostly sunny in the afternoon. There is almost no rain. These are the coolest months and the average afternoon temperature is 21°C/70°F. It is cold in the early morning with temperatures averaging 12°C/54°F.
September & October – It is dry and sunny with early morning fog. This is the end of winter and daytime temperatures average 22°C/72°F, but it can get increasingly hot during the day. Early mornings are warmer, with temperatures of around 14°C/57°F.
Wet season
–

November to April – Summer
The Wet season falls in the warmer summer months. The fog and cold sea winds prevent searing conditions. Without the wind and fog, temperatures peak well above average. Although this is the Wet season, rainfall is very low. Early mornings are warmer with temperatures ranging up to about 17°C/63°F.
November & December – The morning fog and cold sea winds keep average daytime temperatures to a low 24°C/75°F, but they will soar once there is less wind and the sun breaks out. It only rains occasionally.
January, February & March – There is more rainfall during these months, but it's still quite low. It is mostly dry and sunny. Daytime temperatures average 25°C/77°F, but will be higher when the cold sea winds are less and the fog clears.
April – There is a rapid decrease in precipitation in April. Average afternoon temperatures of around 24°C/75°F are typical.
Want to Visit Skeleton Coast NP?
Skeleton Coast National Park
Skeleton Coast NP Photos
View Photos
(20)