How to get to Tanzania
Tanzania Map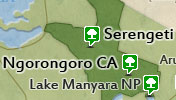 Open Map
There are direct and one-stop flights from overseas to Dar es Salaam, Kilimanjaro (near Arusha) and Zanzibar Island. Arusha town is the starting point for Tanzania's most popular
Northern Safari Circuit
.
Kilimanjaro International Airport
(JRO) is situated 46km/29mi east of Arusha. Tanzania's main airport is
Julius Nyerere International Airport
(DAR) located 13km/8mi southwest of Dar es Salaam. The latter is the entry-point for visitors to the southern parks.
Moving on from Arusha or Dar es Salaam you can fly or drive between reserves or you can opt to do a bit of both. Some domestic flights out of Arusha will leave from Kilimanjaro International Airport, but most flights to reserves leave from the much smaller Arusha Airport (ARK) located 8km/5mi west of town. However you choose to travel, in most cases your local tour operator will pick you up from the airport and arrange all further transportation as part of your safari package.
Jump to:
Flights & airlines to Tanzania
Please check Skyscanner or, for multiple destination flights, check Expedia to see which airlines can take you to Tanzania and what tickets would cost.
Domestic airlines & flights in Tanzania
Domestic and charter flights between parks are usually booked by tour operators as part of the tour package. Domestic flights can be booked with several domestic carriers.
Passport, visa and other entry requirements
Entry requirements can change, so please contact your local Tanzania embassy to verify the information below is current.
A passport is required for all foreign visitors and has to be valid for at least six months.
Passports must have a clean and a full visa page for endorsement.
When arriving from a yellow-fever-infected country in Africa or the Americas a yellow fever vaccination certificate is required.
Citizens of most countries require a visa, which can be obtained at arrival. A list of countries and specific visa eligibility is available from the Tanzanian Ministry of Home Affairs.
Want to visit Tanzania?