Weather & Climate – Tarangire NP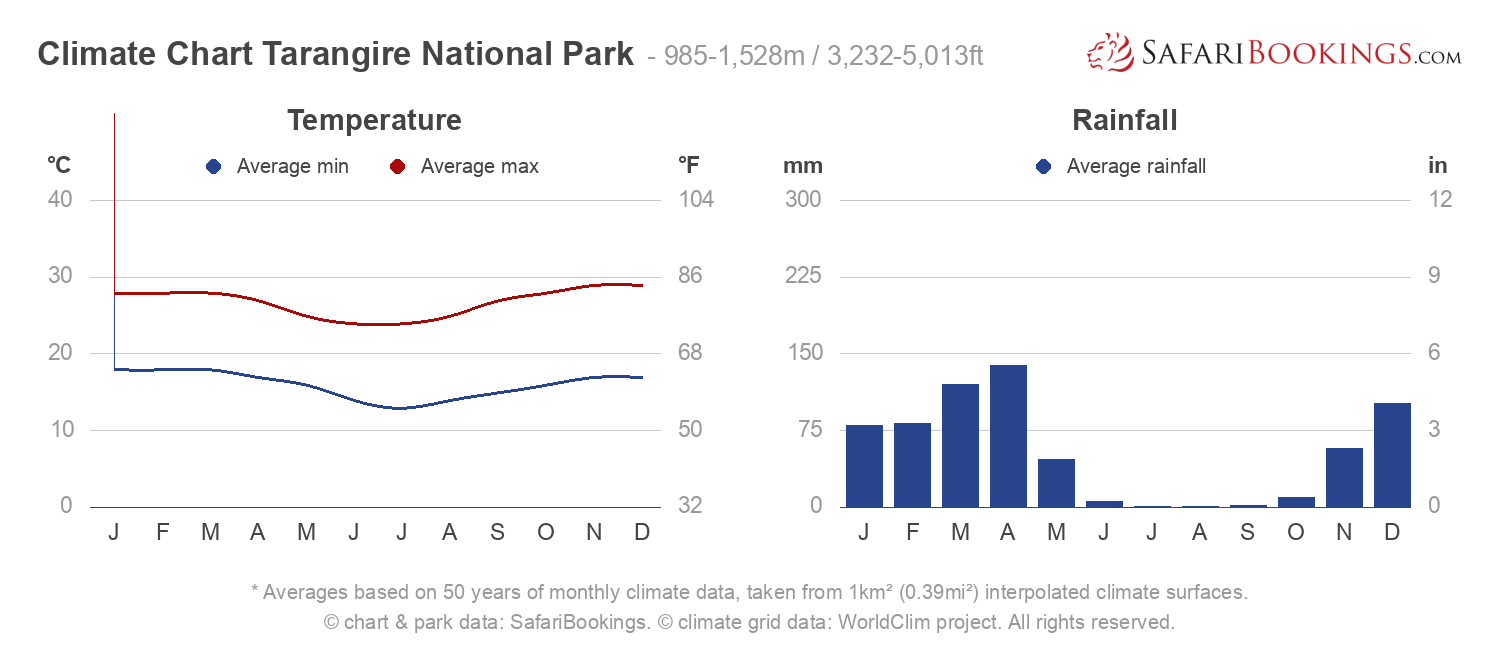 Climate Chart Tarangire National Park
– 985-1,528m / 3,232-5,013ft
* Averages based on 50 years of monthly climate data, taken from 1km² (0.39mi²) interpolated climate surfaces.
© chart & park data: SafariBookings. © climate grid data: WorldClim project. All rights reserved.
Weather in Tarangire is temperate and enjoyable. The altitude varies widely from 985 to 1,528m (3,232 to 5,013ft). Temperatures drop by about 6.5°C for every 1,000m you climb (or 3.5°F per 1,000ft), so even within the park there are wide climatic variations.

Wet seasons consist of: 'long rains' (March to May) and the 'short rains' (November to December). It usually rains in the afternoon and seldom for the entire day. Over the year, temperatures do not change much. It rarely gets too hot, but the evenings and mornings tend to get cold. Warm clothes for early morning game drives are recommended.
Dry season
–

June to October
June, July, August, September & October – Afternoon temperatures are close to 26°C/79°F. Days are clear with calm skies. It is possible for the short rains to begin in October. It cools down at night with temperatures dropping to about 14°C/57°F. Occasional cold fronts can lower temperatures to freezing.
Wet season
–

November to May
As in the Dry season, temperatures are moderate during the Wet season as well. Afternoon temperatures are usually around 28°C/82°F, and night temperatures are around 16°C/61°F.
November & December – 'Short rains' – October through December brings about four weeks of rain, the start of which is unpredictable. It will rarely have a negative effect on your trip, as it would be unusual for it to rain all day. Showers normally occur in the afternoon. Daytime temperatures are typically around 29°C/84°F, while night and early mornings hover close to 17°C/63°F.
January & February – A dry spell occurs after the short rains. The beginning of the spell is difficult to predict.
March, April & May – 'Long rains' – On most days, rain occurs, although it rarely rains the entire day. Cloudy skies are common. Average daytime temperatures are around 27°C/81°F, and 17°C/63°F at night. Cold fronts commonly roll in during April and May causing temperatures to get much colder.
Want to Visit Tarangire NP?
Tarangire National Park
Tarangire NP Photos
View Photos
(25)