Weather & Climate – Thornybush GR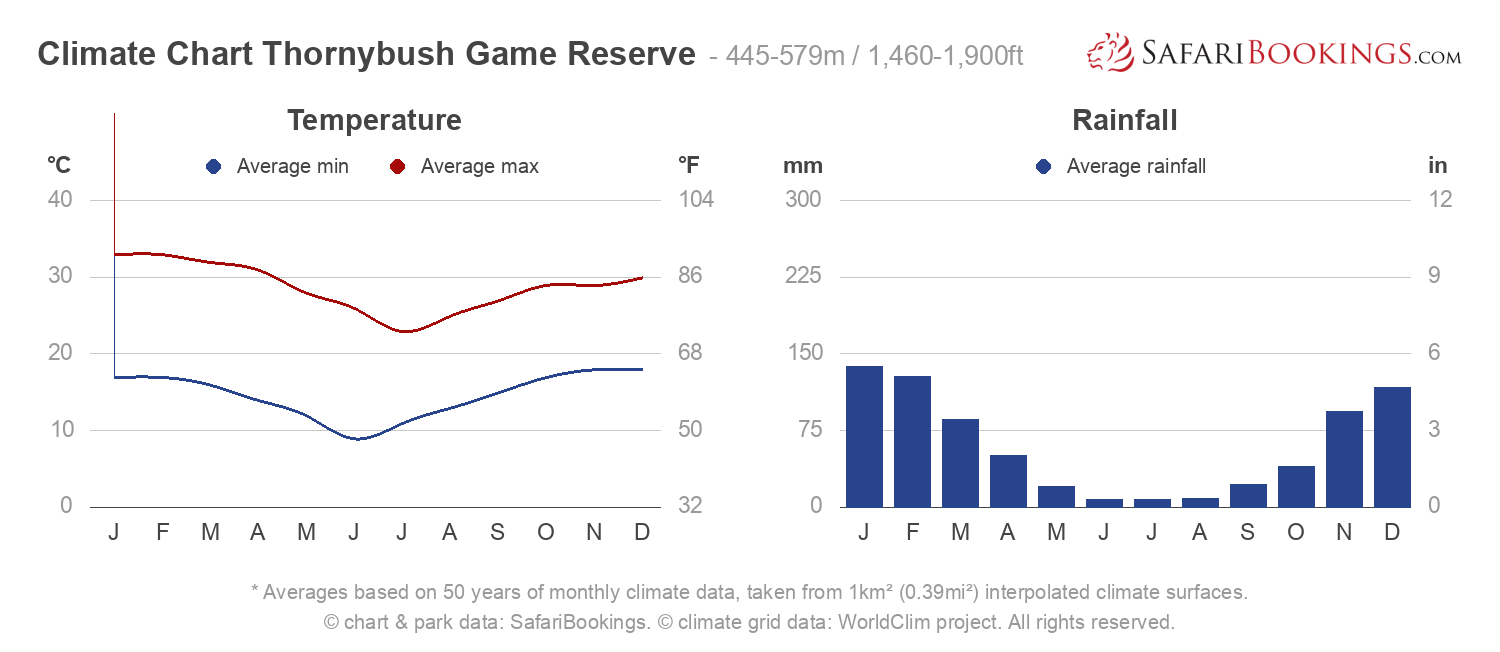 Climate Chart Thornybush Game Reserve
– 445-579m / 1,460-1,900ft
* Averages based on 50 years of monthly climate data, taken from 1km² (0.39mi²) interpolated climate surfaces.
© chart & park data: SafariBookings. © climate grid data: WorldClim project. All rights reserved.
Thornybush experiences its winter and summer in opposite times to Europe and North America. Winter (May to September) is dry with mild temperatures, while summer (October to April) is wet, hot and humid. Be sure to pack warm clothing for morning and evening game drives during the winter. Thundershowers are typical during the Wet season, although the rain rarely lasts the whole day.
Dry season
–

May to September – Winter
Rainfall is scarce during the entire winter, and there is little humidity. Permanent water sources become a gathering place for animals as water becomes hard to find elsewhere.
May – May marks the end of the summer season. Average temperatures cool to around 12°C/54°F in the morning, while afternoons average 26°C/79°F.
June, July & August – Game drives in the early morning tend to be cold, with temperatures around 10°C/50°F, so it is essential to bring warm clothing. Afternoons tend to be sunny and pleasant with temperatures averaging 25°C/77°F.
September – The heat index climbs to an afternoon average of 28°C/82°F. Mornings warm up to a 14°C/57°F on average. Rains finally begin, relieving the drought-like conditions.
Wet seasons
–

October to April – Summer
The heat and humidity of the summer can get uncomfortable. Temperatures can peak to 40°C/104°F and higher. On average, the daytime temperatures are around 31°C/88°F. Afternoon storms are commonplace, but it is rare for the rain to hang around all day.
October & November – The rain is more frequent, and temperatures hover between 17°C/63°F in the morning and 30°C/86°F in the afternoon.
December, January & February – These are the wettest and hottest months. Torrential downpours occur during the afternoon, resulting in high humidity. Average afternoon temperatures of 31°C/88°F are common, but temperatures can reach 40°C/104°F or higher and become unbearable.
March & April – It gets cooler, and it rains less. The month of April is almost perfect with clear weather, less humidity and few clouds. Nights are colder, but pleasant at about 16°C/61°F. Daytime temperatures of 28°C/82°F are common.
Want to Visit Thornybush GR?
Thornybush Game Reserve
Thornybush GR Photos
View Photos
(20)