Weather & Climate – Tsavo East NP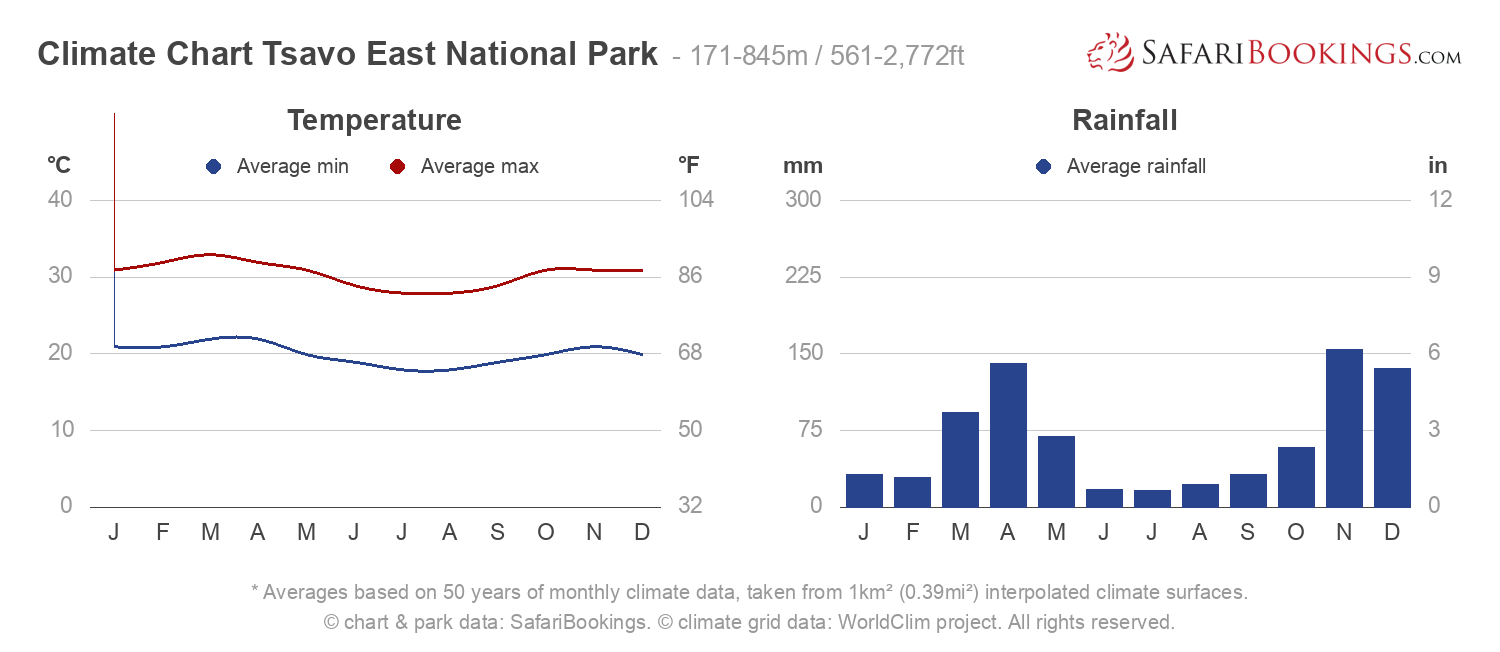 Climate Chart Tsavo East National Park
– 171-845m / 561-2,772ft
* Averages based on 50 years of monthly climate data, taken from 1km² (0.39mi²) interpolated climate surfaces.
© chart & park data: SafariBookings. © climate grid data: WorldClim project. All rights reserved.
Visitors to Tsavo East can expect a hot, dry climate. The average temperature fluctuates between 31°C/88°F during the day and 20°C/68°F at nighttime. Tsavo East has a wide variation in altitude: from 171 to 845m (561 to 2,772ft). Temperatures drop by about 6.5°C for every 1,000m you climb (or 3.5°F per 1,000ft), so there are significant climatic differences within the park itself. Rainfall peaks in April and November during the long and short rains, respectively. Rain tends to fall as short heavy showers.
Dry season
–

June to September
The Dry season months are the coolest. Days are full of sunshine and there is very little rain.
June & July – Days are normally sunny. Average afternoon temperatures are around 29°C/84°F.
August & September – The average September temperature is 30°C/86°F, although it does get much hotter. Temperatures during the day escalate prior to the rain.
Wet season
–

October to May
The 'short rains' and the 'long rains' are separated by a drier couple of months in January and February. Road conditions are at their worst in April and May.
October, November & December – October usually signals the beginning of the rains. November is one of the wettest months of the year. Rain generally doesn't last all day, but expect afternoon storms. During daylight hours the average temperature is 32°C/90°F.
January & February – These months see a break between the short and long rains. The exact duration of this dry period is difficult to predict. February is reliably the hottest month – the average in the afternoon is 33°C/91°F with higher peaks.
March, April & May – The long rains usually begin in late March. It hardly ever rains all day, but fleeting afternoon showers should be expected. April receives the most rainfall. Temperatures in the afternoon are about 32°C/90°F.
Want to Visit Tsavo East NP?
Tsavo East National Park
Tsavo East NP Photos
View Photos
(23)