You are here:

Wildlife & Animals
​Wildlife & Animals – Ankarafantsika NP
Expert
Philip is a renowned Africa expert and author of many guidebooks to African destinations, including the Insight guide to Madagascar.
Philip is a renowned Africa expert and author of the Insight Guide to Madagascar.
Philip is the author of the Insight Guide to Madagascar.
Ankarafantsika National Park (Parc National d'Ankarafantsika) offers great wildlife viewing. The park is especially good for reptiles. Lake Ravelobe is a decent place to look for crocodiles. The forest is home to a large variety of chameleons including the prehistoric-looking rhinoceros chameleon. Snakes, day geckos and leaf-tailed geckos are all present in favorable numbers.
Abundant
Common
Occasional
Rare
None
Western
tuft-tailed rat
Occasional
Golden-brown
mouse lemur
Rare
Wildlife Highlights
The beautiful Coquerel's sifaka and the rare mongoose lemur are both quite easily seen around the entrance gate. The Durell Wildlife Conservation Trust runs a captive breeding program for the endangered ploughare tortoise and the Madagascar side-necked turtle. Both critically endangered species are bred in the park and released back into the wild.
Best Time for Wildlife Viewing
Wildlife viewing in Ankarafantsika is fine throughout the year but November and December are the best months for this activity. Lemurs active during the day, such as the Coquerel's sifaka, can be seen at any time of year. The park is known for excellent reptile-spotting opportunities and this tends to be better after the first rains in November and right through the rainy season. January to March is very hot and wet.
Want to Visit Ankarafantsika NP?
Wildlife Rating
Wildlife Photos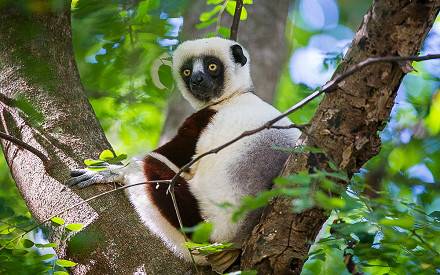 View Photos
(10)