You are here:

Wildlife & Animals
Wildlife & Animals – Bemaraha NP
Expert
Philip is a renowned Africa expert and author of many guidebooks to African destinations, including the Insight guide to Madagascar.
Philip is a renowned Africa expert and author of the Insight Guide to Madagascar.
Philip is the author of the Insight Guide to Madagascar.
Most of the popular trails follow the pathways over the limestone mountains, which is not the best area to see a big variety of wildlife. The charismatic Decken's sifaka is the only lemur that is regularly seen on the spiky terrain of the tsingy. Other lemur species and reptiles can be found in the deciduous forest in the canyons and periphery.
Abundant
Common
Occasional
Rare
None
Bemaraha
woolly lemur
Occasional
Western red
forest rat
Common
Wildlife Highlights
Seeing any wildlife in this inhospitable, unique terrain is special but seeing the agile fluffy white Decken's sifaka leaping from pinnacle to pinnacle is nothing short of amazing. Bemaraha's biodiversity is incredible; recent species discoveries include the Bemaraha woolly lemur, also called Cleese's woolly lemur after comedian John Cleese. Another testament to the rich biodiversity is the fact that the cliffs and caves offer refuge for half the country's bat species.
Best Time for Wildlife Viewing
Although wildlife viewing is good throughout the year, the park closes down during the Wet season as access roads become impassable. The climate in Bemaraha is very hot and the Dry season months from April to October offer the best hiking conditions. June to August are the coolest months and this is the ideal time for strenuous hikes. In October and November lemurs are most active and have their babies.
Wildlife Rating Per Major Park
Want to Visit Bemaraha NP?
Wildlife Rating
Wildlife Photos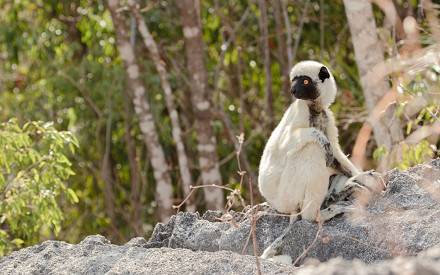 View Photos
(3)