​Weather & Climate – Ethiopia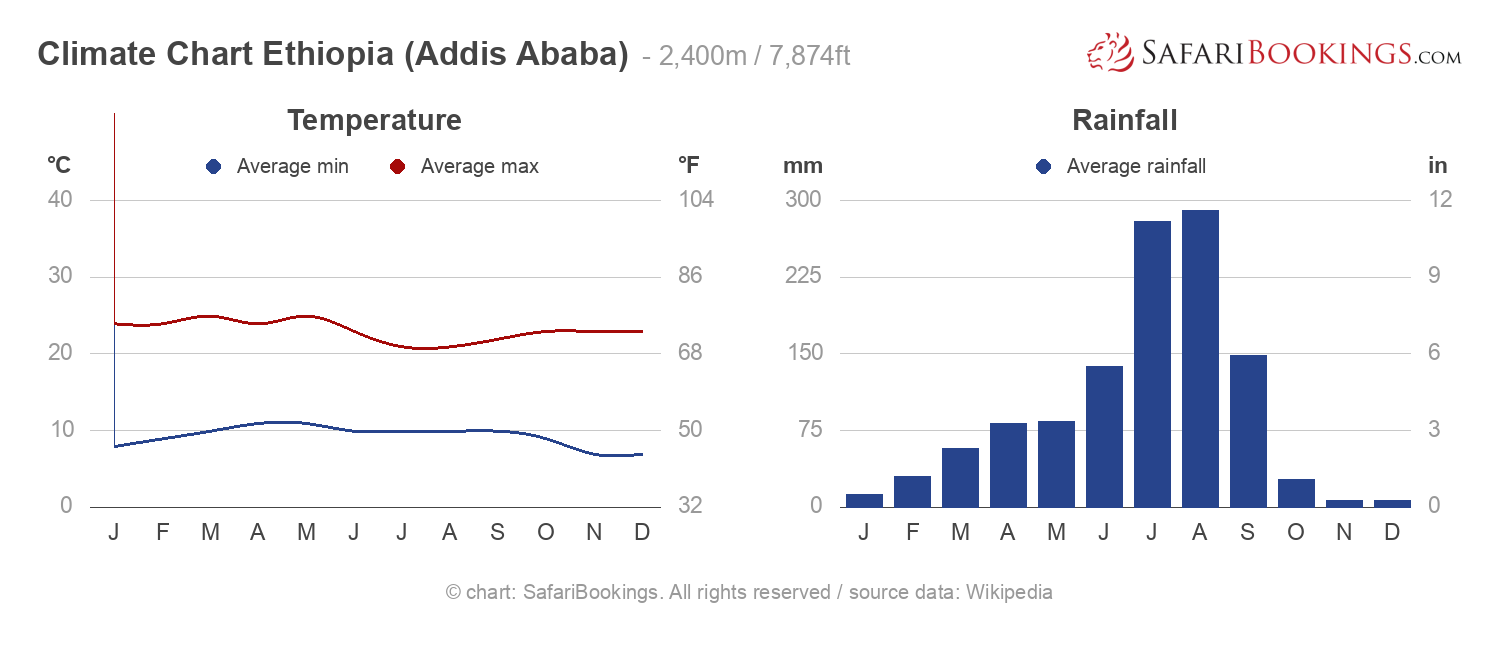 Climate Chart Addis Ababa
– 2,400m / 7,874ft
Ethiopia shows a lot of climatic variation, but many of the popular tourist attractions and parks are located in the central and northern highlands, which experience a temperate climate. There is a distinct Wet and Dry season and most rain falls between May and September. The rest of the country is different: the tropical west is moist and hot, the arid south is dry and hot, and the Rift Valley is temperate to hot and seasonally wet.
Addis Ababa's climate compared to Ethiopia's parks
Addis Ababa (2,400m/7,874ft) is located in the central highlands and its climate is similar to the country's most popular park, Simien Mountains NP. Bale Mountains NP in southern Ethiopia, has two rainy seasons: 'short rains' from April to May and 'long rains' from August to October. Awash, Nechisar, Abijatta-Shalla national parks and Lake Ziway are all located in the Rift Valley (around 1,500m/4,920ft) and temperatures are a couple of degrees warmer (temperatures drop by about 6°C for every 1,000m you climb, or 3.5°F per 1,000ft).
Dry Season

–

October to April
Conditions vary greatly between parks, but days are usually pleasant and sunny and it doesn't rain much during this period. Temperatures depend mostly on altitude; it's cooler in the highlands and warmer lower down.
October & November – This is the beginning of the Dry season. Occasional showers can still be expected, but this shouldn't interfere with your activities. Everything looks fresh and green after the rains.
December, January & February – It is dry and the air is full of dust. Although travel conditions are good, the scenery looks a bit drab.
March & April – The first rains bring relief and the dust settles. Rain shouldn't interfere with your holiday but you should take waterproof gear along.
Wet Season

–

May to September
There are showers throughout the Wet season and July and August see heavy downpours. Waterproof clothing is essential. Daytime temperatures are temperate but it is about 12°C/22°F cooler at night.
May & June – This is the beginning of the rains. It rains regularly but showers usually don't last long.
July & August – These are the peak Wet season months. It rains a lot and these months are not ideal for travel. Downpours can interfere with activities and some roads might become difficult to navigate.
September – This is a lovely month. There are still some showers, but rain diminishes. Everything looks green and the highlands are covered in wild flowers. The sky is free of haze and the air is crisp.
Want To Visit Ethiopia?