Weather & Climate – Hluhluwe-iMfolozi GR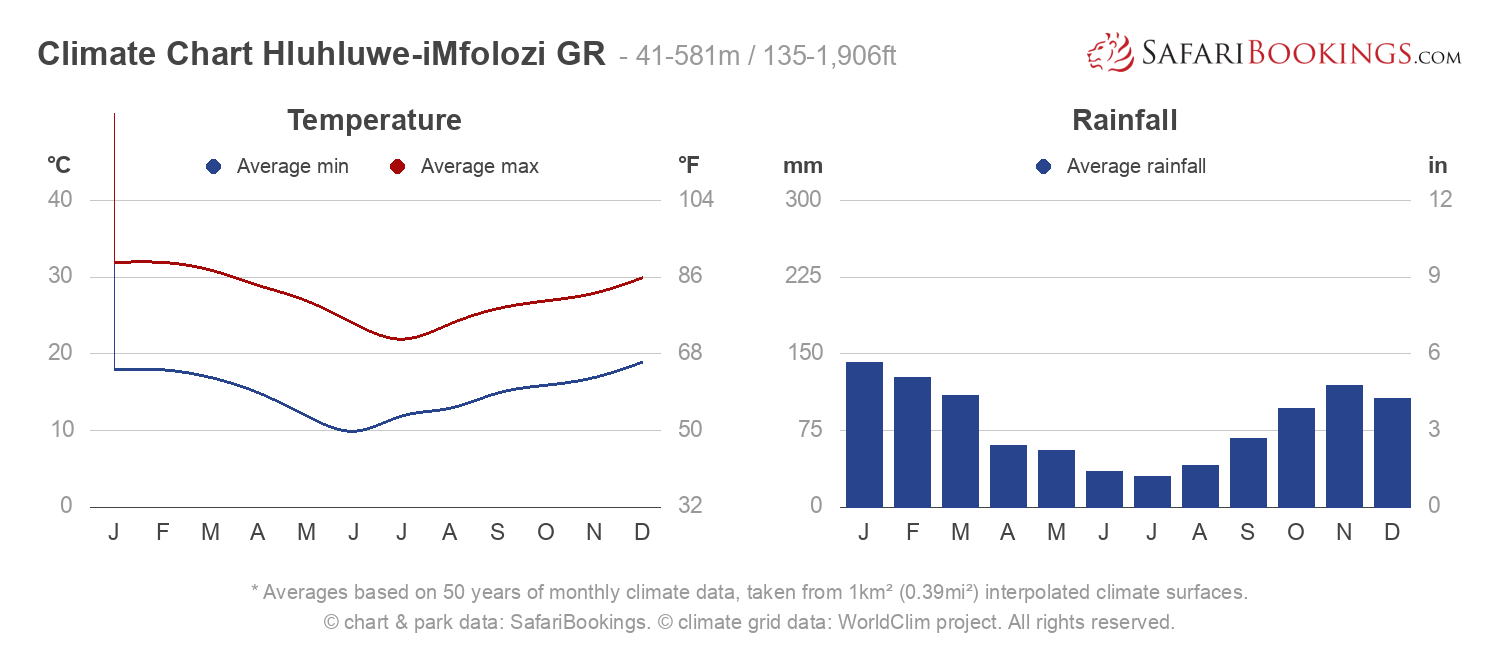 Climate Chart Hluhluwe-Imfolozi Game Reserve
– 41-581m / 135-1,906ft
* Averages based on 50 years of monthly climate data, taken from 1km² (0.39mi²) interpolated climate surfaces.
© chart & park data: SafariBookings. © climate grid data: WorldClim project. All rights reserved.
As a result of being in the southern hemisphere, Hluhluwe-iMfolozi experiences winter and summer at opposite times as Europe and North America. The reserve lies in a summer rainfall area, so summer corresponds with the Wet season and winter with the Dry season. Hluhluwe-iMfolozi has a sub-tropical climate. The wet summer months (October to April) are hot and humid. Dry winters (May to September) are pleasantly warm, although it does cool off at night.
Dry season
–

May to September – Winter
There is very little rainfall in winter, but there might be the occasional shower because of the proximity to the coast. The heat is less oppressive than summer, and skies are usually cloudless.
May – The end of summer means that it rains less and the humidity drops. It is cooling down, and the average temperatures are 13°C/55°F in the morning and 24°C/75°F in the afternoon.
June, July & August – Afternoons are pleasant with temperatures around 23°C/73°F, but this drops to 11°C/52°F at night. Cold mornings should be expected. It is advisable to bring warm clothing.
September – This month brings the spring season. Temperatures rise gradually, and the average daytime temperature is 25°C/77°F. Mornings are less cold with temperatures around 14°C/57°F. It will start raining now with a few true thundershowers.
Wet season
–

October to April – Summer
It is very hot and humid during the summer. It rains a lot, but mostly in the afternoon. Heavy thunderstorms can be expected.
October & November – Rain in the afternoon is common and sometimes it might rain all day. Temperatures are between 16°C/61°F in the morning and 26°C/79°F in the afternoon.
December, January & February – These months tend to be hot and humid. There is a storm most afternoons. The average temperature in the afternoon is 29°C/84°F, but peak temperatures are a lot higher. Early morning temperatures average 19°C/66°F.
March & April – It cools down, and temperatures are around 27°C/81°F in the afternoon. It rains less and the humidity decreases. Mornings aren't very cold at 17°C/63°F.
Want to Visit Hluhluwe-iMfolozi GR?
Hluhluwe-iMfolozi Game Reserve
Hluhluwe-iMfolozi GR Photos
View Photos
(30)