Weather & Climate – Katavi NP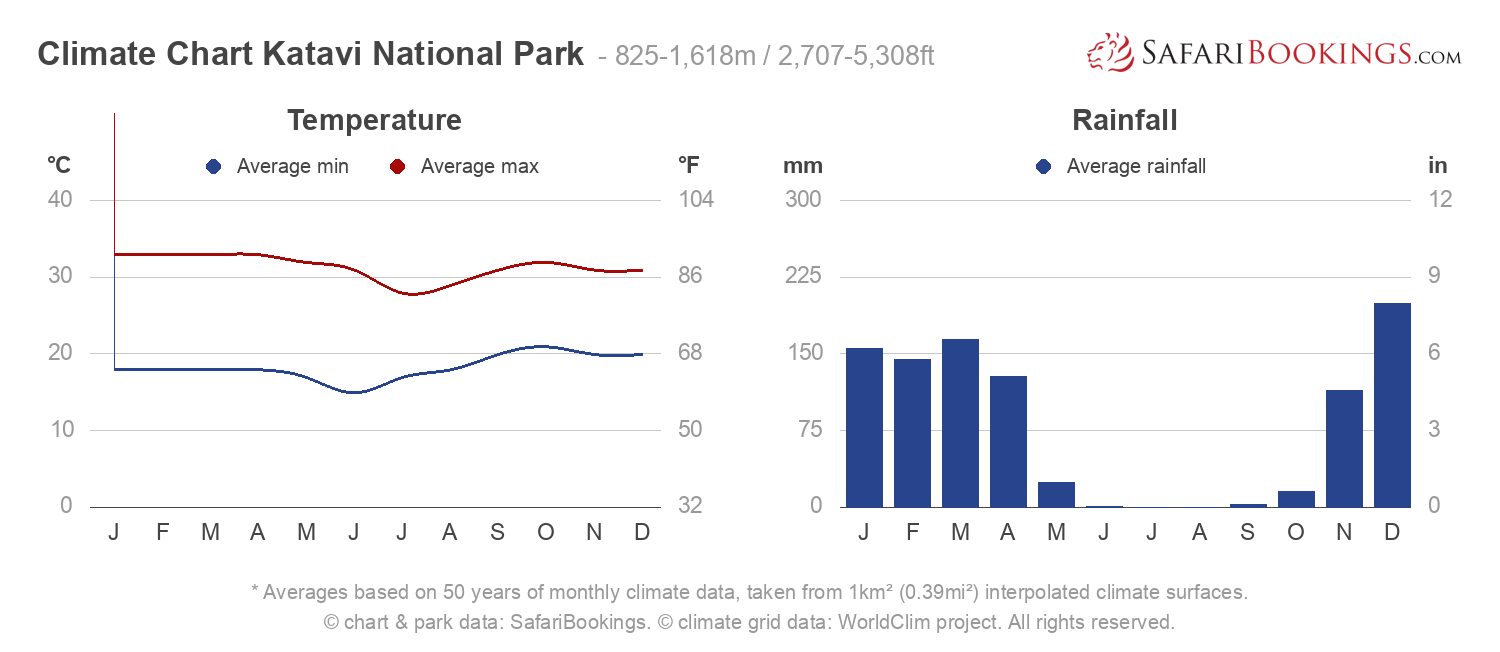 Climate Chart Katavi National Park
– 825-1,618m / 2,707-5,308ft
* Averages based on 50 years of monthly climate data, taken from 1km² (0.39mi²) interpolated climate surfaces.
© chart & park data: SafariBookings. © climate grid data: WorldClim project. All rights reserved.
The climate in Katavi is hot and remains this way year-long, as it is close to the equator. Katavi's nights are different from those of parks in the north, as they are generally warmer (around 20°C/68°F). Temperatures during the day are around 32°C/90°. A wide range in altitude (825-1,618m/2,707-5,308ft) is responsible for variations in temperature. Temperatures drop by about 6.5°C for every 1,000m you climb (or 3.5°F per 1,000ft). The areas with tourist access are mainly at low altitudes.

Unlike the coast and parks to the north, Katavi has one continuous Wet season (from November to April). It tends not to rain all day long but has afternoon thundershowers. The Dry season is from May to October.
Dry season
–

May to October
May – This is the end of the Wet season. It still rains occasionally during this month.
June, July, August & September – Afternoon temperatures are usually around 31°C/88°F. Most days are sunny and clear. Rain would be very rare at this time. June to August have the coldest nights but are still moderate with minimum temperatures of about 17°C/63°F on average.
October – This is the end of the Dry season. October has the highest temperatures of the year, differing only slightly from other months. Rain can be expected on some days and humidity will gradually increase.
Wet season
–

November to April
November, December, January, February, March & April – The humidity is high, and it can feel incredibly hot. Afternoon temperatures are usually around 32°C/90°F and night temperatures are around 21°C/70°F. Thunderstorms in the afternoon are probable – and it will rain almost every day – but rarely all day long.
Want to Visit Katavi NP?
Katavi National Park
Katavi NP Photos
View Photos
(25)