Weather & Climate – Kgalagadi TP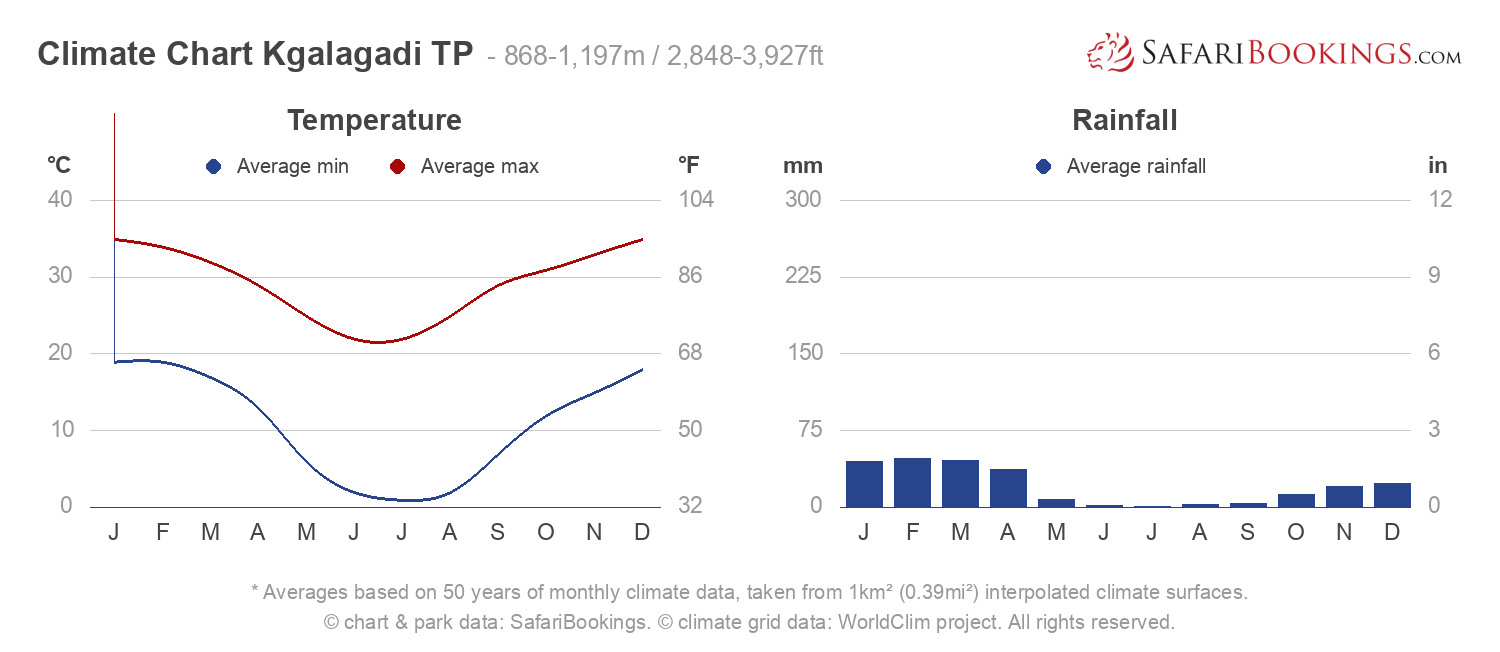 Climate Chart Kgalagadi Transfrontier Park
– 868-1,197m / 2,848-3,927ft
* Averages based on 50 years of monthly climate data, taken from 1km² (0.39mi²) interpolated climate surfaces.
© chart & park data: SafariBookings. © climate grid data: WorldClim project. All rights reserved.
The Kalahari is a semi-arid region with an average rainfall of 150mm/5.9in in the southwest to 350mm/13.8in in the northeast. It has its winter and summer at opposite times than in Europe and North America. The park lies in a summer rainfall area, and virtually all rain occurs from October to April. The rains come mostly in the form of heavy thunderstorms, often accompanied by strong winds. As in every desert environment, there is a strong contrast in day and night temperatures.
Dry season
–

May to September – Winter
The winter season has no rain. The nights tend to be very cold, and frost is common. Daytime is pleasant.
May – Winter clothing is needed for early morning. The summer season comes to a close with typical temperatures of 6°C/43°F in the morning and 25°C/77°F in the afternoon.
June, July & August – Again, winter clothing is needed for almost any activity scheduled for mornings when it commonly drops below freezing (average temperature of just 2°C/35°F ). Afternoons will be mild with clear skies, and temperatures of around 23°C/74°F.
September – Temperatures increase to an average of 29°C/84°F in the afternoon. Mornings are still cold, but more tolerable at an average of 7°C/44°F.
Wet season
–

October to April – Summer
Low humidity (although it's the Wet season) and high temperatures are characteristic of the summer season. Typical daytime temperatures range from a steady 35°C/95°F to a peak of 45°C/113°F or more. Occasional rain breaks the heat and usually comes in the form of dramatic storms, often followed by dust storms.
October & November – The first rains cleanse the haze from the sky. Rainfall is still low and usually only occurs in the afternoon. Temperatures are between 12°C/53°F in the morning and 32°C/90°F in the afternoon.
December, January & February – These are the hottest months. Temperatures average around 35°C/95°F, but peak temperatures can reach much higher. Early mornings are lovely with temperatures around 19°C/66°F. Occasional showers clear the air and lower the heat.
March & April – With average daytime temperatures of 31°C/88°F and nights of 13°C/55°F, the summer heat begins to wane. Rains still occur occasionally, but by the end of April, it is mostly dry.
Want to Visit Kgalagadi TP?
Kgalagadi Transfrontier Park
Kgalagadi TP Photos
View Photos
(58)