Weather & Climate – Lewa Conservancy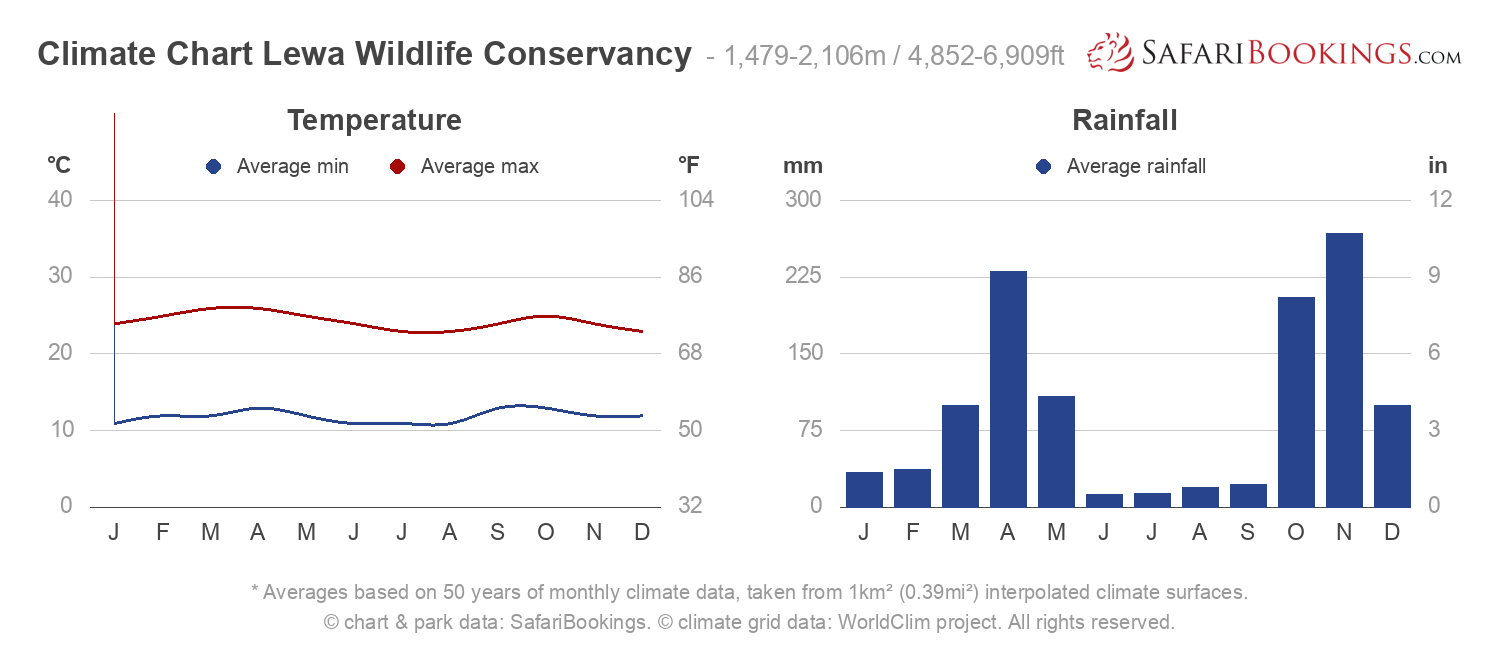 Climate Chart Lewa Wildlife Conservancy
– 1,479-2,106m / 4,852-6,909ft
* Averages based on 50 years of monthly climate data, taken from 1km² (0.39mi²) interpolated climate surfaces.
© chart & park data: SafariBookings. © climate grid data: WorldClim project. All rights reserved.
Within the Lewa Wildlife Conservancy, the climate varies distinctly due to differences in altitude, which range from 1,479 to 2,106m (4,852 to 7,909ft). For every 1,000m higher, the temperature drops by about 6.5°C (or 3.5°F per 1,000ft).

The climate within the park is mild – mid to late twenties during the day, much cooler at night – and its location, close to the equator, means only small variations in temperatures year-round. Don't forget to pack warm clothing for wildlife watching in the morning.
Dry season
–

June to September
During the Dry season, sunny days are usually experienced, although it can also rain. Temperatures during the day are about 25°C/77°F. However, it is considerably colder at nighttime and in the early mornings (temperatures around 10°C/50°F).
June & July – Pleasantly sunny days occasionally interrupted by rain. Afternoon temperatures average at 25°C/77°F. If heading out early in the morning on a game drive don't forget to take warm clothing.
August & September – Both the rainfall and the heat pick up slightly in August. The temperatures in the afternoon can reach up to 26°C/79°F.
Wet season
–

October to May
There are plenty of days that are overcast and cloudy but it doesn't often rain all day. In fact, there is a drier period during December to February that splits the so called 'short rains' from the 'long rains'. Generally, it is chilly in the early morning (temperatures are around 11°C/52°F).
October & November – 'Short rains': Usually beginning sometime in October, the temperatures in the afternoon are around 27°C/81°F.
December, January & February – Although the exact timing is almost impossible to predict, there is a drier period during these months, which separate the short and long rains.
March, April & May – 'Long rains': It rains a lot, but it doesn't always rain all day – April is the wettest month. Average temperatures in the early mornings are around 11°C/52°F. Be aware that the tracks might become slippery and difficult to drive.
Want to Visit Lewa Conservancy?
Lewa Wildlife Conservancy
Lewa Conservancy Photos
View Photos
(30)