Weather & Climate – Liuwa Plain NP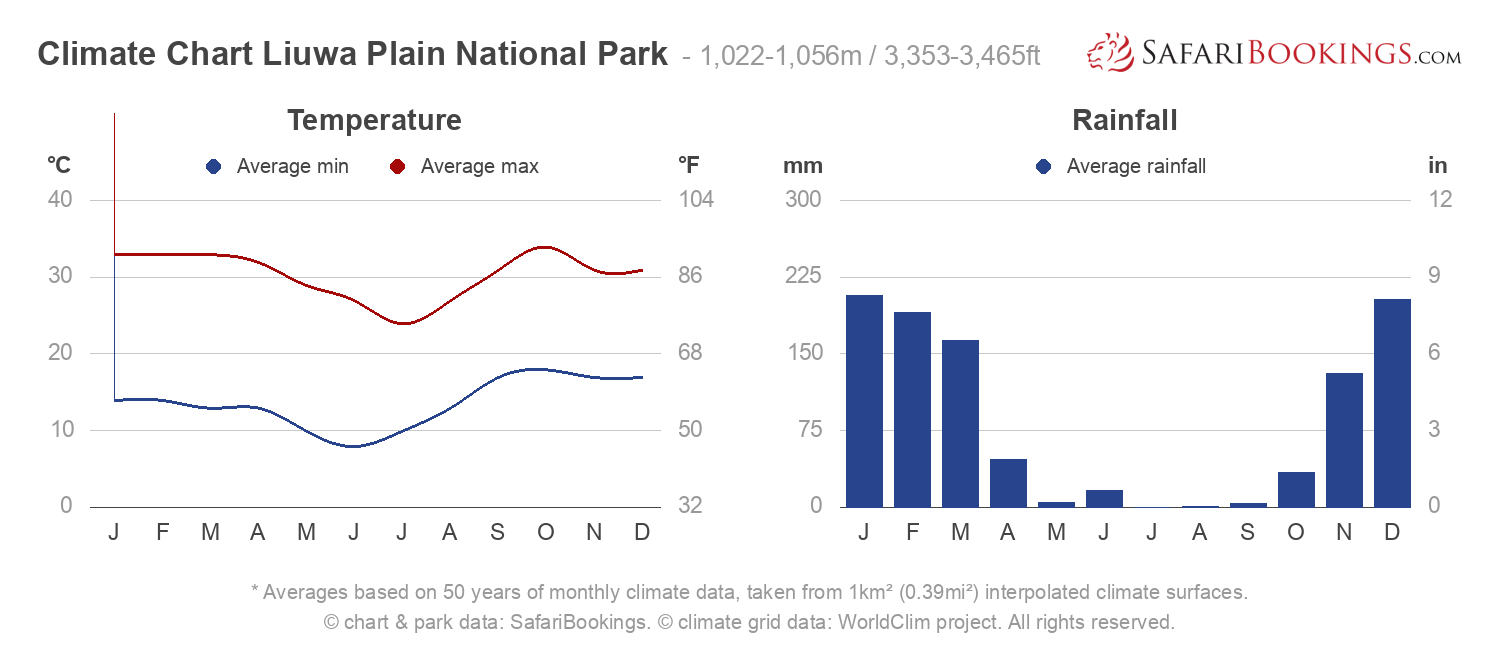 Climate Chart Liuwa Plain National Park
– 1,022-1,056m / 3,353-3,465ft
* Averages based on 50 years of monthly climate data, taken from 1km² (0.39mi²) interpolated climate surfaces.
© chart & park data: SafariBookings. © climate grid data: WorldClim project. All rights reserved.
Liuwa Plain is dominated by its Wet and Dry season and hot climate. Despite there being a notable increase in temperature in October – before the rains, as the park is in the tropics – average temperatures do not vary much throughout the year. However, it gets quite cold at night in the Dry season, from May to October.
Dry season
–

May to October
There is little rainfall in the Dry season. The days are warm but nights are cold. Warm clothing is essential for chilly, early morning game drives. The plains dry up during the season. Some resident wildlife stays in the area, but a lot of animals move away.
May – This is the beginning of the Dry season, and rain showers are few and far between. All of the pans on the plain are full, and there are big herds of wildebeest and zebra around. Wildlife viewing is excellent.
June & July – The end of the rains and the plain is drying out. Animals are moving away. With daytime temperatures hovering around 28°C/82°F, these are the coolest months. Cold nights are good for sleeping with average temperatures of around 8°C/46°F.
August & September – No rain in these months and it's warming up. September has an average daytime temperature of 34°C/93°F. Mornings are milder at 13°C/55°F on average.
October – Temperatures keep climbing to average 35°C/95°F. It can peak far higher, with the heat becoming oppressive in the middle of the day. Mornings are much better with temperatures around 16°C/61°F. The first rain usually falls this month, which sees temperatures drop.
Wet season
–

November to April
This season is both warm and wet. Showers are the norm and thunderstorms are often spectacular. November is the best wildlife viewing month – this continues into December, but then the park becomes quite inaccessible for game drives. The lodge stays open and offers walking and canoeing activities. Self-drive to the park is restricted.
November – The rains usually begin in late October or November. By this time the plains are extremely dry, so rainfall is a relief. It is still very hot. The average daytime temperature is 32°C/90°F. Rain mostly falls as afternoon thunderstorms.
December – Rain increases and so do the herds of grazers. The plains become wetter and wetter, and driving becomes a challenge. Daytime temperatures average 30°C/86°F, while nights and early mornings are around 17°C/63°F.
January, February & March – The wettest months bring rain most days. Wildlife viewing activities might be compromised.
April – It rains less but roads are still in a bad condition. There is, however, a lot of wildlife around.
Want to Visit Liuwa Plain NP?
Liuwa Plain National Park
Liuwa Plain NP Photos
View Photos
(74)