Weather & Climate – Lochinvar NP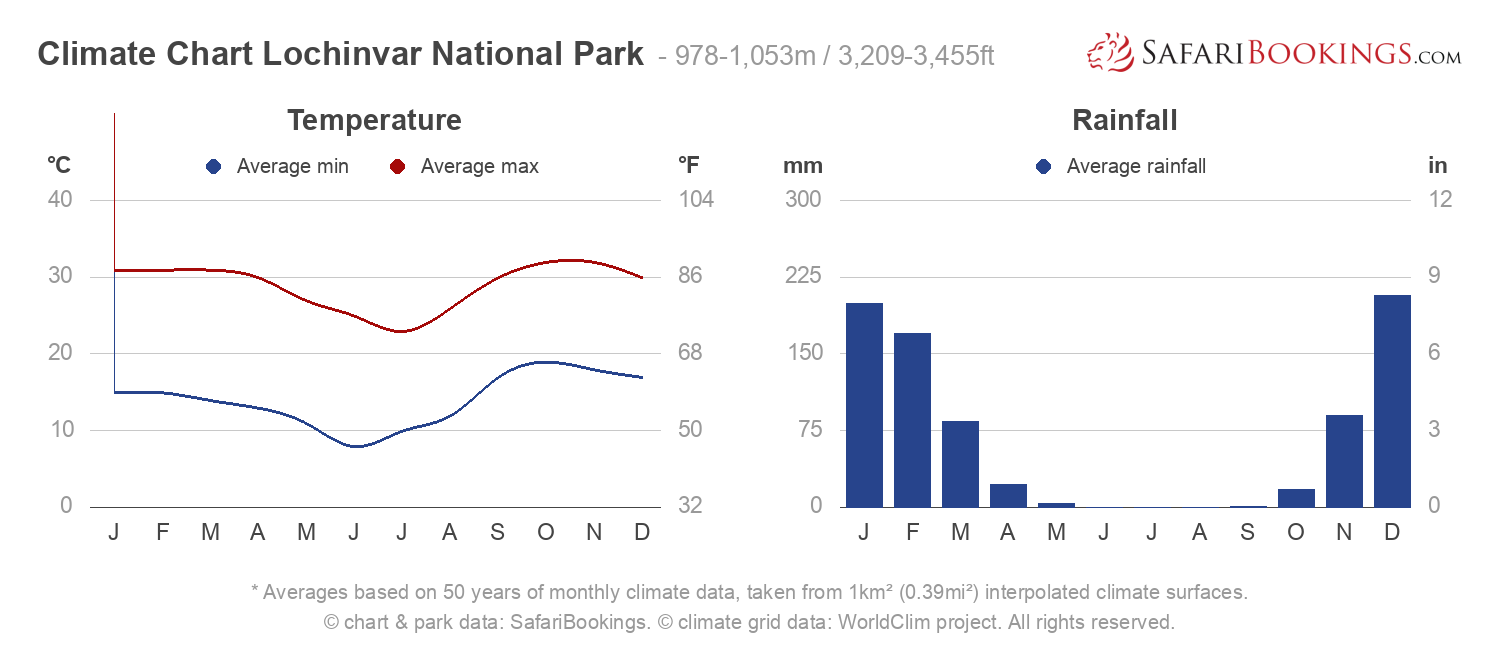 Climate Chart Lochinvar National Park
– 978-1,053m / 3,209-3,455ft
* Averages based on 50 years of monthly climate data, taken from 1km² (0.39mi²) interpolated climate surfaces.
© chart & park data: SafariBookings. © climate grid data: WorldClim project. All rights reserved.
Lochinvar's climate is hot, and there's a Wet and Dry season. Because it is in the tropics, the average temperature is quite consistent year-round, although a notable increase in temperature occurs in October, before the rains. In the Dry season (from May to October) it gets quite cold at night.
Dry season
–

May to October
There is practically no rain in the Dry season. The bush gets drier as the season progresses and animals gather in increasing numbers around the rivers and watercourses. It is warm during the day, but cold at night. Warm clothing is essential for chilly, early mornings.
May – The start of the Dry season when the bush is still lush, and there is a lot of water around. By May, rainfall has almost stopped.
June & July – The rain has finished, and the bush is drying out. These are the coolest months with daytime temperatures around 25°C/77°F. Nights are chilly, with average temperatures creeping up to 7°C/45°F.
August & September – No rainfall, so the bush is starting to look very dry. It is warming up – September has an average temperature during the day of 31°C/88°F. Mornings are temperate at 13°C/55°F on average.
October – Temperatures increase to average 33°C/91°F, although they often reach much higher and the heat can become oppressive. Mornings are far milder with temperatures around 17°C/63°F. October usually marks the start of the rains, with temperatures falling after precipitation begins.
Wet season
–

November to April
Roads deteriorate in the warm, Wet season. Afternoon showers are the norm and nature puts on quite a show with spectacular thunderstorms. The bush is very lush this time of year.
November – If the first drops of rain haven't appeared by late October, then it will be in November. It's very hot, and the rain comes as a relief. In the daytime, it's around 32°C/90°F. Rain comes mostly in afternoon thunderstorms.
December, January, February & March – The wettest months bring rain most days, but it rarely lasts the whole day. Daytime temperatures average 29°C/84°F, while nighttime (and early morning) temperatures average 18°C/64°F.
April – This is a lovely month with everything lush and green. Although there isn't much rain, the roads are still wet, and driving is difficult.
Want to Visit Lochinvar NP?
Lochinvar National Park