Weather & Climate – Madikwe GR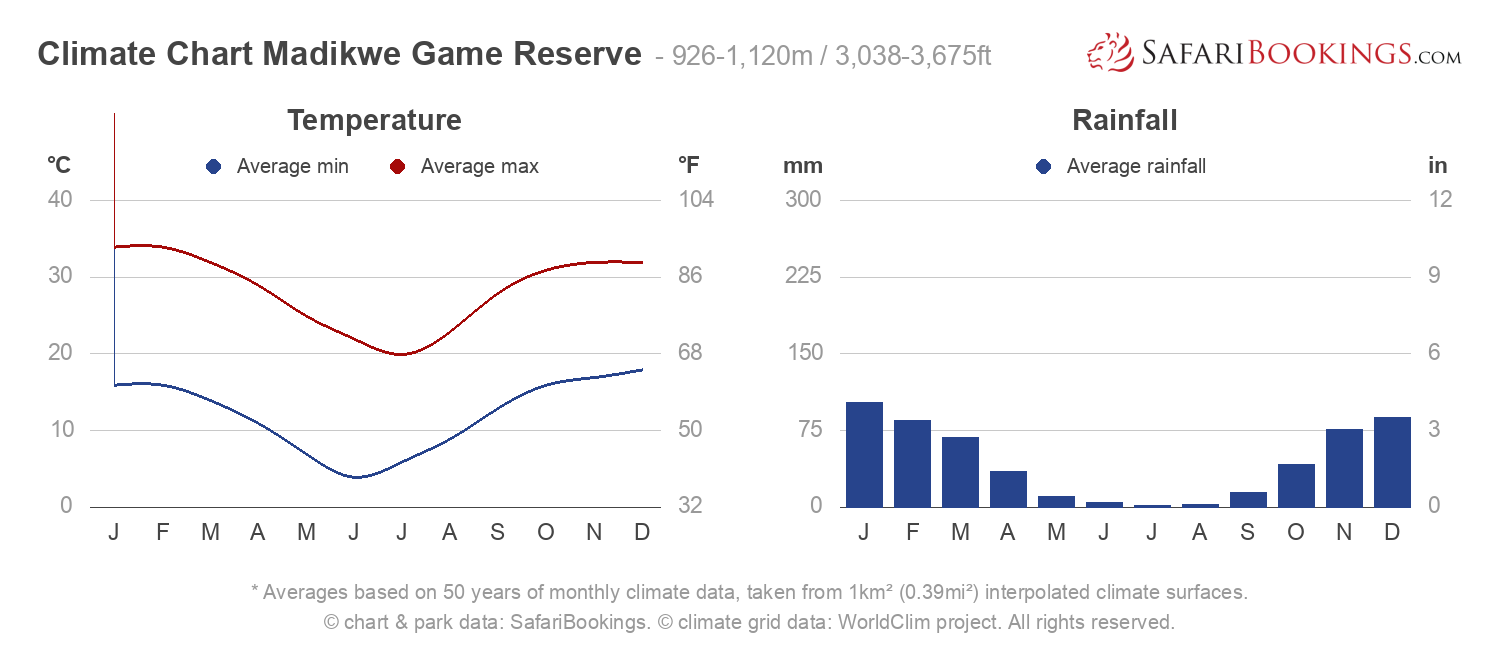 Climate Chart Madikwe Game Reserve
– 926-1,120m / 3,038-3,675ft
* Averages based on 50 years of monthly climate data, taken from 1km² (0.39mi²) interpolated climate surfaces.
© chart & park data: SafariBookings. © climate grid data: WorldClim project. All rights reserved.
Summer and winter occur at opposing times to those seasons in Europe and North America. In addition, summer rainfall makes this the Wet season (October to April), and winter is the Dry season (May to September). High temperatures and routine thunderstorms are usual in the summertime, but there is less humidity in Madikwe than in coastal areas. Winters are temperate and sunny, but cool at night, making warm clothing necessary to engage in morning activities.
Dry season
–

May to September – Winter
As a rule, winters have little to no rainfall, and the humidity is low. Water becomes hard to find, so animals are forced to gather at reliable water sources, such as rivers and waterholes. This, coupled with thinning vegetation makes wildlife easier to spot.
May – Temperatures of 7°C/45°F in the morning and 24°C/75°F in the afternoon mark the end of summer.
June, July & August – Warm clothing is needed for early morning game drives as the average minimum temperature is 4°C/40°F. Daytime is nice and clear, with temperatures hovering around 23°C/74°F.
September – A beautiful time of year with afternoon temperatures of around 29°C/84°F and warmer mornings of about 11°C/52°F.
Wet season
–

October to April – Summer
It can be quite hot in summer, but the humidity isn't as uncomfortable as at the coast. Average daytime temperatures get up to 32°C/90°F, and occasional rain breaks the heat. It seldom rains all day, but the pattern is afternoon storms. Sometimes it might drizzle during the day.
October & November – Afternoon rains become more common as summer progresses, clearing the hazy skies. Temperatures are between 17°C/63°F in the morning and 31°C/88°F in the afternoon.
December, January & February – December and January, the wettest time of year, are characterized by torrential downpours in the afternoon. Daytime temperatures are usually around 31°C/88°F.
March & April – A cooling trend develops, and the rains gradually disappear. The month of April is sunny, and daytime temperatures average a lovely 27°C/81°F. Nights are mild, averaging 12°C/54°F.
Want to Visit Madikwe GR?
Madikwe Game Reserve
Madikwe GR Photos
View Photos
(25)