Weather & Climate – Mala Mala GR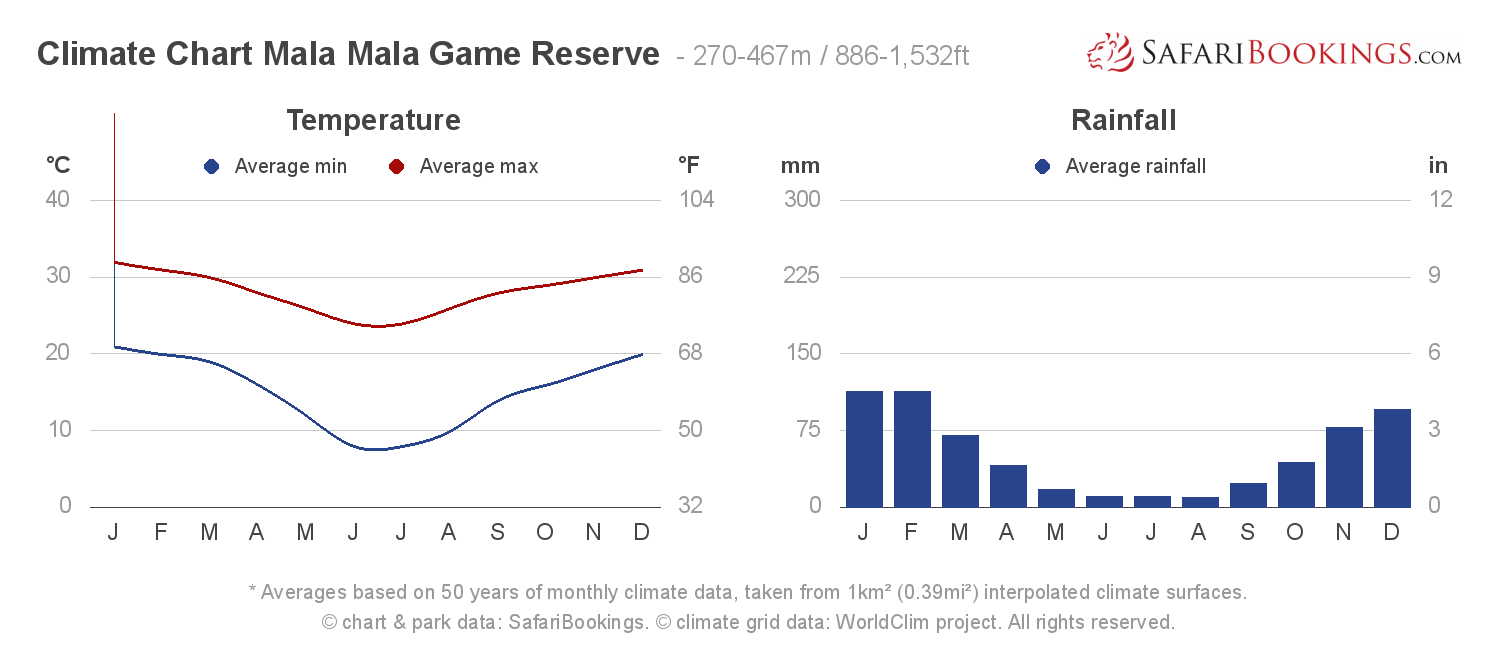 Climate Chart Mala Mala Game Reserve
– 270-467m / 886-1,532ft
* Averages based on 50 years of monthly climate data, taken from 1km² (0.39mi²) interpolated climate surfaces.
© chart & park data: SafariBookings. © climate grid data: WorldClim project. All rights reserved.
Mala Mala differs from Europe and North America in that their winter and summer months occur at opposite times. Heat and humidity abound during the wet summer months (October to April). Conditions in the dry and temperate winters (May to September) cool off during the evening, making warm clothing necessary for early morning and evening game drives. Although thunderstorms are common during the Wet season, a whole day of rain is unlikely.
Dry season
–

May to September – Winter
The absence of rainfall during the winter months ensures that the humidity level is low. Animals are easier to spot because they come out to gather around water sources.
May – The month of May represents the end of summer. Typical temperatures consist of 12°C/54°F in the morning and 26°C/79°F in the afternoon.
June, July & August – Average morning temperatures of 9°C/48°F mean it is important to bring warm clothing along on game drives. Afternoons will remain temperate and sunny with highs around 25°C/77°F.
September – The dry conditions gradually subside with the coming of the first rains. Heat builds to afternoon averages of 28°C/82°F. Morning temperatures start to rise and average around 14°C/57°F.
Wet season
–

October to April – Summer
With peak temperatures often rising to over 40°C/104°F, the hot and humid conditions of the summer can be difficult to deal with. Average daily temperatures are around 32°C/90°F with afternoon storms. A full day of rain would be unusual.
October & November – Rain becomes more common, particularly in the afternoon. Temperatures hover between 15°C/59°F in the morning and 30°C/86°F in the afternoon.
December, January & February – Torrential downpours occur frequently during this time. The heat and wetness is at its yearly high and, coupled with the humidity, is difficult to deal with. Temperatures may rise upward of 40°C/104°F with a daily average of 32°C/90°F.
March & April – Temperatures gradually fall, and the rains lessen through April, which is characterized by fine, clear weather and little humidity. Nights average a steady and pleasant 16°C/61°F with midday temperatures of 28°C/82°F.
Want to Visit Mala Mala GR?
Mala Mala Game Reserve
Mala Mala GR Photos
View Photos
(30)