Weather & Climate – Lake Manyara NP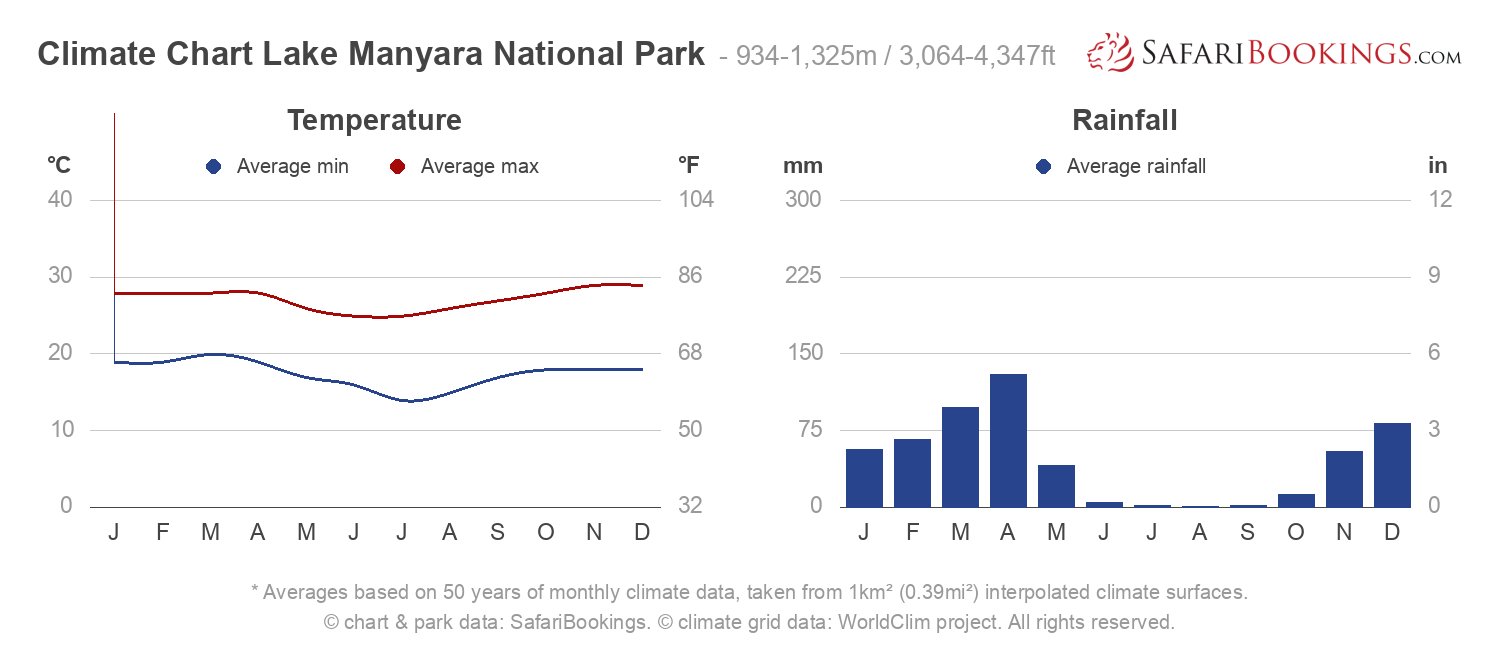 Climate Chart Lake Manyara National Park
– 954-2,055m / 3,130-6,742ft
* Averages based on 50 years of monthly climate data, taken from 1km² (0.39mi²) interpolated climate surfaces.
© chart & park data: SafariBookings. © climate grid data: WorldClim project. All rights reserved.
The climate in Lake Manyara NP is mild and temperate. The altitude ranges from 954 to 2,055m (3,130-6,742ft), and it gets cooler the higher you go. Temperatures drop by about 6.5°C for every 1,000m you climb (or 3.5°F per 1,000ft). Average temperatures are consistent throughout the year. It is very rarely hot enough to be uncomfortable, but it is almost always cold during the evening and early morning. Taking warm clothing along on early morning game drives is recommended.

Manyara's Dry season is from June to September. The Wet seasons consist of a period of 'long rains', which occur from March to May, and a period of 'short rains' occurring from October to November. Thunder and showers are common during the Wet season, but it rarely rains the whole day.
Dry season
–

June to October
June, July, August, September & October – Afternoon temperatures are usually around 24°C/75°F. Fair skies and sunshine are common. It is possible for the short rains to begin in October. Average evening temperatures get as cold as 14°C/57°F, and close to freezing is possible. This cold weather remains in the morning, so be sure to bring plenty of warm clothes for early game drives.
Wet season
–

November to May
Temperatures remain mild during the Wet season, peaking in the afternoon around 27°C/81°F. Night time temperatures are around 16°C/61°F.
November & December – 'Short rains' – These rains last about one month and can occur anytime between November and December. Afternoon showers may occur, but it is unusual for it to rain all day so it will have little impact on your trip. Temperatures during the day peak at about 27°C/81°F while the night and early morning are around 16°C/61°F.
January & February – A period of dryness is likely between the two rainy seasons, although the timing is hard to predict.
March, April & May – 'Long rains' – Although it rains daily during the wettest months, it is unusual for it to last the whole day. Clouds are usually present. The average peak temperature is 26°C/79°F, while the average low is around 16°C/61°F. It is possible for it to get even closer to freezing due to cold fronts.
Want to Visit Lake Manyara NP?
Lake Manyara National Park
Lake Manyara NP Photos
View Photos
(25)