Weather & Climate – Masai Mara NR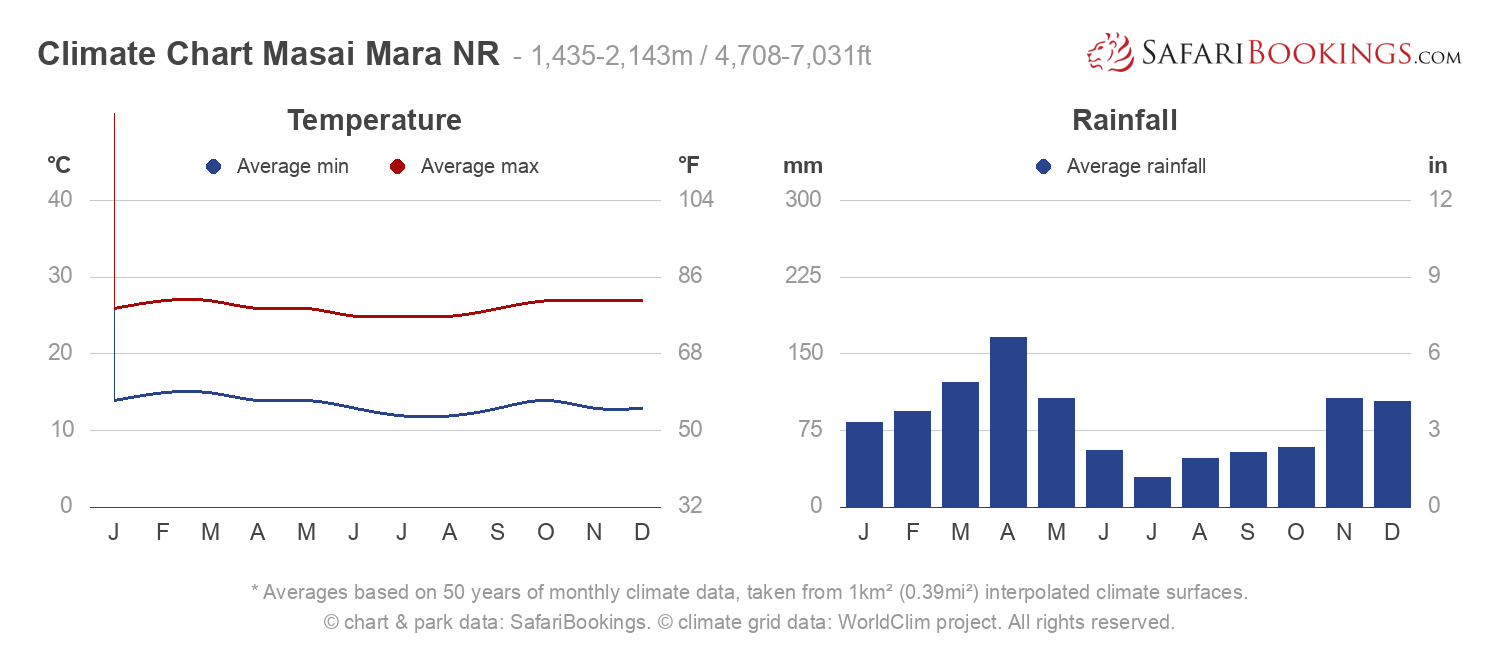 Climate Chart Masai Mara National Reserve
– 1,435-2,143m / 4,708-7,031ft
* Averages based on 50 years of monthly climate data, taken from 1km² (0.39mi²) interpolated climate surfaces.
© chart & park data: SafariBookings. © climate grid data: WorldClim project. All rights reserved.
The climate in the Masai Mara is slightly colder and wetter than might be expected this close to the equator. This is due to the altitude which is subject to some variation, from 1,435 to 2,143m (4,708 to 7,031ft). Temperatures drop by around 6.5°C for every 1,000m you ascend (or 3.5°F per 1,000ft). So, within the park different climatic conditions exist. Temperatures tend to be reasonably mild. Daytime is pleasant with temperatures in the mid to upper twenties, while it cools off significantly at night.
Dry season
–

June to September
The Dry season is an enjoyable time to be in the park with lovely weather. Typically, there are sunny days and it's rarely very hot. Although the occasional shower can pepper the landscape, it doesn't rain often. Don't forget to pack winter clothing for early morning game drives.
June, July & August – There can be rain still around in June, but overall it is sunny and dry. Afternoon temperatures reach an agreeable 25°C/77°F, but the cold can hang around in the evenings and early mornings when temperatures of around 12°C/54°F are common.
September & October – Still a dry time of the year, although rain is possible some days. Temperatures increase slightly in October and hover around 27°C/81°F (and higher), before they decrease with the beginning of the rain. Chilly early mornings persist (around 12°C/54°F).
Wet season
–

November to May
Even though the Wet season stretches from November to May, there is a drier period in January and February. This divides the 'short rains' and 'long rains'. There are many overcast, cloudy days. Afternoon showers are the norm. Daytime temperatures don't vary much. The nippy early mornings have temperatures around 13°C/55°F. Bring warm clothing.
November & December – 'Short rains': The rains normally break at some point in November. Average afternoon temperatures are around 27°C/81°F.
January & February – Rainfall eases between the short and long rains, although showers do still occur. The exact timing of this drier period is somewhat challenging to predict.
March, April & May – 'Long rains': April is the wettest month. It doesn't often shower all day, but rainfall is regular. Tracks might become slippery and difficult to navigate. Early mornings are a bit warmer – average temperatures are about 13°C/55°F.
Want to Visit Masai Mara NR?
Masai Mara National Reserve
Masai Mara NR Photos
View Photos
(40)