Weather & Climate – Lake Nakuru NP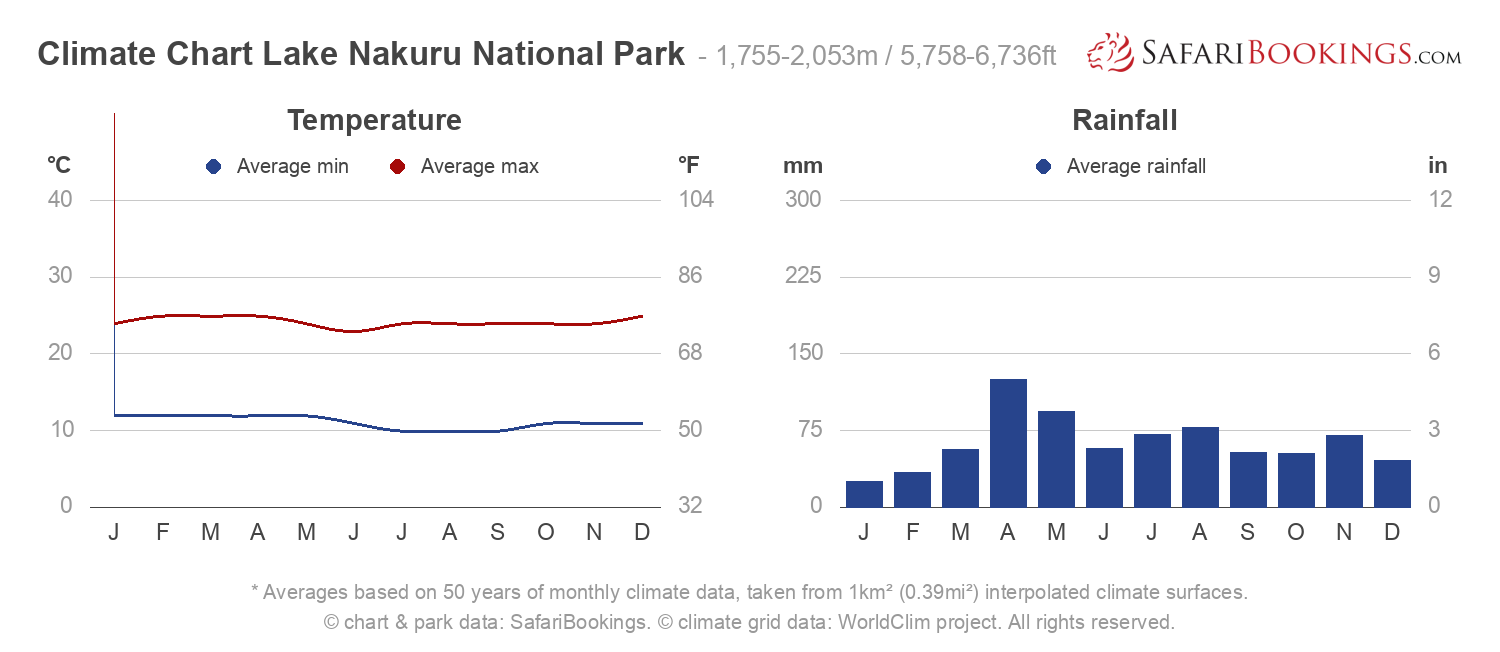 Climate Chart Lake Nakuru National Park
– 1,755-2,053m / 5,758-6,736ft
* Averages based on 50 years of monthly climate data, taken from 1km² (0.39mi²) interpolated climate surfaces.
© chart & park data: SafariBookings. © climate grid data: WorldClim project. All rights reserved.
The relatively high altitude of the park makes the climate slightly colder than might be expected this close to the equator. Temperatures are quite mild though, and consistent year-round. Daytime temperatures are pleasant in the mid to upper twenties, although it is much cooler at nights. Warm clothing for early morning game drives is a necessity. The wettest months are April and May. The rest of the year is relatively dry with some rain throughout.
Dry season
–

June to February
The pleasant days are usually sunny, but do not get too hot. It rarely rains, although don't be surprised if there is an occasional shower at any time. It is recommended to wear warm clothing on early morning game drives.
June, July, August, September, October, November & December – Conditions are sunny with the occasional shower. Temperatures climb to around 25°C/77°F in the afternoon, but the beginning and the end of the day is cold with the temperature hovering around 9°C/48°F.
January & February – These months, before the rains break, are the driest and warmest in the calendar. Temperatures climb to 28°C/82°F and push higher. Be aware of the chill factor in the early morning when the temperature only crawls up to 9°C/48°F.
Wet season
–

March to May
There are many overcast, cloudy days in the Wet season, but it rarely rains all day. Showers after lunch are typical. Temperatures in the afternoon are pleasant at around 27°C/81°F. Early mornings are a bit milder at 11°C/52°F. April is the wettest month, and by May, the rainfall is already subsiding.
March – March or April see the beginning of the rains, although it is rare for March to see much rain. Expect temperatures in the afternoon to reach around 27°C/81°F.
April – The wettest month, but it doesn't rain for long stretches very often.
May – The rains are already tapering off, but afternoon showers are still common.
Want to Visit Lake Nakuru NP?
Lake Nakuru National Park
Lake Nakuru NP Photos
View Photos
(12)