Weather & Climate – Nsumbu NP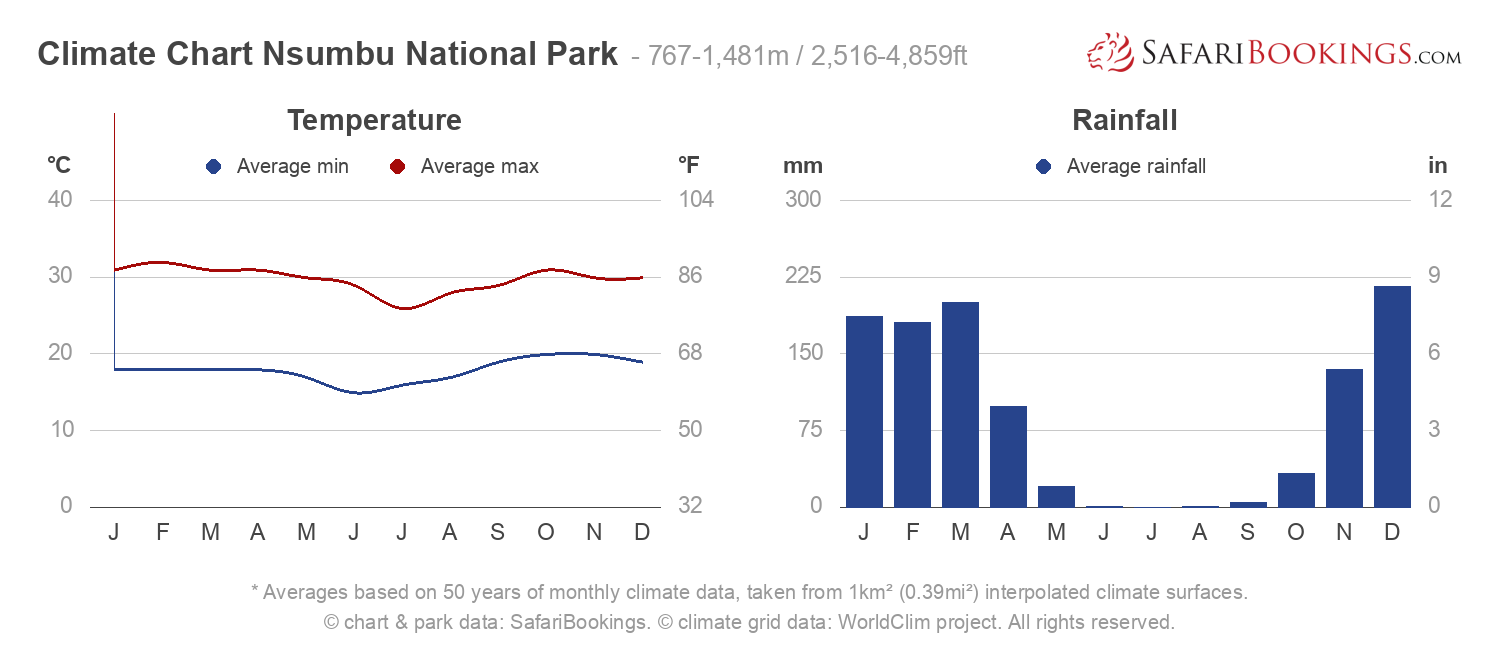 Climate Chart Nsumbu National Park
– 767-1,481m / 2,516-4,859ft
* Averages based on 50 years of monthly climate data, taken from 1km² (0.39mi²) interpolated climate surfaces.
© chart & park data: SafariBookings. © climate grid data: WorldClim project. All rights reserved.
As with other parks in Zambia, Nsumbu has a hot climate with a Wet and a Dry season. The average temperature varies little from month to month; however, a notable increase occurs in October before the rains. Nights in the Dry season, from May to August, can be rather chilly.
Dry season
–

May to October
The bush gets drier and drier as the season progresses and rainfall diminishes. This is the best time for wildlife viewing. It is warm during the day, but cold at night and in the early morning. Warm clothing is recommended for early morning game drives.
May – This is the beginning of the Dry season. The park is still thick with vegetation, and there is a great deal of water around, but no little or no rain.
June & July – The bush is drying out, rain has ceased, and these are the coolest months. Daytime temperatures hover around 29°C/84°F. At night the temperature falls to an average of 15°C/59°F.
August & September – New season rainfall has not yet commenced, and the bush is starting to look very dry. It is becoming warmer, and September has an average daytime temperature of 32°C/90°F. Mornings are very mild with average temperatures of 18°C/64°F.
October – The exact timing is unpredictable, but the first rain usually falls at the end of this month. It is hot and humid with temperatures averaging 32°C/90°F. The heat can become oppressive in the middle of the day. Mornings are lovely with temperatures around 29°C/66°F.
Wet season
–

November to April
It often rains during the warm, Wet season and thunderstorms can light up the sky. Otherwise, conditions are clear, and the bush is lush.
November – The rains begin to fall in late October or November. The sky has a hazy, gray color and the rain is a reprieve because the bush is extremely dry and hot. The average daytime temperature is 30°C/86°F. Afternoon thunderstorms are common.
December, January, February & March – These are the wettest months and it often showers, but there is usually some sunshine during the day. Daytime temperatures hover around 29°C/84°F, while nights average a very pleasant 19°C/66°F.
April – This is a lovely month as the rain starts to dwindle, but everything is still lush and green.
Want to Visit Nsumbu NP?
Nsumbu National Park