Weather & Climate – Okavango Delta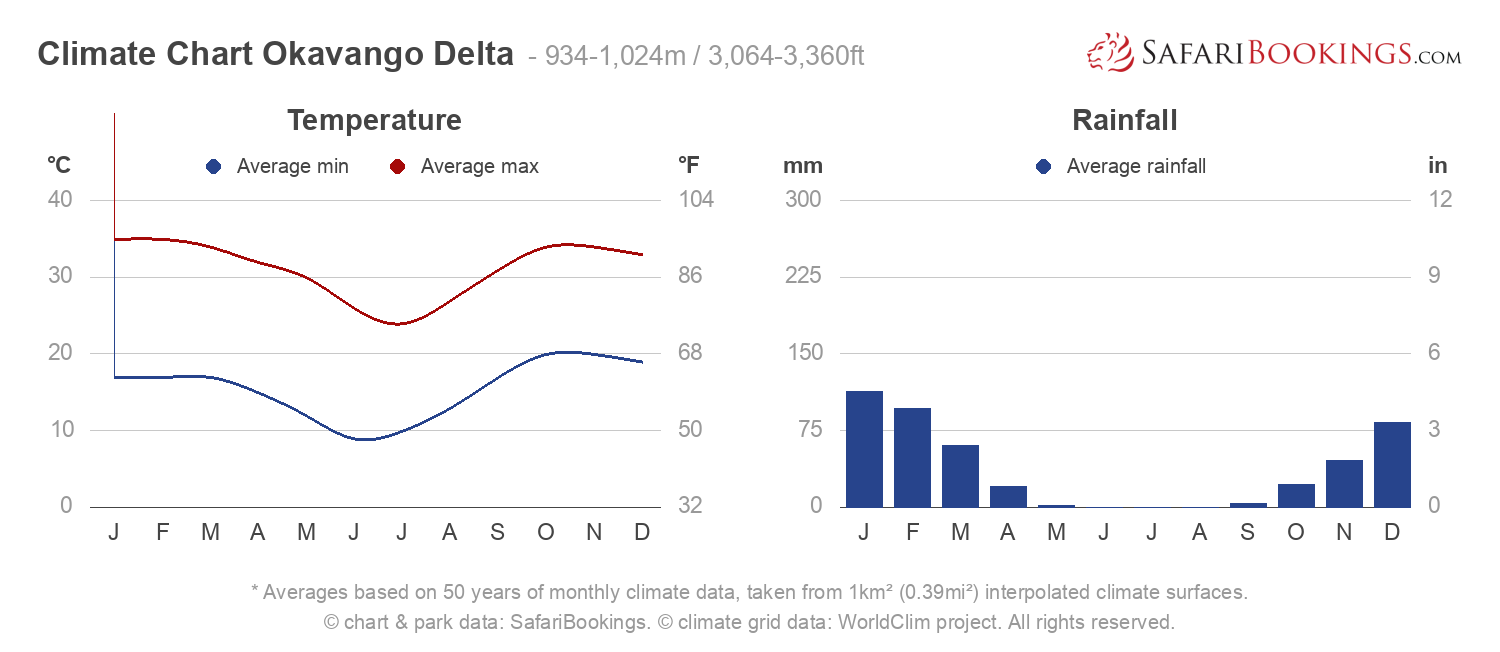 Climate Chart Okavango Delta
– 934-1,024m / 3,064-3,360ft
* Averages based on 50 years of monthly climate data, taken from 1km² (0.39mi²) interpolated climate surfaces.
© chart & park data: SafariBookings. © climate grid data: WorldClim project. All rights reserved.
The Okavango Delta has a climate that is warm to hot, and it experiences distinct Dry and Wet seasons. The rains break the build-up of heat in November or December (their exact timing is unpredictable) and come as a relief. The last rain of the Wet season usually falls in April.
Dry season
–

April to October
June and July is the coolest time of year, but temperatures begin to increase in August, and they peak in October. Remember to bring warm clothing for early morning game drives and boat trips, as temperatures do plummet at night, and it's still very cold in the early morning.
April & May – This is the beginning of the Dry season. The vegetation in the delta is still green. There is plenty of sunshine and conditions are mostly dry. Afternoon temperatures average 29°C/84°F, making the days feel very warm.
June, July & August – It is very dry and somewhat cooler now – afternoon temperatures climb to a pleasant 26°C/79°F on average. However, early mornings are very cold at about 7°C/45°F.
September & October – It gets hotter and hotter at the end of the Dry season before the rains bring relief from the oppressive heat. October is stifling, with average temperatures of 35°C/95°F. Nights and early mornings are pleasant.
Wet season
–

November to March
The arrival of the rains cools things down, and the dust settles. Afternoon thunderstorms and short showers become normal. It stays pretty hot through the Wet season – afternoon temperatures are about 31°C/88°F. Mornings are a very nice time to be active.
November & December – It only rains every now and then, mostly it's hot and sunny. The rain comes as a relief because temperatures build beforehand and drop after. With average temperatures of about 19°C/65°F, early mornings are the most comfortable time.
January & February – These months receive the most rainfall. It rains many afternoons, but it is typically finished after a few hours. Powerful storms are common.
March – The rains are diminishing in March. It still rains every couple of days though, usually in the form of a storm. Mornings are a little bit cooler at 18°C/64°F, on average.
Want to Visit Okavango Delta?
Okavango Delta
Okavango Delta Photos
View Photos
(80)