Speke Uganda Holidays
5.0/5 – 165 Reviews
Offices In:

Germany

United States

Size:

10-20 employees (Founded in

2008

)

Member Of:

ATTA

,

APTA

&

AUTO

Tour Types:

Customizable private tours and fixed group tours

Destinations:

Price Range:

$140 to $500

pp

per person

per day

(USD, excl. int'l flights)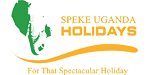 Request a Quote


for a custom tour
Your request will be sent directly to the operator
If preferred, you can contact the operator directly
Kla
–
DE
Visited: September 2014
Reviewed: Mar 4, 2015
50-65 years of age | Experience level: 2-5 safaris
round trip
Excellently organized round trip in a group ob three. Really reliable and
polite guide, who anticipated everything to make this trip unforgettable to us.
Great experience to search for Gorillas and Chimpanzees, came extremely close to see them.
Clemens
–
AT
Visited: January 2015
Reviewed: Jan 29, 2015
50-65 years of age | Experience level: 2-5 safaris
unforgettable
We booked Speke Uganda Holidays without any reference, only by searching the internet. There was something - I don't know what it really was - I thought this will be the best company for our trip. So we had many contacts with Tony (the chief of the company). We prefered some special Lodges, and some special places to see - that was no problem, they were very flexible and consumer friendly. Every question we had before our trip was answered within a maximum of 2 days. Before the departure, we got every information that was necessary.
We had an excellent driver, Hamid. We reached our destination very safely and on time. He gave us a lot of information about the people, the history, the animals and the whole country. There is nothing to criticize. Many thanks for the great journey with unforgettable impressions.

Doris Goossens
–
DE
Visited: November 2014
Reviewed: Dec 8, 2014
Email Doris Goossens | 50-65 years of age | Experience level: over 5 safaris
Speke Uganda arranged an amazing tour with a very capable guide. Perfect organisation.
Speke Uganda Holidays www.spekeugandaholidays.com arranged a wonderful tour. All our wishes from the first until the last second werde fulfilled immediately. Our guide Michael was experienced, very friendly and we learned a lot about him about county and culture. I will recommend Speke whole-heartedly.
Charlotte and Dominic
–
Visited: November 2014
Reviewed: Dec 7, 2014
20-35 years of age | Experience level: first safari
A magical weekend safari that we will never forget!!!
Speke Uganda Holidays helped us to organise a FANTASTIC weekend in paradise during our time in Uganda. They recommended a variety of wonderful experiences including a riverboat cruise along the Nile, a hike up Murchison Waterfalls, a safari trip through the national Park at Murchison falls and a morning at the rhino sanctuary where we got to walk with rhinos!! Our guide Hammid was brilliant and his knowledge of the national park and country was astounding! Speke Uganda Holidays chose Kabalega Wilderness lodge for our stay, right on the River Nile. We were greeted by the most friendly and caring staff that I have ever met. The food was incredible and the service was outstanding!! We are so grateful to Speke Uganda Holidays for such a memorable trip!! We plan to come back again next year and stay for longer... we will definitely be booking with them again! Highly recommended!!
Doris Goossens
–
DE
Visited: November 2014
Reviewed: Dec 4, 2014
Email Doris Goossens | 50-65 years of age | Experience level: over 5 safaris
Speke Uganda arranged an amazing tour with a very capable guide. Perfect organisation.
Speke Uganda is a company which is always there for its clients. From our first inquiry until our flight back home Tony and his team did a great job. Questions were answered within hours so that we got the impression that the company would sit next door and not thousands of miles away. When we met our guide Michael and the owner of Speke, Tony, in Uganda we saw that these men are living for their job and the wellbeing of their clients. The tour through beautiful Uganda was simply amazing. We got a very good impression of country and people, had many interesting discussions with Michael, stayed in beautiful and well-organized lodges with a always welcoming stuff and saw many animals we never saw before (it was our 5th visit to Africa). So thank you again Tony and stuff for a holiday we will never forget and will remember all our lives. I am recommending Speke Uganda and a trip to Uganda whole-heartedly!!
Heike and Hans
–
DE
Visited: June 2014
Reviewed: Aug 10, 2014
50-65 years of age | Experience level: 2-5 safaris
Spectacular holidays with Speke Uganda Holidays in Uganda and Ruanda
First of all we want to thank Michael Jakob in Germany and Tony Mulinde in Uganda from Speke Holidays for the informative previews by phone and email to plan our individuell roundtrip through Uganda and Ruanda. We got what we paid for.
The whole roundtrip was very well organized, well prepared and we had memorable holidays. Our guide was well trained and friendly and our car was under perfect conditions.
Many thanks again to Jakob, Tony and to our guide Hamidu.
June Young
–
US
Visited: April 2014
Reviewed: Jun 27, 2014
Email June Young | 65+ years of age | Experience level: over 5 safaris
My experience as an independent traveler with Speke was awesome from start to finish.
My initial contact with Speke Uganda Holidays was an internet one. They were, in fact, the first company to be honest with me regarding the cost of the gorilla viewing permit, a lowered amount of $350 because it was the rainy season.

Not only were they my safari company, they also set up many other excursions for me. My primary purpose in going to Uganda was to visit a girl I had sponsored for over six years. They arranged my transport to the school. When I couldn't get a reply from the hotel I had selected in Kampala, they intervened and made sure that was satisfactorily arranged. They helped me with the beginning of my trip until the very end. In fact, I'm sure I would not have had the memorable trip I had without their help.

My driver Robert always put my safety and comfort paramount. I never had to worry about anything. I knew that the whole Speke Uganda Holidays team was always working to make sure that I had the fullest experience possible. They were not only my safari group, they became dear friends that I will cherish for life. Although Uganda is truly a wonderful country that any tourist would find well worth a trip, it is the people that I met there, of which the Speke Uganda Holidays is tops on that list, that make it such a trip of a lifetime. I would trust the people at Speke Uganda Holidays with my life, and you can too.

I had so many memorable experiences in Uganda that I will not enumerate them. Feel free to contact me if I can give you any information regarding a trip to Uganda or can give you further information about my friends at Speke Uganda Holidays.
Urs
–
CH
Visited: April 2014
Reviewed: May 8, 2014
Email Urs | 50-65 years of age | Experience level: 2-5 safaris
Excellent service and guide
We had a lot of fun. Our guide was serving us very well and was an excellent driver too. The safari was a wonderful experince. Thank you!
Stephen D
–
Visited: April 2014
Reviewed: May 3, 2014
35-50 years of age | Experience level: 2-5 safaris
Great Experience in unspoilt wilderness
The whole trip was very pleasurable and well organized. We were met at the airport by Tony the MD making us very welcome. Our trip was mainly to Kidepo national park, the journey was long and the roads were bumpy in places but well worth it. Our guide Hamid kept us well informed about the places we drove through and the wildlife we encountered along the way, as well as expertly keeping the vehicle on the road. Our accommodation at Nga'Moru Wilderness Camp (don't let the name fool you) was very nice given its location right on the edge of the park - very effective solar heated shower! The highlight was Hamid tracking down a leopard one afternoon even though it was hiding in some long grass. Most days started and ended with brilliant game drives in the national park itself. We fell in love with the place and we highly recommend Speke Uganda Holidays as nothing was too much too much ask (well delivered).
Susanne Schubert
–
Visited: September 2013
Reviewed: May 1, 2014
Email Susanne Schubert | 35-50 years of age | Experience level: over 5 safaris
Experience of a lifetime
The communication with Speke Uganda Holidays was excellent. All our Emails were answered quickly and to our full satisfaction. We were met at the airport in Entebbe by our friendly guide and driver. The vehicle was okay and there was always fresh water. I enjoyed the various type of accommodation: from simple to luxury. The food was outstanding and tasty (with a very few exceptions). How I miss those small sweet bananas! The people of Uganda are beautiful and friendly. I would have liked to interact a little more. It was also interesting to chat to some of our hosts, e.g. at Kluges Guest Farm. I loved the colourful markets. The landscape is breathtakingly beautiful and varies a lot. I have never seen elsewhere so many impressive lakes. One of my highlights were Murchison Falls NP with the cruise on the Victoria Nile and, of course, the mountain gorillas at Bwindi Impenetrable NP. There was a baby in the group which entertained us humans and it was sooo cute to watch!!! The chimps at Kibale Forest NP were amazing to see too and I did not know about their sleeping habits before I got there (nests in the trees!). I had underestimated the state of the roads (I have travelled quite a bit in Southern Africa) and we often arrived late with just an hour before dinner. We spent hours / days driving on bumpy roads. At Murchison River Lodge (beautiful), we arrived twice at dusk and left twice at dawn. No chance for their pool. In retrospect, I would have skipped the 4 days in Rwanda and rather extended my time in Uganda to stay longer at some of the places we visited or experience another NP. The birdlife is abundant and our guide knew them all! At Queen Victoria NP we were hoping to see more wildlife. There are often no boundaries between the park and human settlement. There are farm animals within the park. Overpopulation in both countries is certainly an issue. I was also hoping to learn something about the current political situation when it comes to gay people in Uganda, but this was a no-go-area for our guide. All in all, it was a fantastic holiday for my husband and myself of which we had dreamed for years. We are so glad that we made our dream come true. Thank you Tony Mulinde & team!
Disclaimer
All corporate and/or tour info is provided by Speke Uganda Holidays, not SafariBookings