Speke Uganda Holidays
5.0/5 – 165 Reviews
Offices In:

Germany

United States

Size:

10-20 employees (Founded in

2008

)

Member Of:

ATTA

,

APTA

&

AUTO

Tour Types:

Customizable private tours and fixed group tours

Destinations:

Price Range:

$140 to $500

pp

per person

per day

(USD, excl. int'l flights)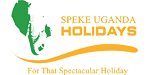 Request a Quote


for a custom tour
Your request will be sent directly to the operator
If preferred, you can contact the operator directly
Sabine
–
DE
Visited: January 2020
Reviewed: Feb 12, 2020
Email Sabine | 50-65 years of age | Experience level: 2-5 safaris
Uganda really the pearl of Africa
we had a unique time, many impressive encounters, an excellent guide (thank you again Ivan), wonderful accommodations and now a longing for Uganda, forever in our hearts,

Hana Luise Micha Marlene
–
DE
Visited: December 2019
Reviewed: Feb 9, 2020
Email Hana Luise Micha Marlene | 35-50 years of age | Experience level: over 5 safaris
It was out off this world what a wonderful experience our guide Ivan nsubuga always 100 Prozent
We had the most wonderful time ever not only the country unganda is magnificent also because we had this very special guide Ivan nsubuga . He really did every day his best to look after us
No word it was just the best

Sheila
–
Visited: January 2020
Reviewed: Feb 4, 2020
Email Sheila | 65+ years of age | Experience level: 2-5 safaris
Everyone should go!
Briliant unspoilt scenery with amazing wildlife! Uganda is a hidden gem! The tour route ensured we missed nothing. Travelling through such varied landscapes meant that we saw much more wildlife than you would on the plains of Kenya or South Africa. I saw all the animals I expected; lions, leopards, rhino, elephants, giraffe, hippo, chimps, gorillas, crocadilles and various monkeys etc. I also saw a few I didn't expect; 2 chameleon which I got to hold, a gaboon viper, mongoose, a monitor lizard and two otters! All the accommodation was stunning, with either exceptional views or location. All the places we stayed at were completely different with their own personalities, which gave the holiday a feeling of gentle exploration. Generally we stayed 2 nights at each place, which was not too exhausting. The roads are in the process of being upgraded and once completed will open the floodgates to more tourists. The food was european styled but very locally sourced. I recommend the crayfish from Lake Bunyonyi. What made the holiday for me was the quality of our tour guide. Husein was so brilliant! He was exceptional at wildlife tracking in the National Parks and sometimes outside them! (Viper, mongoose and monitor lizard). Husein tracked 5 lions in Ishasha when nobody had seen any for 4 days! He was a library of information about what we were driving through, pointing things out to us all the time, even if we were just driving down a normal road. He was always looking out for us. When necessary he got us up early so that we were at the heade of the queue for the best seats on the river cruises etc. The "extra mile" was when by mistake I left my muddy boots in the back of the 4*4 after gorilla tracking. I got in the vehicle the next morning to totally cleaned boots!!!
Holiday of a lifetime and so pleased I did it with Speke, as they were totally professional. I felt I couldn't have had a better experience.
Uwe Behns
–
DE
Visited: October 2019
Reviewed: Jan 30, 2020
Email Uwe Behns | 65+ years of age | Experience level: over 5 safaris
Speke Uganda Holidays is a reliable and qualified companion for a holiday in Uganda
Our holiday booking with Diamir was fully realized by Speke Uganda Holidays. We felt welcome and experienced a perfect trip. Our guide Robert Matovu played a decisive role in this, he realised this trip in a competent and entertaining way and gave us insights into a hitherto unknown region. Impressive were his social skills in dealing with the people we met as well as the high degree of entertainment competence to make such a trip impressive. We were able to experience the vacation in one of the most beautiful countries in Africa comprehensively, thanks to Robert and his well-tended and always reliable jeep.
Thanks Speke Uganda


d3rnik0laus
–
DE
Visited: December 2019
Reviewed: Jan 22, 2020
Email d3rnik0laus | 35-50 years of age | Experience level: 2-5 safaris
Impressive experiences, interesting conversations, damn funny car rides. Speke Uganda rocks!
If you want to experience Uganda in many ways and not "only" see great apes, then this is the right place for you. Besides impressive landscapes, a unique animal world and culinary delicacies, our guide made special experiences possible by always conjuring something special out of the hat, simply because we talked about it before. We would love to come back right away!

Klaus and Birgit
–
DE
Visited: November 2019
Reviewed: Dec 30, 2019
Email Klaus and Birgit | 50-65 years of age | Experience level: 2-5 safaris
A wonderful insight into the life and the landscape of the East African countries Uganda and Rwanda
Under the tour header "Fascinating Uganda and Rwanda" German tour operator Venter Tours organized a mesmerizing, personalized adventure for my wife and I, lead by local tour company Speke Uganda Holidays, tailored to our wishes and needs.
Upon arrival in Entebbe, we were thrilled to meet our personal guide and driver Husein who impressed with his deep founded knowledge of East- African culture and way of life. He personally guided us through terrain, people and customs for the following 14 days, ensuring that we emerged fully in our surroundings.
In this Husein was courteous and professional, safely guiding us through the many highlights of this journey whilst allowing is the freedom to see and process the many impressions. Next to the awe-inspiring visit to the mountain gorillas we had the chance to climb the peak of Mt Sabinyo, a personal bucket list item.
We cannot thank Speke Uganda Holidays as well as Venter Tours Deutschland enough for the immaculate planning of all parts of this journey, including activities and accommodation. Most importantly we would like to express our gratitude to Husein whose care and diligence contributed tremendously to the fond memories we take with us.


daniel&kathy
–
BE
Visited: December 2019
Reviewed: Dec 30, 2019
Email daniel&kathy | 50-65 years of age | Experience level: 2-5 safaris
a wonderful, perfectly organized Uganda experience
We discovered together with our guide Vincent the most beautiful spots in Uganda. From nature to culture, Uganda is truly an amazing country and the trip was well organized. If we come back to Uganda we will surely ask for Vincent again as he possessed a good sense of humor, is really knowledgeable about Uganda and always helpful. We highly recommend speke uganda holidays to organize your trip in Uganda.
Marina S.
–
CH
Visited: November 2019
Reviewed: Dec 15, 2019
Email Marina S. | 20-35 years of age | Experience level: 2-5 safaris
Uganda - "pearl of africa"
We spent 9 Days in Uganda. At the end we want to stay longer… ;)
My choice to go to uganda, was to have the opportunity to see gorillas. Honestly, we didn`d know a lot about Uganda before… So my mum and i got so so suprised about ALL! Uganda is just a amazing Country and "Pearl of Africa" is deffinitly the right describtion. We were many many times speechless. We saw the big 5 and more! The Gorillas was for me the most special thing. Hope to see them again.
The whole tour was so great organiced, there is nothing, to complain. The safari-jeep was comfortable and all accomondations was well chooced. Great rooms, clean, and the places were for ex. on the river or on a hill with nice views.
To have a good tourguide is for me one of the most important things. And I think with David, we got the best  he is super sympatic, friendly, and helpfull. He was allways on time and informated us all the time well. All our questions (we had a lot!) got answered. The car was cleaned up many times.
On the Safari and the way throw Uganda, he explaned a lot, so we got many informations about the land, people and animals. With David we felt all the times save, he is a good driver as well.
I would love to go again to Uganda. And recomend Speke Uganda Holidays, we would take them again !

Go To uganda and fall in love too.

Anna und Bernhard Schnackenburg
–
DE
Visited: September 2019
Reviewed: Nov 17, 2019
Email Anna und Bernhard Schnackenburg | Experience level: over 5 safaris
Good mixture of land and people (e.g. Rukararwe) and wildlife observation (chimpanzee and gorilla)
Tour fully corresponded to the announcement of the organizer (Gebeco) and our ideas of an eventful Africa trip.
Very good tour service by guide (Paul Ssesanga) and driver (Jotham Kasamba)
Britta
–
DE
Visited: October 2019
Reviewed: Nov 7, 2019
Email Britta | 50-65 years of age | Experience level: 2-5 safaris
Holiday in Uganda - AWESOME !
It was our first trip to Uganda. Thanks to our guide Ivan we had an amazing experience! He took care of us all the times and I learned so much about people and country. He answered all my questions and I had many :-).
Mainly we came for the Gorilla Tracking, which was definitely breathtaking. However today I know Uganda is so much more ... so many different landscapes. I'm thrilled by all this beauty. Without any doubts, this has been a holiday that changed my perspective.
5 Stars for Speke Uganda Holidays and for this beautiful country. Weebale!
Disclaimer
All corporate and/or tour info is provided by Speke Uganda Holidays, not SafariBookings