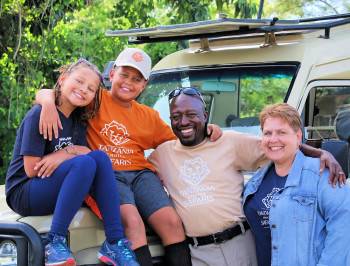 Tanzania Choice Safaris
5.0/5 – 207 Reviews
Located In:

Size:

5-10 employees (Founded in

2007

)

Member Of:

Tanzania Association of Tour Operators

Tour Types:

Custom mid-range & luxury tours that can start every day

Destinations:

Price Range:

$400 to $1,200

pp

per person

per day

(USD, excl. int'l flights)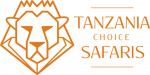 Gil
–
US
Visited: December 2022
Reviewed: Dec 28, 2022
Email Gil | 65+ years of age | Experience level: first safari
Well-organized, great selection of parks and attractions, superb guide.
TCS organized a 6-day trip through four major wildlife parks/reserves in northern Tanzania for our extended family. The trip exceeded my expectations in almost every way. We had detailed pre-trip instructions, all transfers and reservations were handled without a hitch, the accommodations were comfortable and well-provisioned and the wildlife and scenery were spectacular. Our guide, Leslie, could not have been better: engaging, knowledgeable, articulate (excellent English) and superb at tracking down animals to view and photograph.
Sharon
–
US
Visited: August 2022
Reviewed: Dec 28, 2022
Email Sharon | 65+ years of age | Experience level: first safari
Super spotter, knowledgeable, hard worker, helpful in everyway.
We had the best schedule and accommodations for animal sightings. We had flexibility if we needed to change the plan. For the most part we didn't want to or didn't need to. Our group was submerged in the Serengeti and surrounding areas to experience the most natural habitats and survival of all living things. It was awesome. Able to bring back a treasure of photos taken
Linda
–
US
Visited: September 2022
Reviewed: Dec 25, 2022
Email Linda | 65+ years of age | Experience level: 2-5 safaris
Superb great migration and birding safaris led by knowledgeable TZ drivers.
Flew to remote Mara River camp to see the Great Migration crossover the crocodile invested Mara River into TZ twice. And saw great Rift Valley from air. Driver maneuvered us into unobstructed view of animals not only crossing but coming up the bank. Using radio communicating with other drivers, our TZ driver located many other animals in remote locations, a pride of lions resting on rocks and up/under trees after morning kills; a lone leopard, with extended belly full of very recent kill, within close site of vultures fighting and feeding off carcass. Drove to Oldupai Gorge and to site down in gorge with museum guide to see actual location Leakey's found many key artifacts. Stayed overnight in authentic camp nestled within many Masai villages. Drove down into Ngorongoro crater to see many animals in natural habitat, including rare black rhinos, completing Big Five on this trip alone. Drove to Tarangire National Park to see baobab trees among elephant herds and many lions. Our TZ driver expert in animals, culture, life, geology and birds. Located over 50 different TZ birds for our Audubon knowledgeable birder. Stayed in Arusha and visited museum and Culture Center, one of best fine African art collections in world (live in Washington, DC) Having lived 3 years in TZ this is our 2nd trip with TZ Choice Safaris. We are planning our 3rd in 2024 with our family and friends.
James Chang
–
US
Visited: December 2022
Reviewed: Dec 18, 2022
Email James Chang | 50-65 years of age | Experience level: 2-5 safaris
Amazing experience, top-notch service
This is the second time that I have use this Safari company. They are absolutely outstanding. Brenda is an American who has settled in Tanzania, and is the main contact person for arranging your tours. She is extremely organized and booked all of our complex air travel, hotels, and park entries. I was able to customize the tour after several conversations with her. She is absolutely phenomenal.
There are several very seasoned Safari guides in this company. This time we had Leslie who was spectacular. We spent six days with him and he was completely appropriate, organized, and interested. He has a knack for finding the animals and for having us have a great experience. He had joy showing us unique animal experiences. He is always respectful and on time.
Overall, this is a fantastic company that you will be really happy with. It is the perfect size because you will know who the guides are and you have a main contact person who is available all the time.
Five stars!
Sonia Johnson
–
US
Visited: November 2022
Reviewed: Dec 16, 2022
Email Sonia Johnson | 65+ years of age | Experience level: first safari
Our safari guide was so enthusiastic, so much fun, and clearly loves being a guide and a teacher!
Our safari could not have been better! Brenda was SO helpful in helping us plan and create everything we would want out of a safari! ! We loved our two lodges and their outstanding hospitality! Our safari guide was so knowledgeable about the animals and was so very eager to share that with us! Our two daughters and their husbands are going to Tanzania in March and we have requested that they have Leslie as their safari guide too!
Melissa
–
US
Visited: September 2022
Reviewed: Dec 9, 2022
Email Melissa | 50-65 years of age | Experience level: first safari
Exception Animal Viewing
Tanzania Choice Safaris was an amazing option for our group. We were cared for from the moment we stepped out of the airport to the moment we left. Brenda and Kakasii listened and gave us an unforgettable experience. Leslie was informative and friendly. Kakasii was able to get us very close to the animals and was an excellent driver and host. I would absolutely recommend Tanzania Choice Safaris!
Sue
–
US
Visited: September 2022
Reviewed: Nov 17, 2022
Email Sue | 65+ years of age | Experience level: first safari
The tour operator/guides were exceptional!
Our trip was very memorable. We had unique cultural experiences and inspirational ventures into schools and safe houses. We met the people who were involved with the programs for young women and students, and had the opportunity to talk with some of the students and teachers. We experienced buying fabric in a market and having clothing made by a local seamstress. We danced with villagers and toured a Maasai village. Our lodging was very good....with wonderful service, and some places had pools which we took advantage of. All our meals were included--with lots of fresh fruit and local foods. Our tour guides were very knowledgeable and open to questions. We went on safari at two different national parks. We had the amazing experience of seeing many animals close up. Kakasii and Brenda did exceptional planning and guiding of the sites in Tanzania. The value of the experience was much more than the very reasonable price!
Sue C.
–
US
Visited: September 2022
Reviewed: Nov 15, 2022
Email Sue C. | 50-65 years of age | Experience level: first safari
Motocross
Joseph is a driver par extraordinaire! We saw FOUR wildebeest crossings at the Mara River, thanks to Joseph's deep knowledge of the animals' habits, great communication with the other safari drivers, and especially thanks to his safe yet thrilling driving capabilities. We were parked a few hundred yards from the riverbank, eating our breakfast in some shade, and enjoying tea and coffee (in china cups!), when all of a sudden, Joseph's wildlife photographer friends in another car yelled to him that the herd was about to cross. He got us quickly resettled, and we raced off to the bank like a Motocross race, bumping up and down and speeding across the plain, laughing uproariously the whole time. And it happened 3 more times as the herd on the (close to) Kenya side of the Mara, changed directions and moved upriver to 3 different crossings! It was the thrill of a lifetime!!
Joseph's knowledge of the animals' habits and his "laser vision" meant we saw the Big Five on day one of our safari, including rhinos from a distance. We saw two kills, a pride of six young lions and an adult female napping maybe 15-20 feet from the car, leopards in trees, giraffes that stared at us from the roadside, "nursery" elephant herds with many, many babies, and a bucket-list site for this Anthropology nerd, Olduvai Gorge.
An amazing, thrilling, beautiful, superbly well-organized safari.
Thank you Joseph, and Brenda for your amazing work and perfect hospitality!
Robin
–
US
Visited: September 2022
Reviewed: Nov 14, 2022
Email Robin | 65+ years of age | Experience level: over 5 safaris
Joseph was informed, alert, a great spotter, comfortable driver (considering the road conditions).
Tanzania Choice Safaris gave us a full and exciting adventure in the Ngorogoro Crater and on The Serengeti. We were comfortably lodged and dined, able to connect w the internet and enjoy the wildlife and scenery. They even managed to fit in a bit of luxury accommodation on a day we didn't fill w lions, elephants, leopards, water buffalo, rhinos, giraffe, cheetah, hyenas, fantastic birds ….., the list goes on ….. Our five days were filled with a true African adventure. Joseph was able to get us up to the Mara River to witness wildebeests crossing in great numbers! Truly exciting. Better than Disney or Nation'l Geo. A vacation priced w/i my allowable budget. I look forward to having Tanzanian Choice Safaris take me to more of the parks when I can again get to East Africa.
Mary
–
US
Visited: September 2022
Reviewed: Oct 21, 2022
Email Mary | 65+ years of age | Experience level: 2-5 safaris
This was our first travel group to Tanzania and the guidance to set our itinerary was amazing.
Our drivers were exceptional - arrived on time for our morning departures. As new visitors to Tanzania, the group had LOTS of questions and both of our drivers were gracious in answering them. When we ended up with a free afternoon, our driver suggested a visit to a Maasai village. We were welcomed with traditional dance and had the opportunity to go inside a boma (house). It turned out to be a great addition to our itinerary and will be included again next time. We spent 2 days on safari and the sharp eyes of our driver made it possible for us to see the big 5 in these 2 days. We were up close and personal with lions, zebras, elephants, giraffes, hippos and more. Couldn't have asked for a better safari experience.
I highly recommend the services provided by Tanzania Choice Safari.
Disclaimer
All corporate and/or tour info is provided by Tanzania Choice Safaris, not SafariBookings
The tours offered by Tanzania Choice Safaris are subject to their terms & conditions