Bush 2 City Adventure
5.0/5 – 50 Reviews
Located In:

Size:

50-100 employees (Founded in

2012

)

Member Of:

IATA,

TATO

& TALA

Tour Types:

Custom mid-range & luxury tours that can start every day

Destinations:

Price Range:

$200 to $400

pp

per person

per day

(USD, excl. int'l flights)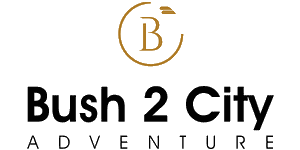 Rating Breakdown
Kristie
–
US
Visited: February 2023
Reviewed: Mar 28, 2023
Email Kristie | 50-65 years of age | Experience level: 2-5 safaris
Consistent superb service!
What a trip! In February 2023 I completed my 4th safari with Bush 2 City Adventure. For this safari I traveled solo, returning to Tanzania for 15 days. I revisited Arusha National Park, Tarangire Park, Ngorongoro crater, Ndutu (for the first time,) and the central Serengeti. Probably my best safari yet! Jackson helped me plan a relaxed yet thorough itinerary, choosing superb accommodations and a variety of activities. The safari was a drive in, fly out-decreasing road time back to Arusha. The planning was impeccable, from airport pick up to drop off.
My guide Said, who had been my guide for my first safari 5 years ago, was as incredible as before-outstanding driver, very familiar with the parks and the wildlife, superb spotter, as well as courteous and witty. Although I traveled solo, I felt like I was traveling with a friend.
In addition to the game drives where I once again saw the Big Five, I encountered several other critters not seen on previous safaris, did a night drive in Tarangire, walking safaris in Tarangire and Arusha National Park, as well as canoed on the small Momella lake in Arusha N. P. I highly recommend the canoe excursion if you have time. It is a wonderful change of pace!
The Land Cruiser was in great shape and ran well. Bush lunches were either a superb lunchbox (infrequent) or more often, a hot meal complete with meat, vegetables, rice and pasta, bread, fruit, juice and wine! (I noted more than one envious comment about my picnic wine.)
As before, Jackson met with me at the end of the trip to make sure everything had gone well, discussing the flow of the trip, the guiding and the accommodations. Since it was so perfect, safari number 5 is already being planned!

Olivier Candeel
–
Visited: February 2023
Reviewed: Mar 12, 2023
Email Olivier Candeel | 20-35 years of age | Experience level: first safari
Perfect service and all inclusive.
Everything was as promised. From pick-up till drop-off everything was perfectly arranged. George was very helpful and a great driver & guide during our safari. Would highly recommend.
TIFFANY
–
US
Visited: December 2022
Reviewed: Jan 21, 2023
Email TIFFANY | 35-50 years of age | Experience level: first safari
Fantastic experience with Bush 2 City Adventure!
We were two couples traveling together on the trip, but meeting in Kenya from the US. Unfortunately, due to travel issues (not booked by or related to Bush 2 City), my husband and I barely made it there in time to leave for our safari. We were quite tired and had had an insane experience over the previous several days to get there, and our checked luggage had not arrived when we got there. Once we met with Bush 2 City in the lobby the morning we were leaving on safari, everything got much easier.

Luggage situation - they took a copy of the baggage claim file, and once it arrived in Nairobi, were were in Masai Mara, and they were able to pick up the luggage from the airline, transfer it to a smaller airport, and have it delivered to us at the Masai Mara airstrip. This took very little from me to have to sort out, and I can't tell you what a weight off that was and how much I appreciate all of the things that I'm not aware of that went on behind the scenes to make that happen.

Guides - We had two guides, as you switch guides and vehicles at border crossings. We had Kevin in Kenya and Nickson in Tanzania. I can't say enough good things about both of them! You spend a lot of time every day with your guides as you are all in a confined space of a Land Cruiser for many hours. Both Kevin and Nickson are bright, articulate, and personable. We are very conversational folks and ask a lot of questions. I don't think there was a question that Kevin couldn't answer! You'd be lucky to get either of them as guides on your trip!

Accommodations - We chose the semi-luxury option for our trip. Most of the places were great. A constructive piece of feedback I'd offer is (if possible given availability, etc.) not booking so many nights back to back within the same chain. The food options between them are very similar and become repetitive after so many days/nights.

Overall - We had zero issues working with the company to set up this adventure, had zero issues with them during the trip - only many positive things to say! We would absolutely recommend them to friends and family, and if we return, would 100% work with them again.
Ronit
–
US
Visited: December 2022
Reviewed: Jan 5, 2023
Email Ronit | 35-50 years of age | Experience level: first safari
Absolutely fantastic!
Jackson was amazing to work with. He custom tailored anything we requested. The guides he provided us with were incredible. They were welcoming, warm, took us to see amazing, remote places. We got up close and personal with the animals. I highly recommend this company.
Lisa
–
CH
Visited: September 2022
Reviewed: Nov 22, 2022
Email Lisa | 20-35 years of age | Experience level: first safari
Gorgeous safari with Bush 2 City Adventure
The safari was incredibly beautiful from start to finish. Already the planning went smoothly, Jackson has responded to all our questions and ideas and has adapted the route optimally to us. On site, the pickup at the airport went without a hitch, we had a great guide with a lot of experience and knowledge, who showed us the most beautiful corners of the national parks. All accommodations (mostly tented camps) were very nice in unique locations and great facilities (here we had left everything to Jackson for planning, very good quality for an affordable price). We spent a total of 9 great days on safari and were able to see the diversity of the different parks including many different animals and breathtaking moments. It was an unforgettable experience and we can only recommend Jackson and his team to everyone! Thanks to Jackson and our guide and driver Azizi!
Jerry
–
US
Visited: September 2022
Reviewed: Nov 2, 2022
Email Jerry | 65+ years of age | Experience level: 2-5 safaris
Our tour operator was amazing, providing a great experience, ultimate flexibility at a fair value.
Our experience included detailed discussions during the planning stages, both via email and Skype. Jackson was a very good listener, providing prompt, accurate and valuable feedback for a group of six individuals through one main point of contact. The tour was flat out, amazing! We saw so much, experiencing both the animals as well as the people, enjoying the wild as well as the cultural with the local villages and tribes. The accommodations selected were wonderful, a blend of luxury and comfort, as we had requested, but always comfortable with excellent staffs, fantastic food— a chef at every site ! The guides were great at animal spotting but also were kind and considerate, always going " the extra mile" to make sure we were taken care of during our time in country, whatever our needs… I guess the real statement is… I would not hesitate to both recommend Bush 2 City Adventures, but I am planning on using them again!
Tom
–
CA
Visited: September 2022
Reviewed: Oct 9, 2022
Email Tom | 20-35 years of age | Experience level: first safari
Incredible Private Luxury Kenya/Tanzania Safari!!!
Me and my partner spent 13 days on a private safari tour of Kenya/Tanzania, organized through Bush2City Adventures and what an incredible experience it was.

We dealt with Jackson during the planning process, who was so quick to respond to all of our questions and optimize the itinerary to ensure we had the best experience on safari. He also provided guidance on how to obtain our Visas to enter Tanzania and Kenya and frequently checked in with us to ensure all our needs were met.

All of the guides we had were absolutely incredible. Nick took us around Nairobi on day one, then George took us to Lake Navaisha and Nakuru. Simon showed us the Masai Mara and Amboseli, and Nickson took us exploring around the Serengeti and Ngorongoro Crater.

They were all very experienced guides, each with over 10-15 years of experience running Safari tours. It was incredible how they would spot the animals from such far distances. I really appreciated how they would give additional context as to why the animals were behaving in certain ways or explain key facts about the animals.

The game drives were all incredible and I appreciated how the guides really tailored the experience to what we wanted. Sometimes they would let us go for longer drives when we weren't ready to go back, they always had a nice stock of alcoholic/non-alcoholic beverages and often served us luxury hot lunches with wine or beer (which many other tour companies didn't seem to do!).

Every game drive delivered some sort of new, interesting experience. We saw so many cool things like lion hunts, leopard bringing it's prey up a tree, multiple Wildebeest river crossings (which was such a life experience to see!) baby rhino's, baby lions, baby cheetahs, cheetahs feasting on a kill and the list goes on!

We also had a few add-on experiences to our package, all of which were just incredible. We visited the Giraffe Centre and Elephant Orphanage in Nairobi, as well as the Karen Blixen museum. We visited a Masaai tribe in the Mara, learning about how they live and their cultural traditions. We opted to do a hot air balloon ride in the Masai Mara and in the Serengeti, we had a beautiful dinner set-up in the middle of the wilderness (which was scary, but beautiful and felt safe since they had rangers patrolling and monitoring the area around us).

Without these incredible and very knowledgeable guides, we definitely would not have had such an amazing experience. I'll also say that Bush2City has very new, clean and well maintained safari jeeps.

All the lodges and camps were so luxurious with incredible food and stunning views. The people at every lodge or luxury tented camp were so friendly and provided just the most incredible service.

I truly felt like this Luxury Safari was the experience of a lifetime and I credit Bush2City Adventures for making that happen! I'll definitely be booking future African tours with them again. Thanks!
Kristie Gingery
–
US
Visited: October 2021
Reviewed: Jan 27, 2022
Email Kristie Gingery | 50-65 years of age | Experience level: 2-5 safaris
Another wonderful safari with Bush 2 City Adventure!
In October 2021 we completed our third safari with Bush 2 City Adventure, this time spending 15 days in Kenya. We visited Nairobi and Nairobi NP, Amboseli, Lakes Elmenteitia and Nakuru, and the Maasai Mara with 3 nights in the park and 3 nights in the Mara Triangle. We were originally scheduled to travel June 2020, but Covid obviously delayed the trip. Jackson was great helping us reschedule and adjust camps and dates as Covid and unreliable flight schedules continued to reek havoc with our plans. Everything went smoothly on arrival in Kenya. Jackson even met us at the airport, and with a local driver, transported us to our first hotel. All of our accommodations were superb, and our guide Antony was phenomenal - knowledgeable, keen eyes, very professional and truly interested in conservation. Antony even arranged for us to meet Dr. Elena Chelysheva of the Mara-Meru Cheetah Project at a nearby camp while we were in the Mara! We met Mama Duma!! After the safari we returned to Nairobi for one night to relax and see a little of the city, shop, get our Covid test for departure, and try some local food before we flew back to the US. An incredible 2 weeks!! Thank you again B2C!! Hope to see you soon in Tanzania.
Micaela Mendes
–
CH
Visited: December 2021
Reviewed: Jan 7, 2022
Email Micaela Mendes | 20-35 years of age | Experience level: first safari
Amazing experience
Great guide, excellent food, we saw all the animals. The best of the best
Laurie Naiden
–
US
Visited: November 2021
Reviewed: Jan 4, 2022
Email Laurie Naiden | 50-65 years of age | Experience level: first safari
Amazing & Very Accommodating
This was a trip of a lifetime! My dream since I was five! Jackson at Bush2cityadventure, made that dream come true for me. There were many emails going back-and-forth between me & Jackson. I'm sure I drove him crazy! But he was very patient with me, and took care of all my needs and answered any questions that I had. He helped me with any Covid forms, passport forms that needed to be filled out. I booked a 12 day trip to Kenya Jackson put together my itinerary. If there was something that I wanted to change, he would do it, no questions asked. He was very accommodating to my needs. He met me at the airport and brought me to Tamarind Tree Hotel in Nairobi. Every lodge, and tented camp I stayed at was absolutely amazing with breathtaking views! Every meal I had was delicious! My guide James was The Best! He met me in Nairobi and took me to my first lodge at Serena Sweetwater, in Ol Pejeta Conservancy. The place was magical! I spent 2 to 3 days at each Location. From there we went to Lake Nukuru, & Lake Navaisha,Then, onto the Maasai Mara! Words cannot explain what it felt like being there! Each Safari drive I went on with James, was awesome! The first day, we saw a pair of lions mating! James went above & beyond to find animals. He knew exactly where to go and had such knowledge of the bush & all the animals. He even quiz me on animal behavior! We saw Leopards, Cheetahs, Elephants, Rhinos, Giraffes, Hippos, Bushbucks, and much more! To see animals in their natural habitat, is wonderful! Amboseli was our last stop b4 going back to Nairobi.
Disclaimer
All corporate and/or tour info is provided by Bush 2 City Adventure, not SafariBookings
The tours offered by Bush 2 City Adventure are subject to their terms & conditions