Sunway Safaris
4.4/5 – 28 Reviews
Office In:

Size:

50-100 employees (Founded in

1994

)

Member Of:

ATTA

,

SATSA

,

ASA

&

HATAB

Tour Types:

Budget & mid-range tours with set start dates and a fixed itinerary

Destinations:

Price Range:

$66 to $197

pp

per person

per day

(USD, excl. int'l flights)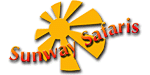 Sybille
–
CH
Visited: November 2018
Reviewed: Dec 4, 2018
Email Sybille | 20-35 years of age | Experience level: first safari
Authentic wildlife adventure - over expectations!
At the beginning of November, I joined the Botswana Wildside Camping Safari (14 days). It was a magnificent trip starting in Johannesburg, passing some of Botswana's national parks and ending in Livingston to visit the Victoria Falls. It was a well-organized and divers program – game drives and camping in remote areas as well as cultural interaction in the cities. One of my favourite points was the journey in a traditional makoro (narrow dugout canoe) to an island in the Okavango Delta, an enormous wetland area with pristine wilderness. Traveling in small groups was a major benefit to simplify the processes – it was more like a family than a group.

8 of 14 days we did some wild camping in the national parks. This was an authentic wildlife feeling with extended game drives in the morning and evening (siesta in the afternoon due to the heath). We were very lucky that we saw a big variety of animals and got plenty of time to observe them in detail. Please note that there is quite a bit of time spent in the vehicle (game drives, travel time…) but the seats are comfortable and the landscape is varied. So time is running fast. The meals made on the campfire were delicious and contained many fresh ingredients (tasty alternatives for vegetarians). Even in the outback, we had simple facilities (bucket shower every second day and bush toilets). Camping equipment, cooking tools and vehicle were in good conditions.

Local and experienced guides make a huge contribution to the success of a trip. Our guides/drivers were outstanding and complemented each other. Farai and Moses, our lovely guides, have profound knowledge in the field of wildlife, country-specific features and African traditions. They took care of us and showed us their countries from the best side. Farai was responsible for the overall organisation and the cooking part whereas Moses drives us through the landscape. Moses is a professional Botswana guide with big experience and true hospitality. Besides reliable driving, he showed us the (hidden) spots where we could track games and give in-depth background information. ET was the driver of the backup track with the kitchen and our baggage. That's a responsible task as well. With his friendly manner, he was part of the group and helped to set up the campsite or to break down before leaving.

Thanks to the people that make this trip amazing! I'm looking back to great trip and an unforgettable experience. It was an authentic wildlife experience - this sounds like an advertisement but it's the truth. I would highly recommend this tour to my friends.
Silke
–
Visited: June 2018
Reviewed: Aug 13, 2018
Email Silke | 35-50 years of age | Experience level: 2-5 safaris
Botswana Wild Side
We had an absolutely amazing camping safari in Botswana with Sunway Safaris. It was extremely well organised and run very smoothly. Our main guide, Petros, was outstanding. He was extremely knowledgeable about the wild life and enabled us to have some interactions with wild elephants that were amazing. I felt safe and looked after all the way along. The time in the okavanga delta with the locals there was really special. I was very glad that we had Jame with his superb driving skills on these difficult roads. Food prepared by Petros and Dineo was delicious and I was very surprised about what you can cook on a campfire! The wildlife was wonderful - it's easier to list what we didn't see (a cheetah) than what we sae - we even saw a pack of wild dogs! We returned with many many magic memories. Thanks!
Stephanie Berman
–
US
Visited: July 2018
Reviewed: Aug 6, 2018
Email Stephanie Berman | 35-50 years of age | Experience level: 2-5 safaris
Wonderfully organized to maximize the best of South Africa
I recently returned from the Sunway Safaris Rainbow Route, 17-day tour across South Africa. I have never been on an organized tour of this length and wasn't sure what to expect. As a solo traveler, I was incredibly impressed with the organization of the tour, the tour vehicle "Red Elephant," and and the expertise of the guides. Yes, there was quite a bit of time spent in the vehicle (it's great, but if you go during the winter, make sure you have layers because it can be cold in the mornings), but a lot of that time was spent during safari game drives and in order to be able to cover the ground that we did. There were a few days with really long drives, but because we left early in the morning and stopped for an activity along the way, the drives didn't feel that long. At Kruger and the other safari parks, we saw some unbelievable wildlife sights (e.g., pride of 12 lions, lions eating a recently killed buffalo, mother lion crossing water with baby, all Big 5 on two days in a row, elephant walking to water hole) due to the skill level of our guides, Phuma and Farai. Our guides were the perfect pair and complemented each other beautifully. After a few days, it felt more like a family than a tour group. We only had 4 in the group, but the limit is 12. We were also able to see fabulous marine wildlife including humpback whales, southern right whales, seals, etc. I was also incredibly impressed with the accommodations which exceeded my expectations. For the first two weeks, we were in somewhat remote locations (with the exception of Kruger), which were very peaceful. The last week when we hit the garden route, it became a bit more crowded with tourists, but was absolutely beautiful! Overall, I would highly recommend this tour and this company.
Stefania & Giorgio
–
IT
Visited: May 2018
Reviewed: Jun 14, 2018
Email Stefania & Giorgio | 50-65 years of age | Experience level: first safari
Raibow route, fantastic
We have just returned from 3 weeks in South Africa, Jacques and Willard were fantastic and every days we spent in this Amazing contry was a perfect day.
Many thanks to Sunway safaris for the organization and again thanks our guides Jacques and Willard, we'll never forget them.
They are realy professional and we enjoyed every moment of the tour.
The accomodations are all ok, a realy good standard.
We raccomand Sunway safaris and, J'm sure we'll come back again!! Next time in Botswuana!!!!
Grahame Brind
–
NZ
Visited: October 2017
Reviewed: Nov 4, 2017
Email Grahame Brind | 65+ years of age | Experience level: over 5 safaris
Botswana Wildside, superb safari.
This was our 5th Sunway Safari, and we are in our mid and late 70's. Although we had done this safari before (2009), it was so good that we wanted to take our daughter on it. It not only lived up to expectations, but exceeded them. Our guides Wayne and Zambo were amazing, full of knowledge, which they readily passed on to us. Wayne was a wonderful cook ( we are vegetarians ), which helped make our holiday great. The banter between Wayne, Zambo and all of us turned a great safari into a superb one. Not only did we see some amazing animals, but we came away knowing far more about them thanks to Zambo and his in depth knowledge. Although very hot up to 43deg, we would highly recommend this trip.
Anne & Mario
–
DE
Visited: October 2017
Reviewed: Oct 29, 2017
Email Anne & Mario | 35-50 years of age | Experience level: over 5 safaris
Ivory Route - fantastic
We have just returned from the 2-week Botswana & Zimbabwe Ivory Route, which exceeded our already high expectations (we have traveled several times with Sunways). The route was well chosen and the activities as well. The accommodations were all good, Hyena Pan was again fantastic with the many animals at the waterhole. The travel times were long but absolutely in order. Our highlights were:
- Matobos National Park, where we were only a few meters away from the rhinoceros (mummy, dad and baby)
- Moremi Game Reserve, where we have seen a young leopard have torn a little impala
- Shakawe - Okavango Delta, where we spent a night on a houseboat
- Maun - the flight with the open helicopter over the Okavango Delta (at his own expense)
- Chobe National Park, where we have seen a lot of elephants and of course a leopard with its two babies.

We will never forget this trip - our honeymoon.

Many thanks to Sunway Safaris and our two guides Chris Zvidzayi and Chris Zulu who have made this possible.

All in all, we can only recommend Sunways and already plan another safari with Sunways next year.
Mike & Teresa
–
Visited: September 2017
Reviewed: Oct 23, 2017
The review below is the personal opinion of Mike & Teresa and not that of SafariBookings.
Truck unbelievably uncomfortable. Transfer didnt eventuate Joburg & Sunway refused to pay us back!
Wrote a long review to Sunway but they never even replied!
Happy to take your money but no after sales service.
Bus unbelievably uncomfortable, hot & seats terrible.
Food not great.
Wouldnt refund our transfer despite saying they would - waited Joburg airport for an hour & gave up!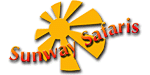 Reply
from

Sunway Safaris

Posted on Oct 25, 2017

Dear Michael

Thank you for the detailed critique of the Wild Parks Botswana Tour that you recently completed.

I am happy that you found the itinerary to be well planned and executed. However to get perfection is always the goal so I am pleased that you have brought up areas where you think we can improve the service and performance.

Spring in Botswana can get very hot before the rains arrive in late October. I take your comments about the tour not being suitable for the over 60's, and although we have successfully operated for many years in Botswana this period of the year is the best for game viewing.

I have read through your detailed recount of the arrival situation and I offer my perfuse apologies for the delay and uncertainty caused when the transfer company did not make connection with you. We subcontract to a reliable transfer service when we are unable to do the transfers ourselves. We have very few problems with this service and the transfer company have given their report. I will refund the taxi fare for the extra expense which you incurred on top of you pre-booked airport transfer. Once again my apologies. This is not the way we wished your Sunway journey to begin.

Safari Vehicle:
We do not advertise air-conditioning in the safari trucks for various reasons, primarily because of the issues of reliability and servicing availability in Southern Africa. There are only a few options available to us in Southern Africa for maintenance of the air-conditioning systems, and although these options are slowly expanding we cannot guarantee the service. On this occasion the vehicle you were in had air-conditioning, according to our pre tour check lists this was working. The majority of air conditioning systems, when the temperatures of 40 degrees, would only be able to take the edge off the heat. The vehicle is back at our operational base now and we will have the air con company looking at it in the next few days.

I will however be looking into how we can support our agents with information so that it is for those booking in the hot months the temperatures that they could be travelling through.

We have found curtains become a hazard, take up space and become a contentious point among our travellers.

We go through regular guide training sessions with the operational issues for the cool boxes in the vehicle. So if there was only 1 resupply of ice in the 14 days of the tour for your clients cool box then I apologise. I will go through the receipts returned by the guides to make sure that we are supplying the correct amount of ice for the drinks cooler.

I am happy that the majority of the accommodation in Khama Rhino Sanctuary, Rivernest, Pelican Lodge and Rainbow Hotel all and the camp in the Okavango met your expectations. The prime motive for being in the Okavango Delta is for the mokoro journey and the wildlife game walks. Both of these activities get us closer to part of the wilderness that you cannot do on a vehicle based activity. The guides or polers suggestion of learning to pole is often an entertaining way to spend the afternoon in the Okavango. I am sorry that this although mentioned did not eventualise for you, the two nights in the itinerary dedicated to the Okavango offer a chance to get into the wilderness, we will concentrate on the cultural aspects of the Okavango for the next guides training session.

Hyena Pan: The actual game viewing drive in the morning in Moremi is extended so as to remove the backtracking back to Hyena Pan for lunch and allowing more time to explore Moremi Game Reserve as well as its surrounds. I am sure the flight back to Maun would have given you an excellent view over the edges of the Okavango.

The congestion in Chobe National Park is an unfortunate problem which is why we emphasize more of our wilderness experience in Moremi and have included the River Cruise to the itinerary. It is a major problem for the Botswana Wildlife Parks, Tourism Department and for the Botswana Government and they are all aware of these issues you have raised.

Food prep and storage: I am glad that the hygiene protocol of hand washing before meal preparation was adhered to. I will discuss the issues of the length of time food is left out particularly on hot days with Willard and Alois.

Our trucks store water in specifically designed stainless steel water tanks stored under the passenger compartment. The guides do not use engine water to wash food and produce. While I am glad that the hygiene protocol of hand washing before meal preparation was adheared to, I will make sure that the water is provided for hand washing at toilet stops as well.

We do guides training to help the guides become "time" efficient. I will redo this training with Alois and Willard to make sure that minimal time is wasted refuelling or shopping or banking during this tour. I will discuss this with the guides to make sure that they are aware when planning the following day. Good suggestion and we will follow up on this.

Thank you for your suggestions on making all the clients pre purchase their currency.

Tipping while not a cultural norm in Australia is a norm in many other parts of the world. All of the staff at Planet Okavango (a company which I own) and my staff at Sunway Safaris are paid well. Our guides partake in a bonus scheme dependant on performance and client satisfaction. They are all paid considerably more than many other sectors in Southern Africa. However gratuities are exactly that. It is a voluntary suggestion to show your appreciation of their hard work during the tour. We do not suggest at any point that it is compulsory. However if you enjoy the service and if you appreciate the guides role in the safari then we give a guide line for tipping for those uncomfortable or unsure of the amounts to tip. I am sorry that you felt pressured to tip the polers in the Delta after they had looked after you.

The Local payment is used for operational expenses during the tour and in retrospective payment at various points after the tour finishes in Victoria Falls. The guides are also carrying cash to cover the following tours which do not go back to South Africa.

Thanks for the suggestion of the Boma being included in the tour as a final meal celebration.

We appreciate your suggestions and feedback. I would have replied sooner however we never received the email or letter with your suggestions. The first I knew of this was when you posted the negative review on Google on Sunday / Monday. Once I received the email through our website and following letter correspondence I have endeavoured to reply as soon as possible. I would like to reiterate my apologies for the

Please can you send me your banking details and I will deposit $100 refund for the transfer taxi directly into your account by Thursday. Once you have received the refund for the taxi, I would kindly ask you to reconsider the review.

Kind regards
Shaun Waring-Jones
Sunway Safaris

eric
–
CA
Visited: July 2017
Reviewed: Aug 26, 2017
The review below is the personal opinion of eric and not that of SafariBookings.
lack of training guides
the safari was good ,but the lack of training of are guide ( Wayne)to adress a''Bully ''in are group ,even after it was mention to him ,put a lot of strain and a bad atmosphere in the group ,and cause me lot of stress,I will not recommend to someone Sunway Safari ,I saw other group ,with other company having more fun and a better group dynamic that our,I lodge a complaint to Sunway Safari , will see ,
Jagoda
–
US
Visited: July 2016
Reviewed: Aug 7, 2016
Email Jagoda | 50-65 years of age | Experience level: first safari
Exceeded expectations: organized, knowledgeable, fun and that's just the guides
The Botswana Wild Parks accommodated photo safari offered and delivered on everything we'd hoped for from a first visit to South Africa. True, we didn't see rhino but who can blame them from hiding in the bush? Keeping the group to a manageable size (12 max) meant we all got to know each other and luckily, enjoyed each other's company. Jacques, though young, is very knowledgeable and passionate about wildlife and quite a good organizer. Simba exudes such warmth, kindness, good humor and life-loving spirit that he was a joy to be with. At Moremi, the local guide, Moses, is an absolute treasure. Not only does he have deep, deep knowledge about the birds and animals, he's a fantastic driver, and was willing to share about the culture and economics of eco-tourism as well. On the search for lions, on our last day in Moremi, with the trailer carrying our gear and bags already attached to the 4-wheel drive vehicle, he sighted a lioness and then drove off road to follow her into the bush. We all got National Geographic worthy photos of this gorgeous animal when she finally stopped moving because we were only 2-3 meters from her. The food was delicious and the varied accommodations were part of the adventure. Our favorite was Hyena Pan where we could watch elephants and giraffes and other creatures right from the deck. All in all, a memorable and enjoyable vacation. We would recommend Sunway Safaris to others and would book with them again.
Robert
–
Visited: November 2015
Reviewed: Feb 21, 2016
Email Robert | Experience level: over 5 safaris
The review below is the personal opinion of Robert and not that of SafariBookings.
Disappointing i m afraid though maybe ok for first time visitors to Africa
We travelled Johannesburg to Victoria falls last November. The truck was full to capacity at 12 plus provisions and was far too cramped. We had two guides, only one of whom could drive the vehicle and he was by far the better at his job. The second guide had preferred clients and was often rude to those not among them; his knowledge was poor, demonstrated at the zimbabwean border crossing when we found his visa advice to be incorrect and more generally in terms of local traditions. Group integration was poor based on our worldwide experience. The farewell event was pointedly only open to those favoured few.

However, the local park-based guides were really good. We saw all the animals we hoped to see and more thanks to them. No complaints about the food either.
Disclaimer
All corporate and/or tour info is provided by Sunway Safaris, not SafariBookings
The tours offered by Sunway Safaris are subject to their terms & conditions