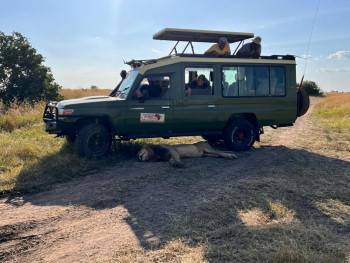 African Sunset Safaris
4.6/5 – 81 Reviews
Located In:

Size:

5-10 employees (Founded in

2010

)

Tour Types:

Customizable private tours and fixed group tours

Destinations:

Price Range:

$50 to $600

pp

per person

per day

(USD, excl. int'l flights)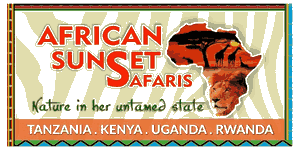 Rating Breakdown
Farah
–
AE
Visited: July 2016
Reviewed: Jul 18, 2016
Email Farah | 20-35 years of age | Experience level: first safari
Very professional and accommodating
Very prompt in the communication . Were able to also arrange a car seat for our child travelling with us. We could not have asked for a better guide than Julius. Highly recommended!
Mr Jai Mitra
–
US
Visited: June 2019
Reviewed: Jul 2, 2019
Email Mr Jai Mitra | 50-65 years of age | Experience level: first safari
Fantastic African Safari .. memories for a lifetime
We just wrapped up a fantastic 14day safari through Kenya and Tanzania, with a side trip to Victoria Falls (Zambia and Zimbabwe). Lifetime of memories and a truly amazing experience, thanks to African Sunset Safaris.

Simply put, you can't go wrong with Haron Gashao, owner of African Sunset Safaris. I contacted a lot of tour operators and researched heavily over a couple of months before picking Haron to organize the trip for our group of 10 (three families). We wanted a customized itinerary with a circular routing .. Nairobi, Masai Mara, Serengeti, Ngorongoro, Amboseli, Tsavo West (Salt Lick) .. which meant crossing the border at Isabenia (into Tanzania) and Namanga (into Kenya). Haron worked with me patiently through multiple iterations of the itinerary revisions and made thoughtful suggestions that made this trip so much more enjoyable. We experienced western parts of Mara and Serengeti that tourists normally don't see. To reduce our journey time from Mara to Serengeti (through Isabenia), Haron arranged for us to stay a night each at Mara Engai and Zebra K Bush Camp .. fabulous experiences!

We had Patrick in Nairobi, Nick and Julius in Mara, Peter and Rogers in Serengeti, Joe and Ben in Amboseli/Salt Lick .. all fabulous guide-cum-drivers. Even though the dirt roads can be challenging, the Landcruiser 4x4 vehicles were very comfortable .. you get a vigorous African massage. The game viewing was terrific and the guides were quick to find the hot spots for us to see game up-close .. we saw Big 5 and a whole lot more. They regaled us with stories about the Masai and the local culture, mixed in with funny anecdotes about wildlife. The properties we stayed at were all top-notch .. Windsor Hotel (Nairobi), Zambezi Waterfront (Livingstone), Sarova Game Lodge (Mara), Mara Engai (Mara), Zebra K Bush Camp (Serengeti), Serena Safari Lodge (Serengeti), Serena Ngorongoro Crater Rim Lodge, Serena Amboseli Lodge, Sarova Salt Lick Lodge. We had 5 vegetarians in our group of 10 .. the chefs at each property went out of the way to prepare special meals for us. The warm Jambos and Karibus from the folks we met in Kenya, Tanzania, Zambia and Zimbabwe made this trip so memorable.

This trip has been memorable for the beautiful scenery, unbelievable game viewing, generous and friendly people we met along the way, elegant and comfortable lodges, variety of experiences and pleasant weather. But most of all, it was Haron's personal attention right from the planning phase to our arrival and throughout our trip that made the biggest difference for us. He met each of the arriving parties at the airport, was there at the border crossings and was is constant touch with us over WhatsApp .. note sure when the man sleeps! When we had a minor hiccup with Kenya Airways on the return flight from Livingstone, Haron was quick to roll with it and made alternate arrangements for us to be picked up at Nairobi from the red-eye flight and head out to Mara to begin our Safari.

If you are looking for personal attention, a worry-free vacation and the best value there is, get in touch with Haron and you're in for a real treat! He tells me his website is getting a fresh update so it should be even easier to research and custom design your own dream African Safari.

Thank you Haron and the team at African Sunset Safaris for a truly remarkable vacation!

Our custom-designed itinerary ..
Day 1 - Arrive in Nairobi, Stay at Windsor Golf & Country Club
Day 2 - Sheldrick's Elephant orphanage, Karen Blixon Museum, 9 holes of golf at Windsor
Day 3 - Early morning flight to Livingstone (Zambia), visit to Zambian side of Victoria Falls
Day 4 - Crossed the border to Zimbabwe on foot over Victoria Falls Bridge, Zambezi Helicopter tour over falls, visit the Zimbabwean side of Falls
Day 5 - Return to Nairobi, drive to Masai Mara, late afternoon game drive, overnight at Sarova Mara Game Lodge
Day 6 - Early morning Balloon Ride over Masai Mara, bush breakfast, morning game drive, bush lunch, head to Mara Engai for overnight halt
Day 7 - Head to Isabenia for border crossing into Tanzania, late afternoon arrival at Zebra K Bush Camp, nature walk, camp fire dinner
Day 8 - Game drive in Serengeti NP, arrive for lunch at Serena Safari Lodge, afternoon game drive, overnight at lodge
Day 9 - Morning game drive, head out to Ngorongoro crater for game drive, overnight at Serena Ngorongoro Crater Rim lodge
Day 10 - Head out to Amboseli, souvenir shopping near Arusha, border crossing at Namanga, overnight at Serena Amboseli Lodge
Day 11 - Morning and afternoon game drives in Amboseli National Park
Day 12 - Head out to Tsavo West for Sarova Salt Lick Lodge, night game drive
Day 13 - Wildlife viewing at Salt Lick Lodge, morning and evening game drives in Taita Hills Sanctuary
Day 14 - Catch the morning Madaraka express train from Voi to Nairobi, lunch, Nairobi National Park game drive, depart Nairobi
Eric Wang
–
SG
Visited: June 2019
Reviewed: Jul 14, 2019
Email Eric Wang | 50-65 years of age | Experience level: first safari
A good safari experience with African Sunset Safaris
A safe trip with good accommodations, good food and experienced drivers who managed to take us to see the big 5.


Janet Bartol
–
US
Visited: June 2019
Reviewed: Jul 14, 2019
Email Janet Bartol | 50-65 years of age | Experience level: 2-5 safaris
Absolutely wonderful to work with
My son and I recently enjoyed a 2-week safari through African Sunset Safaris. We had an absolutely amazing experience from start to finish. Haron was extremely responsive to all of my emails and the multitude of questions I peppered him with. He made sure that everything was just right for us and even went out of his way to accommodate our every wish. The animal sightings in both countries were wonderful. We had Gidion in Tanzania and he was such a fun guide to have. I would definitely travel with African Sunset safaris again.
Andrew
–
US
Visited: July 2019
Reviewed: Jul 23, 2019
Email Andrew | Experience level: first safari
Exceeded our Expectations! Fantastic Tour of Kenya/Tanzania
I highly recommend African Sunset Safaris, a fabulous tour outfit that far exceeded our expectations. Owner & Manager Haron was excellent with communications and very helpful during the tour. He customized for us a 13 day safari in Kenya/Tanzania during the Great Migration. The lodging was tremendous, and our guides -- Julius and Lazaro -- were incredibly experienced, professional, and knowledgeable. We so enjoyed our conversations with them over (exceptional) meals about life in East Africa and the region's many natural splendors. We saw the Big 5. We saw gorgeous birds, baobob trees in Tarangire, stunning sunsets, watering holes of crocodiles and hippos, and huge herds of elephants. Julius and Lazaro were respectful of the wildlife, mostly avoiding the big scrums of tour vehicles while still getting us up close and personal with the animals -- resulting in incredible photographs. If you want to see lions stalking their prey on the foothills of Kilamanjaro, rare rhinos in Nakuru, leopards, cheetahs, vibrant flocks of flamingos, and humongous herds of wildebeest, go with African Sunset Safaris!
Andrea Arenas & group
–
CL
Visited: September 2019
Reviewed: Sep 19, 2019
Wonderful experience in Kenya and Tanzania. We recommend this company 100%
With 3 friends we hired 10 days of safari with this company and from the first minute they took care of us. In Kenya we pass through the Nakuru National Park and Masai Mara Reserve, then cross to Tanzania through the Serengeti, Ngorongoro and Tarangire National Park. The experience was magnificent. Haron, our tour operator took care of every detail and was flexible to our needs. The accommodations in each park were magical, each with its seal. We had two guides - drivers (one in Kenya – Patrick, and one in Tanzania - Gideon), who showed all their experience and willingness with the group. We were lucky to witness the migration of zebras and wildebeest from Serengeti to Masai Mara! ... simply wonderful. African Sunset Safari exceeded all our expectations. We highly recommend this company. In addition, it is a good way to favor local entrepreneurship because this company is from Nairobi.

Con 3 amigos contratamos 10 días de safari con esta compañía y desde el primer minuto se preocuparon de nosotros. En Kenia pasamos por el Parque Nacional Nakuru y Reserva Masai Mara, luego cruzamos a Tanzania pasando por el Parque Nacional Serengeti, Ngorongoro y Tarangire. La experiencia fue magnífica. Haron, nuestro operador turístico se preocupó de cada detalle y fue flexible ante nuestras necesidades. Los alojamientos en cada parque fueron mágicos, cada cual con su sello. Tuvimos dos guias – conductores (uno en Kenia – Patrick, y otro en Tanzania - Gideon), quienes mostraron toda su experiencia y disposición con el grupo. Cada cual se esmeró para cumplir con nuestras expectativas. Tuvimos la suerte de presenciar la migración de cebras y ñus desde Serengeti a Masai Mara!... sencillamente maravilloso. African Sunset Safari superó todas nuestras expectativas. Recomendamos esta empresa totalmente. Además, es una buena forma de favorecer el emprendimiento local ya que esta empresa es de Nairobi.
Josephine
–
Visited: August 2019
Reviewed: Jan 17, 2020
Email Josephine | 20-35 years of age | Experience level: first safari
Haron was very patient and professional and displayed vast knowledge of the area.
The service was above and beyond our expectations and we couldn't be happier.
The tour was exceptional. The vehicle was spacious and water was provided. They thought of everything
Jay
–
US
Visited: February 2020
Reviewed: Mar 5, 2020
Email Jay | 65+ years of age | Experience level: first safari
Our 15-day Kenya/Tanzania experience was thrilling and exceeded our expectations.
I read through a few guidebooks and screened several operators listed on safaribookings.com before selecting African Sunset Safaris, owned and operated by Haron Gashao. Their "15-day Best Program for Photography" Itinerary (Amboseli, Sweetwaters/Ol Pejeta, Samburu, Nakuru, Naivasha, Maasai Mara, Serengeti, Ngorongoro, Tarangire) was near-perfect for what we wanted. Haron is an excellent, personable (even droll at times), professional and knowledgeable guide, familiar with the animals and their habits and therefore an excellent spotter. He can and does go off-road where permitted -- all the better to spot such amazing sights as 3 roving rhinos, a mother cheetah with 4 playful cubs, a pair of mating ostriches, and yet another cheetah in tall Mara grasses lunching on a gazelle. Along the way, you will view every animal possible -- the "Big 5" almost certainly. We saw 4 different leopards along the way, and they can be very elusive. Parades of elephants and giraffes, every antelope-like creature from the tiny dikdiks to the enormous elands. Sure, many lions and hippos. A stampede of thousands of wildebeests. A zillion zebras. Crested cranes and many many other birds. Hyenas, wild dog, jackal, pointy-eared African foxes, mongoose...we even spotted a rarely seen small cat, the serval. Haron is also a very skillful driver of his large Land Cruiser -- important for the often very bumpy and sometimes flooded dirt roads that you will inevitably encounter. We stayed in wonderful lodges with outstanding food, accommodations, and views (e.g. Serena and Sarova properties) and also in a few very comfortable if only slightly spartan tented camps. Haron was good about communicating and answering questions up-front, and adjusted and added to our trip plans per our interests and requests. He seems to have good relationships with the lodges and camps that enable him to get very good value . . . much better pricing than booking through a US company (that would only subcontract with an African operator anyway) and even better than many other African operators that I looked into. Be on notice that Kenyan and Tanzanian guides, per local rules, can only work in their own countries... so that you will have a different guide for part of a 2-country safari. In our case, Haron had promised the highly-praised Gideon for our Tanzania portion, but his Land Cruiser broke down and couldn't be repaired in time. The replacement was a capable and personable young guide, Erick, but the vehicle was somewhat older and smaller. Hey, stuff happens. It also rained a lot the week before we arrived (a month before the annual rainy season). That caused some challenges with huge ponding puddles and mud, and some concern about possible itinerary adjustments, but it all worked out. We had a wonderful and amazing experience. Keep your sense of adventure and sense of humor, and go with the flow . . . with African Sunset.
Pamela M
–
US
Visited: February 2020
Reviewed: Mar 11, 2020
Email Pamela M | 50-65 years of age | Experience level: first safari
Wonderful birthday present safari!
There were some communication glitches, but we worked everything out. Our guide on safari was Gideon and he was fantastic. He really took care of everything and gave us a great experience. He was very informative about the wildlife, terrain, and the Maasai culture. I would definitely use Gideon again. This was a wonderful experience of a lifetime!
Bancy Njuguna
–
Visited: September 2020
Reviewed: Oct 5, 2020
Email Bancy Njuguna | 35-50 years of age | Experience level: 2-5 safaris
Timely and patient all through the safari. Vast knowledge of the park and animals.
The tour met my expectations and the service was great.
I highly recommend.
Disclaimer
All corporate and/or tour info is provided by African Sunset Safaris, not SafariBookings
The tours offered by African Sunset Safaris are subject to their terms & conditions