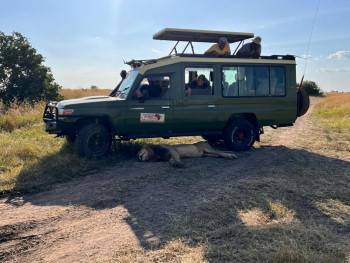 African Sunset Safaris
4.6/5 – 81 Reviews
Located In:

Size:

5-10 employees (Founded in

2010

)

Tour Types:

Customizable private tours and fixed group tours

Destinations:

Price Range:

$50 to $600

pp

per person

per day

(USD, excl. int'l flights)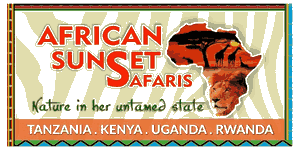 Rating Breakdown
Charles Mbugua
–
Visited: September 2022
Reviewed: Nov 5, 2022
Email Charles Mbugua | 20-35 years of age | Experience level: over 5 safaris
7 days of fun in the wild
Every year we take a trip both me and my wife to celebrate our marriage anniversary and this year it was on of the best all thanks to African sunset safaris. We had hoped to do an east African tour but last minute changes meant we could only manage a 7 day Kenya trip. They picked us up from Karen the hub mall and got us back there in a timely, professional manner. We visited Lake Nakuru National Park, The Great Rift Valley and Masai Mara. Haron was our Driver/Wildlife Guide and was awesome, professional, knowledgeable and extraordinary. We were able to see the big 5 (lion, leopard, rhino, elephant & buffalo) at Masai Mara. Our greatest moment was when we witnessed three lionesses hunt early in the morning and a pride of more than 7 lions all came to feed. also we enjoyed watching a mother cheetah successfully hunt to feed her cubs, the chase was breath taking.
We recommend African sunset safaris to anyone interested in having a memorable tour.
Tiago
–
NL
Visited: September 2022
Reviewed: Oct 2, 2022
Email Tiago | 35-50 years of age | Experience level: 2-5 safaris
STAY AWAY FROM THIS COMPANY
Long story short we paid for a 5 Safari days.
On the day 4 we found out that the 5th day of the Safari was… going to the airport.
So the amount that we paid to this company, included the entrance in Tarangiri park 1 morning + the use of the Jeep for a morning safari and they just took us to the airport and kept that money to them. When I spoke with the person in charge he said that he wanted to make it right so he would do a refund of 318€. 10 days have passed and Haron is ignoring my emails. First he gave an excuse that he was in Nairobi and after then ignoring emails and phone calls… not happy at all.
Besides this incident, we also paid based on accommodation. On the 3rd night we paid for a Serena Hotel in Ngorongoro cratera and we found out, once we left the cratera, that we werent staying there….
Keep in mind that there are thousands of Safari companies who will definitely provide a better service. As an example, during lunch time, we always had a very basic lunch box (cold items) and we saw several companies coming with warm meal and providing a total different (and better) experience to the customer.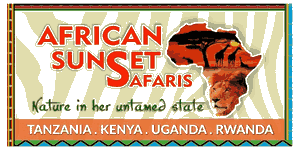 Reply
from

African Sunset Safaris

Posted on Oct 24, 2022

We had this trip in September, we arranged everything as we had indicated to them, we did offer them our best guide for the 5 days safari, he has done an excellent job in all our safaris and never had any complaints about him, and he did his best on this trip

It has been our tradition to always celebrate the occasion our clients are celebrating in a special way, We have always made arrangements for honeymooners on the last night and morning to have a surprise for them, which has always had special memories at the end of the tour, we made this arrangement for this couple, but they didn't want that, for this reason, we agreed to refund them for the morning game drive, ​​but they had the vehicle and they were dropped at the airport at around 2 pm from Tarangire, ​The refund is already done ​

We had the itinerary and shared the reservation with all hotels as we had indicated on the itinerary, Serena Ngorongoro had overbooked and some of the companies clients were to stay at Serena Manyara, I did request the hotel to work something out for them since they were staying in Serena Manyara and they did,

On the last issue to do with lunch boxes, this is strictly for the hotels to provide and not us since all hotels are booked on full board bases, having hot pots depends on which properties one is staying at, different hotels offer different lunch boxes,
Carole Troy
–
IE
Visited: August 2022
Reviewed: Aug 28, 2022
Email Carole Troy | 35-50 years of age | Experience level: 2-5 safaris
Trip of a Lifetime
We had a 16 night safari in Kenya organised by African Sunset Safaris. Haron was excellent in suggesting possible itineraries and extremely patient every time I had to make changes. Our final itinerary gave us an amazing overview of this amazing country. We saw so much wildlife and had some wonderful experiences along the way. Haron and Charles were full of interesting facts and stories and my two teenagers especially enjoyed this. They both really ensured our holiday was a wonderful experience. All our accommodation which was selected by Haron was excellent and so comfortable. So great spots to see wildlife around watering holes. I would definitely recommend African Sunset Safaris and hopefully if we get to return I will not hesitate to use them.
Govindarajan Palaniswamy
–
IN
Visited: July 2022
Reviewed: Jul 17, 2022
Email Govindarajan Palaniswamy | 65+ years of age | Experience level: 2-5 safaris
A Very good tour operator whom you can totally trust.
Haron of African sunset safari is a wonderful guy. Starting from my enquiry and till finalizing with him, his response is immediate and to every query he has answered. He has taken all efforts to show the big 5 and all other in Mara park and other places like Lake Nakuru and Amboseli Park. He took good care of us . It was an awesome experience and you can trust him fully. Very composed man and not in a hurry to finish anything half way. Wish him all the best.
Aksh Lalith
–
US
Visited: June 2022
Reviewed: Jun 29, 2022
Email Aksh Lalith | 20-35 years of age | Experience level: 2-5 safaris
Goes above and beyond to make your trip perfect!
The trip was everything we dreamed of and more. Haron really helped create a once in a lifetime adventure that me and my family will never forget!

Despite the time differences, i received a very prompt reply to my intial inquiry.
Haron communicated via Emails and sent me a detailed itinerary.

At African Sunset safari they go over board to adjust their itinerary to meet personal needs. Any upgrades or changes that we needed, we let them know, they respond very quickly to all our requests and helped "tweak" itineraries as needed. Bonus...reasonably priced as well

I really appreciated the attention to details, the recommendations for what to do in each place,and the arrangements made. Each and every hotel/lodge we stayed at was luxurious and incredible, food was amazing, world class service, game drives were fun, my family and I saw much more wildlife and live hunting actions than we had ever imagined.

It was all luxurious and perfect! I truthfully can't stop talking about coming back to Africa already!
Beth
–
Visited: March 2022
Reviewed: Apr 24, 2022
Email Beth | 20-35 years of age | Experience level: 2-5 safaris
Amazing time in Masai Mara
Our driver Aaron was amazing on our safari in Masai Mara. He picked us up from Nairobi and drove us to the park. The car was clean and spacious and the fridge for drinks was very useful. Our time in the park itself was short but because Aaron knew the park so well we managed to see all the animals! We saw Lions, Cheetahs, a Leopard even a Rhino.

Aaron stayed with us after our time in the park and drove us all around Kenya. He was always punctual and ready to take us wherever we wanted to go.

We would recommend African Sunset Safaris to anyone doing a Safari in Kenya
Andreea Lotak
–
US
Visited: February 2022
Reviewed: Mar 17, 2022
Email Andreea Lotak | 20-35 years of age | Experience level: first safari
Beautiful trip in Kenya and Tanzania with African Sunset Safaris
The rating would be 4.5 starts if I could select that. Aaron and the entire team were professional and reliable and we felt taken care of during the transfers from Kenya to Tanzania and back. We communicated the whole time via WhatsApp and the entire team was very responsive.

There were some hiccups with COVID testing and some coordination with the payment (issues with the $100 bills) and final transfer back to Kenya, but a lot of COVID planning is difficult to do with constantly changing regulations. Aaron did take care of us after all and helped us get all of our tests needed before returning to the US.

We had a great time on the safaris and saw more than we were expecting, including a serval. Both Aaron and Geoff were very good at communicating with other guides and taking us where all the action was. We all throughly enjoyed the accommodations we stayed at (especially the camp in Serengeti) and the wildlife we were so lucky to see. It was, overall, a truly memorable trip and we're grateful to the African Sunset Safaris team for making it happen. Would recommend.


Ryan Patrick Killackey
–
US
Visited: February 2022
Reviewed: Mar 8, 2022
Email Ryan Patrick Killackey | 35-50 years of age | Experience level: over 5 safaris
Excellent experience in 4 nature reserves in 2 countries.
I'm a fairly seasoned visitor to Africa, and lead a trip for myself and 5 friends. We specifically wanted to go to Maasai Mara, Serengeti, Ngorongoro Crater and Kilimanjaro for 6 people over 9 days.

When reaching out to different safari companies, we were told our trip couldn't be done. We were always offered an alternative itinerary visiting places we didn't want to see with a ridiculous price tag.

It appeared to me, many of these companies were operating out of the countries we wanted to visit, and were owned by foreigners. It was important to me to get the trip I asked for, and to support a local African company.

African Sunset Safaris offered a fair price for the exact trip I requested. Haron Gashao was extremely prompt to answer every question I had on WhatsApp, and his team of all local Kenyans and Tanzanians we great. The standout was our Tanzanian guide, Geoffrey Godwin, who guided us for most of our trip was most excellent.

Over the course of 9 days, we only experience a few minor hick-ups. All in all, everything ran smoothly, and the safari vehicles never let us down.

During our experience, we saw - 24 lions, 11 cheetah, 4 leopard and 1 serval cat. We also saw hundreds of elephants and other mammal, birds, reptiles and amphibians.

We were given several options for lodging, and chose the following lodges for our trip - Sarova Mara Lodge, Serengeti Safari Lodge, Bougainville Safari Lodge and Mille Salinero Lodge. The standout was Serengeti Safari lodge. At first sight the main lodge was rundown, but the wall tents were stunning, clean and had brilliant views. Additionally the lodge staff at Serengeti Safari Lodge were the best we experienced.

If you are clear with Haron about what you want, and are equally clear about your expectations, you will have an excellent trip with African Sunset Safaris
Justin Lotak
–
US
Visited: February 2022
Reviewed: Feb 21, 2022
Email Justin Lotak | 35-50 years of age | Experience level: 2-5 safaris
Our tour operator was kind and enjoyable to be with
We had a great trip with African Sunset Safaris, and our guide Haron took care of our trip to ensure everything went smoothly (which was a difficult task with COVID changing so many rules so frequently). We saw more wildlife than we imagined we would - throughout Masai Mara, Serengeti, Ngorongoro Crater and Kilimanjaro. Overall it will be a trip we remember for the rest of our lives. Thank you Haron and African Sunset Safaris!
Paul
–
US
Visited: February 2022
Reviewed: Feb 18, 2022
Email Paul | 35-50 years of age | Experience level: first safari
Geoffrey Giraffe is the BEST!
A group of 6 of us went to Masai Mara in Kenya as well as Serengeti, Ngorongoro Crater, & Kilimanjaro in Tanzania. Haron worked with us to coordinate the entire trip (including PCR testing) & was always quick to respond to our questions. Everything went smoothly as far as getting picked up on time & border crossings. I was especially surprised & pleased with the level of food & accommodations for our mid-range safari. I think we got a great value for our money. In Tanzania, our guide was Geoffrey who we began calling Geoffrey Giraffe (ever shop at Toys R Us?). Geoffrey is not only a great guide but also a great guy! He is a jovial character who made sure we saw as much as possible during our time with him. I highly recommend African Sunset Safaris!
Disclaimer
All corporate and/or tour info is provided by African Sunset Safaris, not SafariBookings
The tours offered by African Sunset Safaris are subject to their terms & conditions