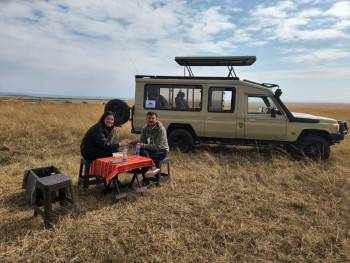 Blue Mountain Trekking Safaris
4.8/5 – 43 Reviews
Office In:

Size:

5-10 employees (Founded in

2008

)

Tour Types:

Customizable private tours and fixed group tours

Destinations:

Price Range:

$50 to $1,000

pp

per person

per day

(USD, excl. int'l flights)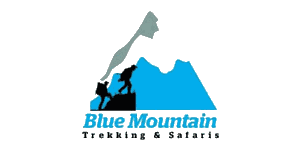 Blue Mountain Trekking Safaris
Rating Breakdown
Guillem
–
ES
Visited: August 2018
Reviewed: Aug 21, 2018
Email Guillem | 20-35 years of age | Experience level: first safari
NIGHTMARE. This is a company full of liars and cheaters. Be careful, if you see one of them, RUN!
I point one start because it's not possible to put half or any of them.

This is a company full of liars and cheaters. They will try to fool you, get your money and then, seldomly they will fulfill the agreement you pay for. We hope that company will close soon and not more tourist will be fool by them.

Be careful specially with Ben, he will say at all your requests "tomorrow we will see", and then one they, he will respond to you, "sorry, but your complain are not mentioned on time"...
Marco
–
QA
Visited: July 2018
Reviewed: Aug 13, 2018
Email Marco | 20-35 years of age | Experience level: first safari
It is from the worst customer service ever
Hi All
I was in Kenya with my family and we wanted to do the safari trip in masai mara so we were searching for any tour company doing that then we contacted blue mountain.
From my heart I regret it so much because of many things.
1- We were 4 ( My parents, my brother and me) they told us we will have 2 tents each has 2 beds to stay then we reached there we realized that they were lying and they gave us just one tent of 4 beds then I called them that it was not our agreement so they said we don't have 2 tents as they told us and that is what available but they will give us 2 tents for the second night then for the second night nothing changed as I was expecting and we again stayed in the same tent of 4 beds.
2- We agreed with them that they will give us 3 boxes of water during our safari as one box for each day, In the first day the driver gave us one box and he told me that is all the water for you in the 3 days and I told him but we agreed for 3 boxes not 1 then I called again the office so they said we will give you another box as I was begging from them and it is not my right and I didn't call them they wouldn't give us the second box and they gave us after 3 times calling and after spoiling our vacation just 2 and half boxes not 3 as we agreed.
3- In the third day the driver told us we will not enter the park and we will go after the breakfast direct to Nairobi then I asked him how because we are supposed to enter the park 3 times in 3 days and he told me no then I called again the office ( may be it was the tenth or eleventh time to call them just in 48 hrs) and they told me no you will enter the park then again the driver he told me that we will enter but there is no time as less than 30 minutes in the park and it is nothing of course for the game drive then we didn't of course.
All of that made me so pissed off.
So I went to their office on the next day of the safari and I was talking to them more than 2 hrs and they didn't give me anything even they didn't say sorry for that and the manager of the company told me go away from here you are such a liar !!!!
Imagine they are calling their customers as liars because we were asking for our rights.
I told him I will write about it he told me go away from here and write what you want we don't care ( ZERO CUSTOMER CARE) as they took already their money so they don't care anymore.
I will keep posting that times and times
I don't recommend it to anyone to deal with them

Prof. Dr. Metin Balci
–
TR
Visited: May 2018
Reviewed: May 31, 2018
Email Prof. Dr. Metin Balci | 65+ years of age | Experience level: first safari
Take care with the Company Blue Montain Trekking & Safaris
To the Director of the Company
Blue Montain Trekking & Safaris

On 22 May 2018 we visited your office and my wife and me were looking for a tree days Safari. We talked to one of you employee Mr. Ben (Tel. 0721362462) and he gave us information. He suggested to stay in the camp at Rhino camp in a tent. The price will be around 760 US $. We did not talk so much about the price because we knew your official price was about 340.00 US $ for tree days Safari. At that time we did not make our final decision.
On the next day, we decided to go to Safari and came back to the office opposite of Hilton. My wife was a little bit scared from the staying in a tent. Then we asked for a lodge. Mr. Ben maked a suggestion. He said that we can stary in a lodge at Ol Moran Camp. He suggested a price of 1160.00 US $. Finally we agreed to pay 930.00 US $. We paid 100.00 US $ in advance. We have been told that we should pay the rest on 25th May where the trip started. On 25th May, in the morning I have paid the rest, 830.00 US $ in cash and asked for a receipt. He denied to give me a receipt. He has just written on the first receipt (which we have received on 22th May) that the balance has been paid. See the attached receipt. I knew that was not correct. On the way we picked up to german ladies. On the car someone has prepared a regular receipt and gave to these ladies. They paid 30.000 Schlings per Person (300.00 US $).


We arrived at the Ol Morano camp, the driver, Patrick, has dropped us and left immediately. Then we were asking for a lodge. We have told that there was no lodge only tents. I called Ben back and the driver. We could not change anyting. We paid a price of a lodge, however we stayed in a tent.
Finally, instead of 600.00 US $ we paid 930.00 US $. We have been swindled by Mr. Ben. He is one of the biggest liar that I have seen in my life. A guy like that would damage your company.
I am sure that this guy has prepared an official receipt which is probably around 600.00 US $. The rest is in his pocket.
One more story, according to the program, on the third day we should first go to the park for three hours and then back to Nairobi. The driver discoverd a new story and talked about the boat trip on a river somewhere else. Some people agreed but we did not. I didn't want to wait for other people during boat trip. I told Patrick that we want to go to Nairobi. Underway he had difficulties to arrange a car for us. Finally at the place where we had lunch he has arranged a Safari car. The driver of this car dropped us at a benzin station in Nairoby. Finally with a arranged taxi we arrived at our hotel. Why should we take three different cars to come to our hotel?
Now I am asking you why the driver Patrick discovered a boat trip which was not on program. Does he has some benefits from boat trip? Why did he not drive for three hours to National Park as we have been told?
I would like to leave Kenya with a good impression. However, people like Ben would harm the people.
I kindly ask you to search this process and inform me and compensate the money which I have paid more.

Prof. Dr. Metin Balcı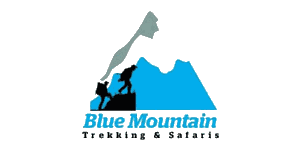 Reply
from

Blue Mountain Trekking Safaris

Posted on Jun 12, 2018

We did receive the above review and i have the following to say:
- The client paid based on what he saw and he has acknowledged that he was shown the images from Olmoran website. http://olmorantentedcamp.com/.Lodge doesn't mean stone house and that's why we showed him images for him to decide. Upon arriving Mara, his wife changed mind after dropping the clients who were to spend their night at Sopa lodge. He's asking for refund based on how much other 2 clients who paid budget class yet the accommodation classes are different. Refer to below communications.
- The receipt issued is our official receipt and i have sent him the other clients in the same group, though he had seen it because he wanted to know how much they had paid
- On morning game drive he was the first one to declined to be woken up by 5.30 but instead he said 7.30( refer to his below communication)and this was not possible to do a game drive. He even delayed other clients who complained since he was out after 8.00.
- Boat ride is an optional activity which is suggested to clients. He agreed to the idea at first and then declined on realization its being paid for.
J. Yambala
–
FR
Visited: July 2017
Reviewed: Jul 22, 2017
Email J. Yambala | 35-50 years of age | Experience level: first safari
Never again with Blue Montain
They contacted me at hotel and came for a presentation meeting. After we agreed on the price, destination and paid. We had an appointment at 6:30 the next morning. They came 20 minutes late arguing that traffic jam was cause of the delay. After that we had to go to their office again, with no valid reason, before finding out that the car to be used for the day was used, old and not sized for a safari, even for being used in town could be source of issue. The way to Nakuru Park took 3 hours whereas 2 were announced. Fortunately our driver was good and made that day not so bad, despite we felt he was sometimes lost in the park, specially when we were trying to reach the exit gate. I would not recommend...;
Riley
–
US
Visited: March 2017
Reviewed: Mar 6, 2017
Email Riley | 20-35 years of age | Experience level: first safari
Masai Mara - amazing Blue Mountain - shady at best. Book with someone else
Very disappointed in my 3day/2night safari with Blue Mountain. Was placed with them by another tour operator as a single traveler. Our car broke down on the way to the Mara Masai and the driver was completely inept. We ended up waiting three hours for a new car and driver to take us to our lodge. We arrived at night and missed our game drive.

Because we were only now doing game drives on Saturday and Sunday. We only needed one pass, despite the two we were charged. When confronting the driver about this. He said that wasn't true because we would enter the park 7am Saturday and leave 8:30-9am Sunday which is an half or two longer than the 24 hour permit. On Sunday he drove us until 8am when he left early. suspicious I grabbed our park receipts when the driver stopped to get breakfast. (He told us it was a bathroom break then disappeared for twenty minutes many instances of terrible communication). sure enough he only bought one day passes and was pocketing the $500 in fees our group paid.

When confronting the company about it they said they'd talk to the driver. They refuse to reimburse the park fee I paid for but was never purchased. Overall the quality was well below par, go to a different budget safari. The positive reviews here are because Masai Mara will always be a positive experience. Go with a company that is honest or at the very least doesn't text and drive on the Kenyan highways.
Rui
–
PT
Visited: January 2017
Reviewed: Jan 14, 2017
Company not good
Dont recomend this company.
They give diferent from wath they sell in the ofice. We pay for 3 days safari and day give 2 days only, thay say yhe 3 day is to return in Arusha web the distancie is 2 hours.
They ate nor correct to in the hotel day sai, wen we bay they day we sleep in lodge in ngorongoro caráter but we sleep in camping.
If you book with them tell to right everithing in the recipt because after they tell we are nor correct.
Disclaimer
All corporate and/or tour info is provided by Blue Mountain Trekking Safaris, not SafariBookings