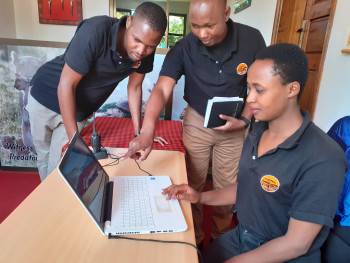 Dusty Roads Adventures & Tours
4.8/5 – 24 Reviews
Office In:

Size:

20-50 employees (Founded in

2003

)

Tour Types:

Custom budget & mid-range tours that can start every day

Destinations:

Price Range:

$150 to $1,200

pp

per person

per day

(USD, excl. int'l flights)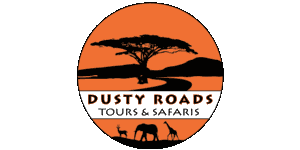 Request a Quote


for a custom tour
Your request will be sent directly to the operator
If preferred, you can contact the operator directly
Piet Hein Groot
–
NL
Visited: May 2017
Reviewed: May 18, 2017
Email Piet Hein Groot | 65+ years of age | Experience level: first safari
Wonderful people and wonderful safari !!
Everything went OK with our trip with Dusty Roads! On our arrival at Arusha we immediately saw the car from Dusty Roads. Mollel was waiting for us. He drove us to our hotel. Next morning we had a short trip with the family - and we met our driver-guide Jeff. Mondaymorning the car was present at the hotel and the safari could begin. We had booked a 5 days-safari with camping in tents. We had a wonderful time in Tarangire, Lake Manyara, Serengeti and Ngorongoro. Jeff is really a good driver, and has very sharp eyes. He knows where the wild beasts are and knows almost every name of the birds ! The places to camp where all nice - Fanaka was real good and the two camp- sites in full nature - especially in Ngorongoro - were fascinating. Abdi was a very good cook: every meal tastes good - specially the ginger in the food !
It was hard for us to say goodbye to Jeff and Abdi.
If you are thinking of a safari with Dusty Roads, just do it !! You'll never regret.

Tamara
–
CA
Visited: January 2017
Reviewed: Feb 10, 2017
Email Tamara | 35-50 years of age | Experience level: first safari
Ethical, knowledgeable and trustworthy!
We thought travelling to Africa for the first time (with an 8 year old) would have been a bit daunting - but we were so fortunate to have found Dusty roads.
I can't say enough about the courteous, patient, personal service we received from Mollel and his team.
Further, the accommodations he works with were equally ethical and professional. Every stop we made (whether it was during the game drive or to stop for the night) things just got better and better! We were consistently enjoying amazing food and excellent amenities for our mid-range budget.
Our guide Emmanuel was well matched with us, as he also had kids our daughters age and helped us to locate over 90 species, including the big 5.
Here's the bottom line - this is a new company building their business based on ethics and trust. They are excellent human beings. We trusted them with our safety for 10 days and I wouldn't hesitate doing it again.
You will be better for having travelled to Tanzania and for meeting these people.
David
–
Visited: October 2016
Reviewed: Jan 24, 2017
Email David | 20-35 years of age | Experience level: first safari
Wonderful Honeymoon!
Thank you so much for organising such a great safari for us for our honeymoon. The trip was unforgettable, Jeff was a great driver taking us around for the week and we had such a wonderful time. Dusty Roads were really helpful and responsive pre planning our itinerary via email and came to meet us in our hotel the day before to make sure everything was ok. The accommodation booked was wonderful (they even put a word in to a couple of the lodges that it was our honeymoon and they organised something special for us!). We won't forget this trip in a hurry and would definitely book with them again should be we back in the future.
Magda
–
PL
Visited: October 2016
Reviewed: Nov 16, 2016
Email Magda | 20-35 years of age
Kili, Kili & Pole, pole
Dusty Roads - perfect name for the company, as it is very dusty in all Tansania! We have very good memories from our 7-day Machame Route Kilimanjaro Trek. We book the trip from Europe and we chose "Dusty" as I was very impressed with contact via email with Mollel from the very beginning and have to say it stayed like that till the last minute of our trip. Mollel is extremely nice person, he will take very good care of you.
We took the budget option for Kilimanjaro and we strongly recommend it. You will get 12-people team (2xguide,1xcook and 9xporter). The food was tasty, varied and the portions were bigger than we could eat. Guides (Abdi and Frank) walk with you during trek route all the time, they ask you often about your condition and make sure you eat and drink a lot. Also they have been a massive support for me while reaching summit!
All the trip plan also matched with the description which we received earlier, so no surprises...maybe only one - nice gift box from Mollel on our departure and support with buying some souvenirs :)
Edita
–
FI
Visited: September 2016
Reviewed: Nov 6, 2016
Email Edita | 20-35 years of age | Experience level: first safari
Great in all aspects
First of all the name Dusty Roads - spot on! :) I went on a private 6-Day Economical Tanzania Safari. 6 days is a perfect lenght to visit Norhtern circuite. First day pretty much was only pick-up from the airport to the hotel. I imagined someone would show me around Arusha, but it didn't happen, a bit pitty. Since the hotel from Arusha town is pretty far I didn't manage to visit the town myself. Next 4 days we visited Tarangire, Serengeti, Ngorongo. I felt very comfortable with my guide Edward, he was professional, knew a lot about wild flora and fauna and he also knew all the good places to spot wild life. The highlight of the tour of course was that I saw all the animals that were possible to see. Last day of the tour was visiting Lake Eyasi. For this day I have mixed feelings, on one hand it was interesting to see how Datoga and Hadzabe tribes live, but on the other hand it didn't feel genuine whatsoever. Bushmen tribe "hunt" was kind of a joke.
All in all I am very happy with my experience. It was easy to communicate and book the tour for me a solo traveller. On arrival I received a lovely welcome goodie bag. Everybody did their best at making me feel comfortable. My luggage didn't arrive with me, it was delayed, so the manager picked it up the next day from the airport and brought it to me while I was enjoying my first safari day. Hotels, lodges and my favourite stay at Angani tented lodge were of very high quality, I was pleasantly surprised, in my opinion way higher standards than economical.
I highly recommend the company and the tour.
Tom
–
Visited: September 2016
Reviewed: Oct 20, 2016
6 day trip
We had a wonderful 6 day safari with Dusty Roads for our honeymoon. Emmanuel was an excellent guide and knew the names of everything in English, Swahili and Latin! Saw all of the big five and would recommend. These guys can sort out a trip to suit your needs with some lodges better than others depending on your budget. Would particularly recommend Rhino lodge and Eileens Trees.
David and Carolyn
–
US
Visited: September 2016
Reviewed: Oct 9, 2016
Email David and Carolyn | 65+ years of age | Experience level: over 5 safaris
Dusty Roads gave us the most beautiful experience we could imagine !!!!
Our Tanzanian safari was the trip of a lifetime for us and Dusty Roads Safaris and Tours made our dreams come true. From their efficient help with the planning, competitive rates to accommodating our special medical needs, to applying their expertise to the scheduling, they bent over backwards to meet our needs and make this the best trip ever. Mr. Lodaru Mollel was great at responding to our questions and working to get our itinerary just right for what we wanted to do and see. Our itinerary took us to Tarangire, Serengeti, Ngorongoro and Lake Manyara parks. Our driver, Geoff, made each day special for us by being punctual, knowledgeable, safe, fun and he has the best eye sight in the world for spotting animals! The two major things we wanted to see were leopards in trees and the wildebeest crossing the Mara River. Both happened, and in addition we saw so much more spectacular wildlife that made this an extra special trip to remember.

Would we use Dusty Roads for another safari? Absolutely! Out of a 5 star rating, we give them 10!!!! Thank you Mollel, Geoff and Dusty Roads for an awesome safari! You guys are the best of the best.

michelle
–
AE
Visited: September 2016
Reviewed: Oct 6, 2016
Email michelle | 20-35 years of age | Experience level: 2-5 safaris
fantastic Solo Tanzania Safari
This a review for the 6D Economical Tanzania Safari. Please note the reviews for each of the lodgings is mentioned in trip advisor separately. This review is purely for the tour.
I booked a 5n/6D safari with Dusty Roads and travelled in September. I had searched for safari options on Safari bookings and this one instantly took my attention. It had a detailed description of the itinerary and it accepted solo travelers. I thought the package was great values especially when I later noticed that this would be a private tour.
Booking was easy and Dusty's responded to my emails/ questions in a timely manner.
From the moment I arrived in Tanzania I felt instantly welcome. I was picked up and presented with a small welcome gift. The driver was knowledgeable and chatted to me on the way to the first hotel. Shortly after I arrived at the hotel, my driver for the trip the next day was introduced to me. And we agreed a time for pick up the next morning.
First stay – Green mountain lodge – comfortable ( see trip advisor for separate review)
Dusty's prides its self on putting the customer first so they are quite flexible with times you wish to leave in the morning (I suggest leaving early to ensure max time to see the animals- they prefer the cooler mornings). We left the next morning at 7am. My driver for the next 5 days was Ray, who was superb. On the way to first NP Ray chatted to me, he is very knowledgeable about the culture, animals and plants that you see along the way. He would point out things to me and explain things, as well as answer questions that I had asked. Thought-out the trip there was not much Ray didn't know the answer to. Tangaire NP was fantastic for Elephant, giraffes and smaller wildlife. We stopped for lunch at a beautiful picnic spot above the river and watched the elephants. After several exciting hours we headed to our next hotel.
Eileen's Tree Inn was superb (see trip advisor for separate review).
From here we left early the next day and headed to the Serengeti NP. On the way we were meant to see the Ngorroro crater View point but it was very cloudy, however Ray promised me we would see it a few days later on the way back… well worth the stop!!. As we had left early, we arrived at the Serengeti early which meant we had max viewing time. The Serengeti did not disappoint, seeing Cheetahs, Leopard (rare to see), lions, lots of elephants, hippos and so much more. Ray was very knowledgeable about which routes to take through the park (some of the quieter routes) . He also knew some of the territories of the leopards cheetahs etc, which is bonus (however Ray can never promise he will find these animals, he will certainly try his hardest)
I could go on… but thought-out the trip driving through the park, Ray took a slower approach compared to the other drivers, many speed by kicking up dust and reducing the chances of seeing things, plus makes the roads ( and you) when they overtake very dusty!!!, this was not Ray's approach and instead often spotted things much quicker… I would say slower is better in the parks.
The Car was always filled with plenty of water which you can just help yourself to. Every day you are provided with a packed lunch, some days far more that perhaps you want. Some days the food can be repetitive ( and sometimes interesting in what they fill the sandwiches with etc ) but you can just each what you want.
In the Serengeti we stayed at Agenai Tented Camp- Basic but comfortable (see trip advisor for separate review)
Our last but one day was in ngorroro crater, an opportunity to see the Rhino, sadly I never did get to see them, but the crater is an amazing place. And worth a day to see animals you would not perhaps see elsewhere. as promised we stopped at the view point as we left.
It was then back to Eileens tree Inn for the final night.
The final day was super early as we were heading off to see the Bushman tribe, certainly worth a visit and get to see how some people still live… amazing. Finally it was time to head home… sad.
I was not particularly interesting in stopping at loads of Gifts shops which Ray understood, ie: I was not forced to go in to gifts shops that you see along the roads, like some tour companies do. (Also another benefit of travelling in a private tour) . It was only on the last day that I asked to see if we could stop (buying trinkets was not apriority of mine this time). Again respecting wat the customer wants 
Over all I was truly happy with this trip and the service I received, as a single female solo traveler I felt I was well looked after and the service 2nd to none. I met a couple of the other drivers and again I would say the same about them, welcoming friendly, knowledgeable. I would recommend dusty to any friend who was looking for a trip to Tanzania.

Søren Brinch
–
DK
Visited: October 2011
Reviewed: May 12, 2016
Email Søren Brinch | 20-35 years of age | Experience level: over 5 safaris
Kilimanjaro
Dusty Road Safari was by far the cheapest alternative to reach the top of Africa. Despite this fact they were very friendly and professional. They arrange a private tour , so we were only two in the group and 10 from Dusty Road.
Jeremy
–
Visited: October 2014
Reviewed: Apr 27, 2016
Email Jeremy | 20-35 years of age | Experience level: over 5 safaris
We went to Tarangire National Park. We went camping with about 10 others.
We had a wonderful time at Tarangire National Park in Tanzania with Dusty Roads Adventures & Tours. These were some of the highlights:

1) Our guide drove safely. He had good English and was easy to communicate with- friendly and thoughtful in conversation. In addition, he could teach us some things about the wildlife in the park, which was great.

2) The food was good. Simple, yet delicious.

3) We arrived on a Friday afternoon. On arrival at the camp site, we drove by a herd of elephants that was in sight of the camp site. That was really cool! Then, we went on a game drive. When we returned, our tents had been set up for us at the camp site and food was ready for us :). We then had dinner and went to sleep in the tents.

4) We saw lots of animals- lots of elephants, big and small, the shy dik-dik antelopes, zebra, wildebeest, antelopes of different varieties, and many beautiful birds.

5) We also felt that this trip was reasonably priced.
Disclaimer
All corporate and/or tour info is provided by Dusty Roads Adventures & Tours, not SafariBookings