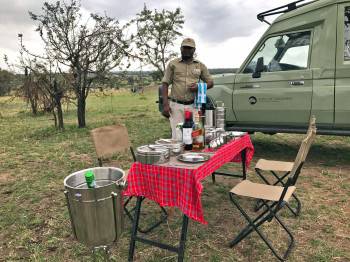 Soul of Tanzania
5.0/5 – 333 Reviews
Office In:

Size:

10-20 employees (Founded in

2015

)

Tour Types:

Custom mid-range & luxury tours that can start every day

Destinations:

Price Range:

$150 to $400

pp

per person

per day

(USD, excl. int'l flights)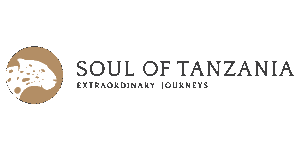 Request a Quote


for a custom tour
Your request will be sent directly to the operator
If preferred, you can contact the operator directly
Duncan Lewin
–
Visited: August 2022
Reviewed: Sep 20, 2022
Email Duncan Lewin | 35-50 years of age | Experience level: 2-5 safaris
Incredible Safari Experience in Northern Tanzania
We had an amazing time travelling through northern Tanzania, the whole experience was everything we had hoped for. Our guide; Omari, was fantastic and really made the holiday special, he went out of his way to make sure we had a great time.
We saw an incredible amount of wildlife, and Omari was so knowledge on all of the birds and animals. The accommodation was equally as good, and the staff at all the hotels and tented lodges we stayed at were extremely welcoming, We absolutely loved it!
Thank you to Luis and everyone at Soul of Tanzania for putting such a fantastic trip together for us.
Michael
–
US
Visited: September 2022
Reviewed: Sep 19, 2022
Email Michael | 50-65 years of age | Experience level: first safari
Exceptionally Incredible Safari, Thank you!
Exceptional!!! Our 14 day private, customized (base on 11 Day Spirit and Soul of Africa) safari was incredible - exceeding our expectations. BIG Thank you to Sandy, our trip designer/main contact; and all 3 of our incredible guides: Nesta(Lake Nakuru, KE), Julius (Masai Mara, KE), and James(TZ - Serengeti, Ngorongoro Crater, Tarangire).

From the start, Sandy was great and answered numerous questions, discussed park options, travel times and options transferring between parks, etc.. to create an incredible private, custom safari for us. She also helped communicate and coordinate changes during the trip due to flight cancellations. Thank you, Sandy!

A huge THANK YOU!!! to all 3 of our guides: Nesta(Lake Nakuru, KE), Julius (Masai Mara, KE), and James(TZ - Serengeti, Ngorongoro Crater, Tarangire). All 3 had eagle eyes, spotting animals big and small. Guides make or break a safari trip. We simply cannot thank each of them enough for their contributions that made our safari absolutely incredible and the envy of other safari travelers we shared our experience and photos with during our travel home.

We saw all of the "big 5" during the trip and 4 of the big 5 on several days. We saw 2 male white rhinos fighting…We saw lions daily; including cubs to full adults both male and female….We saw leopards and cheetahs several days…We watched lions and cheetahs hunt and eat….We saw servals cats in two parks. We say hippos, giraffe, and elephants in almost every park; along with a variety of smaller animals and birds. Yes, we have almost 5,000 photos and videos (high end 400zoom camera rental from lensrentals.com) documenting our incredible trip. We highly recommend Soul of Tanzania and Spirit of Kenya; along with our guides (Nesta, Julius, and James).
Here are the items we customized and what we would do differently….if you are interested….

We customized their 11 Day Spirit and Soul of Africa trip), removing Lake Manyara, adding an additional day to the Serengeti and Ngorongoro Crater parks, and replaced Amboseli Park KE with Tarangire Park TZ. We were very pleased with our substitution of Tarangire for Amboseli and highly recommend Tarangire. It wasn't on the original itinerary, but we (and our guide James) would highly recommend Tarangire. We saw and watched several different large elephant families (infants, adolescents, and adults) on every game drive. We saw more elephants in Tarangire than at all the other parks combined. We also saw leopards, lions, and cheetas; along with many other animals. The park swap allowed us to avoid long travel drive times to Amboseli and from Amboseli to Nairobi by flying directly from Kilimanjaro airport to Nairobi.

We recommend spending at least 2 nights or ensuring a full day of game drive (6-8 hours) in each park, i.e. spend more time on game drive(s) in a park than it took to get to and from a park; otherwise reevaluate why you are going to that park… We would drop Ngorongoro Crater completely and shorten the trip or add those days to Masai Mara or central Serengeti. Yes, we saw some huge herds of buffalo and wildebeest, and the landscape itself was unique being inside a crater. But, we didn't see anything new, the crowds around an animal sighting were huge (40-50 vehicles) – making actual viewing and photography difficult; and beyond buffalo, wildebeest, zebra, and gazelles… other animal sightings were sparse and often from a great distance.

We replaced any drive between parks that was over 4+ hours with air transfers (SafariLink, Coastal) – think large (10+ passenger) propeller airplane "bus type service" between park air strips (aka these are not private, direct charter flights). Inter-park Air Transfer Recommendation: If your considering inter-park air transfers: Don't just focus on the travel drive time, but also on road conditions…i.e. ask if the inter-park road is paved versus unpaved… if unpaved – travel by air. Unpaved roads = cross breed a motel vibrating bed with a mechanical bull ride. 3 ½ hours between Serengeti and Ngorongoro was absolutely brutal and exhausting.

If you are transferring between parks by air…get the name and phone number of the guide(s) you are meeting at the next camp/location. If you have any flight delays or cancellations, this will provide you a way to communicate and coordinate accordingly.
African airlines (both commercial and those providing transfers between parks) are known for delayed and cancelled flights… plan as best you can…then go with the flow . Flying between parks/locations definitely increased game drive time…but with added complexity, hassle, cost, and risk versus driving. Honestly, if the roads between the parks/locations are paved – I would drive instead of fly. Note, air transfers between parks are at an additional cost and you will likely have a new guide at your destination. Driving = same guide through all parks in a country and no additional costs.

Cost & Accommodations

Private vs Shared safari/vehicle – the guide and vehicle were $560US per day…the more people you have in a vehicle = lower cost per person (Shared option). We saw many vehicles packed to their maximum 7-person capacity which looked quite cramped… In our opinion, a maximum of 4 persons per vehicle is ideal, providing room to move and the ability for everyone to easily reposition to see things. I would also expect a "shared" safari would likely limit your ability to customize it, but I'd ask accordingly.

Accommodations – This is likely the largest cost component of the safari. We were offered 4 levels from budget to luxury ranging from $100-200 per person per night up to $1000 pp/night. Do your research and read the reviews… Is the accommodation in the park? How far/long is the drive from the accommodation to the main game drive area? One of our accommodations was in the park but 1 hour away from the main game drive area, hence we wasted 2 hours' round trip each day. Tent Camps can be better than large lodges, don't automatically discriminate. Our tent camps were far superior in service and quality versus a couple of the lodges we used.

If you are still reading and interested, here is a list of questions I compiled to compare operators, tours, etc… Good Luck
Categories Question
Company How Long Have or Your Safari Company been in business?
Company Do you run your own tours or outsource to others?
Contract What are your deposit and cancellation policies?
Contract Require Vouchers for all accommodation 1-2 months prior to departures…to ensure the room is booked and paid for(avoid canceled accommodations/last minute changes)
Insurance Do you offer trip insurance? Can I get a ballpark quote?
Company Where can I find reviews of this trip, you, the tour operator(if different), and the guide?
Contract Request detailed Itinerary, including travel time between locations.
Contract Ensure contract lists of what is included; meals, lodging, beverages, park fees, game drives, airport transfers…
Contract, Extras WHAT NATIONAL PARKS FEES OR CONSERVATION / COMMUNITY FEES ARE NOT INCLUDED?
Contract Payment terms? Payment Options(direct transfer, credit card, etc…)
Contract/Rates Are all Taxes included? If not what & how much is it?
Extras What Extra charges should I expect at each accommodation and how can I settle them?
Tour WHAT CURRENCIES ARE ACCEPTED at each destination/accommodation?
Tour, Game Drive Ensure this is a Private tour…what part of this tour will be shared with others…such as game drives? Vehicle type, max people?
Travel, Transport How many days/hours of travel between each leg?
Travel, Transport What type of transportation for each leg? Vehicle Type? Amenities?
Travel, Transport If driving between legs, is flying an option? Cost?
Travel, Transport Is transportation between legs/locations included in this package?
Guide Who will our guide be? Same or different for game drives?
Guide How well does out guide speak English?
Game Drive Does the game drive have a CB radio? Sharing/Receiving sighting information?
Guide How many years of guide experience does he/she have? Feel free to ask for a specific driver?
Guide, Contract If I am not satisfied with the guide during the trip, what are my options and how would I exercise them?
Guide How many times has the guide done this tour?
Game Drive Are game drives included in every accommodation? Any limitations, like # I can do per day?
Game Drive What is the game drive schedule and lengths at each accommodation ?
Game Drive SEATING POLICY ON GAME DRIVE VEHICLES
Tour, Game Drive How accessible is each park relative to its accommodation? Is the accommodation inside the park?
Accommodation Any special/required attire for dinner at any of the accommodations?
Accommodation Can you tell me about the accommodations, amenities, communication facilities?
Accommodation What are the laundry options at each accommodation? Cost?
Accommodation Sustainability and ECOTOURISM PRACTICES, Policies, etc...?
Accommodation, Food Are the meals included individual, family style(limited to our private tour, or buffet?
General What sort of day and night temperatures can be expected?
General What is the malaria risk in the area you are travelling to?
Tour, Game Drive Which of these are national parks versus private reserves? If private reserves, are they open or fenced?
General What are the tipping and gratuity expectation for every aspect/activity/accommodation of this tour? Are they included?



David
–
US
Visited: August 2022
Reviewed: Sep 16, 2022
Trip of a lifetime!
This Africa trip was truly a trip of a lifetime. We were very thrilled with the professionalism and courtesy. Each step along the way from Rwanda to Tanzania to Zanzibar we felt taken care of and the people we interacted with had such great hospitality.
Debbie
–
Visited: August 2022
Reviewed: Sep 16, 2022
Email Debbie | 50-65 years of age | Experience level: first safari
Trip of a lifetime!
We had an amazing time with Zebe our guide in Tanzania. He was very professional and had a great knowledge of all the wildlife. We saw SO much! Everything we wanted to and more.....It really was the trip of a lifetime.
Sara
–
LU
Visited: August 2022
Reviewed: Sep 16, 2022
Email Sara | 20-35 years of age | Experience level: first safari
Dream!
I always wanted to do a safari and of course had high expectations. Soul of Tanzania has exceed them all.
We did the "Highlights of Kenya and Tanzania" and had an amazing experience.
Firstly, it was so well organized, everything went according to the plan, we always had someone with us, and that made us fell safe, secure and relaxed :)
Both guides were amazing, always telling us things about the countries, the animals, the parcs. A special note to Jovin, who clearly shows that he loves what is doing and wants people to leave as in love as he is!
I had a lot of questions during the process and Sandy, our planner, was absolutely great.
Thank you to the team for the amazing days we had!
Henrique
–
PT
Visited: August 2022
Reviewed: Sep 11, 2022
Email Henrique | 35-50 years of age | Experience level: first safari
5stars
this was a very special trip, we were doing 25y of marriage and were taking our 3 kids to do a trip that we were talking for several years-a safari in tanzania.
we have prepared this trip for several months, our travel adviser Luis from Soul of Tanzania was always available, giving us good hints and replying always very quickly to our requests and questions (which were many) and when we finally got there were extremely lucky to have the BEST GUIDE POSSIBLE- AZARIA.
having a good guide makes the trip and we had the best one possible. I am sure there are many good guides but Azaria is the best- he is always smiling, is incredibly knowledgable, very attentive to details, have a very good sense of humor, is great with teenagers, is a very company and a very good driver as well which is important when you do some many kms in tanzania as we did.
we went to Tarangire, central Serengeti, north Serengeti and Ngorongoro. we saw the big5, had great experiences, the travel went as planned, the lodges were as good as we thought, they were exactly what the images showed to us and I can only recommend this trip, Soul and Azaria. it was like we see in National Geo TV but this time we were there not in front of a TV. priceless.
Raphael
–
DE
Visited: September 2022
Reviewed: Sep 4, 2022
Email Raphael | 20-35 years of age | Experience level: first safari
Amazing tour with a minor organizational hiccup
Our guide Hassani was amazing, funny and open to explain the different cultures, also he drove very well and made us feel safe. He never felt short of helping us in any way possible to make our tour the most comfortable possible. The hotels were very nice and in most cases well choosen, but a better understanding of the distances between them and the attractions would improve a lot the whole experience. E.g. for visiting the Ngorongoro Conservation Area, our hotel was located almost 2hours after it, so we ended up in the car 4h more than necessary. Our warrior guide didn't complaine about driving the extra hours, but it was really intense, even for us not even driving. Especially if all this could have been avoided if someone would have advised us a hotels closer to the park. Other than that everything was very smooth, the food delicious and in total an incredible experience. We totally recommend them!
Valentina
–
IT
Visited: August 2022
Reviewed: Sep 1, 2022
Email Valentina | 35-50 years of age | Experience level: first safari
My first Safari
My first safari was a unique and unforgettable experience. I thank Marta for the support she gave me to organize this wonderful trip ... We chose together day by day what to do and where to stay in the evening, everything was perfect! I thank our guide Tom for his patience in showing me as many animals as possible and for having complied with our every request! It certainly won't be the last safari. I highly recommend relying on Soul of Tanzania for your safari!
Laura
–
IT
Visited: August 2022
Reviewed: Aug 31, 2022
Email Laura | 20-35 years of age | Experience level: 2-5 safaris
Very competent, helpful and kind
Wonderful experience started with the organisation of the itinerary by Louis who kindly fulfilled all our requests. Our 4-day Tarangire, Serengeti and Ngorongoro safari was made unforgettable by Ahmed, our guide who, with his preparation and kindness made us discover the secrets of these beautiful territories.
Tiago
–
PT
Visited: August 2022
Reviewed: Aug 30, 2022
Email Tiago | 20-35 years of age | Experience level: first safari
Very knowledge and caring about the clients - always with a very fast repply
What we liked the most was the safari, a fantastic experience. Our safari guide (Walter) was also very good, always trying to find animals, stopping when needed and always asking if we wanted to stay longer and worried. We did 2 days but I think 3 would be ideal. Then we also did Zanzibar to relax at the resort and some tours such as dolphins, stone town or swimming with the turtles, it was very good too.
Disclaimer
All corporate and/or tour info is provided by Soul of Tanzania, not SafariBookings