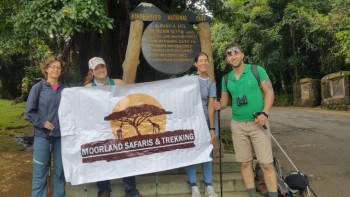 Moorland Safaris
4.8/5 – 41 Reviews
Located In:

Size:

5-10 employees (Founded in

2018

)

Tour Types:

Customizable private tours and fixed group tours

Destinations:

Price Range:

$50 to $600

pp

per person

per day

(USD, excl. int'l flights)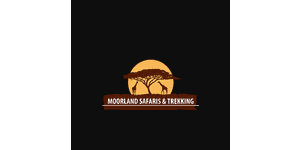 David
–
US
Visited: August 2019
Reviewed: Aug 9, 2019
Email David | 35-50 years of age | Experience level: first safari
3 day/2 Night Tour Ngorngoro Crater, Lake Tangerine and Lake Manyara
Communicating with Nasr was a breeze via email and WhatsApp. Unfortunately I wasn't able to meet him before and after the trip so Ally his friend was the person I met. The trip itself was amazing. I joined a 3 day/2 night join in group safari so every day I had a new group of people, driver and guide which felt awkward. The only downside was that the tour during the first day, Lake Tangerine didn't start until afternoon which meant most of the animals were in the shades or hiding from the sun. Lodging was great, food was exceptions, the guide during the last day was awesome!! Wouldn't hesitate to go with this group again!
Andre
–
DE
Visited: August 2019
Reviewed: Aug 25, 2019
Email Andre | 35-50 years of age | Experience level: first safari
Awesome service!
Very well organized, great communication, great service, highly recommended! Keep up the good work guys!
Joseph
–
IE
Visited: November 2019
Reviewed: Nov 26, 2019
Email Joseph | 20-35 years of age | Experience level: first safari
Once in a lifetime experience to see such magnificent creatures in their natural habitats
Myself and my fiancée did the 5 day safari experience featuring Tarangire, Serengeti, Ngorongoro and Manyara.

Elias picked us up from the bus stop and brought us to a local market and helped us to pick up some clothes atva good price as Turkish Airlines had misplaced our luggage, then brought us to the office where we chatted about our upcoming safari with Nassir. Both Elias and Nassir were incredibly friendly and accommodating and made us feel very well looked after.

We were picked up by our driver, Lewis, the next day and thus began our 5 day safari adventure. We saw lions, antelope, elephants, baboons, many tropical birds, giraffes, warthogs and zebras as well as part of a shy leopard on our first day in Tarangire alone. Lewis was very informative and attentive and made a wonderful driver and guide.

The glampsite we stayed at during our first night was spectacular and an ensuite bathroom with hot water was much appreciated. Our cook Hilda was hilarious, introducing herself as our Mama for the next five days, and her meals were delicious.

Our first day in the Serengeti was incredible we saw all of the aforementioned animals as well as hippos, various new types of gazelle, hyenas, wildebeest, vultures and ostriches. The highlight of the day was a leopard who was clearly visible in a tree and had dragged a gazelle he had killed up with him.

Camping in the Serengeti was a surreal experience. We slept in a campsite that was right in the middle of the Serengeti, mere meters away from baboons and hyenas that we watched loping around the edge of the campsite.

Our second day in the Serengeti was just as magical. The highlights were watching vast herds of zebra and wildebeest galloping along and observing the most adorable pride of lions nuzzling each other about a foot away from the truck. The most exciting event was when we came across a cheetah who was stalking some oblivious gazelle. It was a very intense few minutes but eventually the gazelle spotted it and it conceded defeat.

Camping on the edge of Ngorongoro crater afforded a breathtaking view and lots of very close encounters. We watched a couple storks stalking through the campsite as well as zebra and buffalo grazing, in fact that night we heard sounds coming from outside the tent and opened up to find ourselves face to face with a buffalo grazing not 6 inches from the tent's flap.

Ngorongoro itself was ineffably beautiful. The descent was steep and afforded all kinds of wonderful views including aerial perspectives on vast herds. We saw huge herds of buffalo up close, hyenas making off with a hunk of meat, the most adorable lion cubs panting in the sun, as their mothers and older siblings lazed in the shade, a couple cute civet cats and the Monte Cristo, not one but two rhinos. To slightly temper the awesomeness of such sightings, both rhinos were asleep and quite far away but I still feel blessed to have seen what was according to Lewis 10% of the rhinos in Ngorongoro.

Our final night of the safari was spent once again in the glampsite and was just as comfortable the second time round.

Our last day in Manyara was good but it didn't hold a candle to the previous 4 days. We saw lots of baboons, zebra, elephants, buffalo, some giraffes, antelope and various types of exotic birds including massive flocks of flamingos that were unfortunately too far away to be seen by the naked eye so we took turns gazing at them through the binoculars.

We were incredibly satisfied with our safari experience. The one thing I should mention is that Moorland and Suricata safaris are partners and that depending on availability you could end up going with either company. Nassir did not have a group booked for our specific dates so he put us in with a Suricata group. In the end based on the experience we had and Nassir's kind demeanor and eagerness to assist in any way possible I would not hesitate to recommend Moorland safaris to anyone who would like to get up close and personal with all kinds of exotic animals.

Tl;dr Had an amazing safari experience, saw every possible animal, great lodgings and impeccable customer service
Nico
–
DE
Visited: November 2019
Reviewed: Nov 26, 2019
Email Nico | 20-35 years of age | Experience level: first safari
They did everything to give me a once-in-a-lifetime experience!
It was excellent!
I did Mount Meru and a 4 day Safari with Moorland Safari and can highly recommend this company! The service is great, the team is really friendly and they do everything to make you happy.
I got good equipment for the hike and a really good guide. Same for the safari - It was amazing! Our guide had a lot of experience and was able to show and explain all the animals you could see.
If you want to do a trip in Tanzania - There is no better company than Moorland. I wish the team all the best!

Elif
–
TR
Visited: December 2019
Reviewed: Dec 25, 2019
Short but nice safari experience
I went on a day trip in a joined tour to Ngorongo Crater. It was a right decision to book my trip with Moorland Safari company. They did a really good job from the beginning to the end. Our driver, Samson was also great and efficient.
Arun Velu
–
US
Visited: December 2019
Reviewed: Jan 3, 2020
Email Arun Velu | 50-65 years of age | Experience level: first safari
Moorland Safari Experience in December 2019
I went on a safari with Moorland safaris with my son and had a great time.
Communication worked well with Nasr.
Ilyas picked us at Kilimanjaro airport and dropped us at Arusha Sheraton and also dropped us back at the airport on the return.
Food and the accommodation were extremely good, especially at Domel and Ngorongoro.
I would strongly recommend Moorland and would definitely go with them when I do my next safari trip.
Yvonne
–
ES
Visited: January 2020
Reviewed: Feb 1, 2020
Email Yvonne | 35-50 years of age | Experience level: 2-5 safaris
Unforgettable experience
I did the 4 days + 3 nights safari (Tarangire, Serengeti and Ngorongoro). The Ngorongoro crater is so beautiful! The safari was well organized and the guide, Lucas, made an effort to make sure we got to see as much as possible. The first night we slept in a very correct lodge and the other two nights in a tent (campsites with very basic services and cold water showers). The food was good and varied. I was traveling alone and I had to share a room and a tent. It wasn't a problem because I was lucky enough to have a very nice group, but I think this is something that should be mentioned beforehand.
Tina
–
CZ
Visited: January 2020
Reviewed: Feb 3, 2020
Email Tina | 35-50 years of age | Experience level: first safari
The best memories
We ordered 4 days Safari trip ( manyara, serengeti, ngorongoro). Everything was very good arranged, Nasr was all the time available to answer our questions regarding the trip and helped us with every situation ( e.g. our flight was delayed...). The driver Rocky and the cook were the best. We were very satisfied. I highly recommend!!!
HBB
–
US
Visited: February 2020
Reviewed: Feb 29, 2020
Email HBB | 20-35 years of age | Experience level: over 5 safaris
Thank you for a great tour.
Thank you, Nasr, for organizing a great trip and accommodating us! We had a great time visiting Tarangire and Ngorongoro.
florence
–
FR
Visited: January 2020
Reviewed: Mar 2, 2020
Email florence | 20-35 years of age | Experience level: first safari
5 days safari
We book a shared 5 days safari as a couple with Moorland Safari and we had a great experience. Nasr is a young helpful guy, he helped us with our luggage that the flight company delivered later than planned. We had a very nice safari group of 5 to 6 people depending on the days, our guide and driver was very careful and fun. Our favorite place was by far the Ngorongoro crater, and the serengenti. We recommend Nasr to help you organize your safari, he will help you to adapt to your plans and offers a good price / quality. Enjoy your safari! Florence and Emmanuel
Disclaimer
All corporate and/or tour info is provided by Moorland Safaris, not SafariBookings