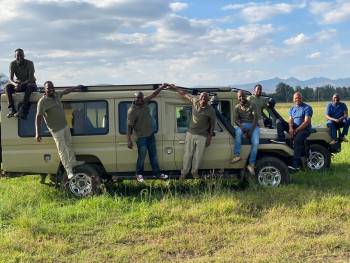 Sunset Adventure Safari
5.0/5 – 39 Reviews
Located In:

Size:

5-10 employees (Founded in

2007

)

Tour Types:

Custom mid-range & luxury tours that can start every day

Destinations:

Price Range:

$275 to $500

pp

per person

per day

(USD, excl. int'l flights)
Rating Breakdown
Suzz
–
Visited: October 2022
Reviewed: Nov 13, 2022
Email Suzz | 65+ years of age | Experience level: first safari
Provided Such a Great Service
We used the three day safari experience to have our first safaris. Doing this with Sunset Adventure Safari was such a success.
We had an experienced guide Omari, who readily shared his knowledge so we felt we learnt so much in just three days.
The animals were incredible and we were lucky enough to observed a wide variety, including lions, elephants, giraffes, a black rhino and a leopard.
Our lodges were run by hard working staff that made you so welcome and comfortable. There was a wide choice of food so there was plenty to eat.
The Ngorongoro Crater was outstanding and such an amazing environment with so many different animals.
Emma and her team solved our travel problems easily to ensure we had a great time.
I would recommend this to families and couples. I would suggest you try to be reasonably fit if you are older like us, we are both over 70.
Our thanks go to Sunset Adventure Safari for such wonderful memories.
Ruth K-W
–
Visited: October 2022
Reviewed: Oct 26, 2022
Email Ruth K-W | 35-50 years of age | Experience level: over 5 safaris
Fantastic, unforgettable experience
We truly had a fantastic trip with Sunset Adventure Safari. It was the first time my mum had done a safari and it is something she will remember for life. Our guide Omari was excellent, a good driver, very knowledgeable and all-round nice person and company. He went out of his way to accompany us and make us comfortable. He met our every need, always available but not intruding. He was very considerate about the things we wanted to see and we never felt rushed. All hotels were good, especially green mountain and Maranda valley lodge. Lunches were excellent and very filling. Dinners were also good. The walking tour was an unique experience , especially coming face to face with a male lone elephant :) We felt the trip was also very good value. The pre-departure communication and information was very detail and timely and the owner, Emma, was a lovely person to deal with. Thanks for making it such a unforgettable experience.
Kristin
–
US
Visited: August 2022
Reviewed: Sep 1, 2022
Email Kristin | 20-35 years of age | Experience level: 2-5 safaris
ABSOLUTELY INCREDIBLE! Would highly recommend:)
Hi! We took the 5 day Safari through the Serengeti through Sunset Adventure Safaris and it exceeded every expectation we had. We did a private safari for two people. First of all, our guide Sele was always early which made going out and doing the drives earlier to try to see as many animals as possible. He was super informative and you can tell he really enjoys what he does and being out in the bush. He also appreciated our senses of humour and we would have a laugh! It's important to have a good relationship with your guides as you will be spending many hours with them in the car. Also fun fact, Sele was also really good at taking pictures and getting the right angles which was something that I struggled to do in the car. When he heard on the radio that cheetahs were close, he told us we were going to meet some other cars but kept the cheetahs a surprise which made it MUCH better since we weren't expecting it. I mean, absolutely did not ruin the surprise and let us see them ourselves first. Personally, love this because we would get so pumped trying to keep our eyes peeled. Another thing, he was really good and manoeuvring the safari vehicle so we could get best view or where he thought the animal would be. When he heard there was a rhino, he actually randomly stopped and took out his binoculars because he figured the rhino was moving in our direction. He didn't go to where the other vehicles were and we were able to see the rhino before the other vehicle met up with us. He's a real champ!!

Our Safari vehicle was super sweet. One thing I noticed in comparison to all other companies was the number of seats on the vehicles. Our vehicle had 2 seats in the back with the rest of the space open for walking around/having room for photos without stepping on seats. Other vehicles had 4 to 6 seats but if it was only 2 people in the Safari, they had to stand on seats to manoeuvre around. All we had to do with stand up. This made it way easy for both of us to stand on the same side of the car to take pictures (because you want good pictures). Sele was also happy to take photos from the front seat of us with the animals. I would definitely say, only 2 seats in the back for 2 people gave us leg room and made the long drives more comfortable.

In addition, Emma helped us book the safari and she always responded quickly and was super courteous. She was able to answer all our questions and even helped us loads when our plans changed and dates changed.

Overall, I would definitely recommend Sunset Adventure Safari!!
Mahad
–
Visited: July 2022
Reviewed: Aug 1, 2022
Email Mahad | 20-35 years of age | Experience level: first safari
Spectacular guide and couldn't have asked for a better guide.
It was an amazing experience and our tour guide took care of us very well. We got to see almost all the animals up close and was an overall incredible experience. Worth every dollar and would definitely go again!
Jane
–
Visited: July 2022
Reviewed: Jul 23, 2022
Email Jane | 50-65 years of age | Experience level: first safari
Sunset Safaris (we booked with Emma) were very prompt and professional to deal with.
My husband and I shared the 5 Day Safari with our daughter and son-in-law. We booked this trip as it appeared to offer very good value for money and it didn't disappoint. We were all full of praise for the itinerary and our driver Omari who was first class. Omari is an excellent driver and was extremely considerate to us at all times. He is extremely knowledgeable (he has 15 years experience) and knows all the best places to find and view the animals and birds. He was great company and fun to be around. There were some long days of driving on pretty rough roads but the accomodation provided in the package was excellent and we looked forward to seeing each place at the end of the day. Everywhere had excellent evening meals and breakfasts. The Osupuko Tennted Lodge in the Serengeti was particularly special. We had nothing at all to complain about . The whole trip was amazing!
Massimo
–
IT
Visited: June 2022
Reviewed: Jul 9, 2022
Email Massimo | 50-65 years of age | Experience level: 2-5 safaris
Everything has been perfect and exactly what we purchased!
I purchased 1 week safari with Sunset Adventure Safari and Emma helped us to set it up based on our needs. Elmes the guide has been very good in finding good spots for animals and to take care of us during the entire trip.
I have been travelling 1 week through Serengeti National Park, Tarangine National park, Lake Manyara and Ngorongoro Crater. I have been travelling with my wife and 2 children of 9 and 11 years old.
We all enjoy and we spotted a large number of animals (76 Lions!).
I would recommend the Sunset Adventure Safari.
Massimo from Italy


MARIA
–
ES
Visited: May 2022
Reviewed: Jun 24, 2022
Email MARIA | 35-50 years of age | Experience level: over 5 safaris
Perfect tailor made safari experience
Choosing SUNSET ADVENTURE SAFARI for our trip has been a perfect match. The flexibility, efficiency and patience of Emma working with us to design the perfect itinerary, together with the knowledge of the team on the ground has made the booking process easy and motivating. They listen to you, but also advise and recommend from their experience that it´s what you expect when you decide to hire and agency. Once on the ground, the different guides we have met, Sele, GoodLuck have performed incredibly fine showing their passion, knowledge and experience about what they do, providing a great safari experience. So happy with our decision of choosing Sunset! We´ll repeat, for sure. Asante sana Emma, Elibariki, Godfrey, Sele, GoodLuck... and all the team!
Rixt
–
NL
Visited: May 2022
Reviewed: Jun 8, 2022
Email Rixt | 20-35 years of age | Experience level: first safari
The best safari experience with a guide who goes out of his way to make your safari a memorable one!
Going on this safari was the best thing we had ever done in our lives. We were so lucky and saw loads of majestic animals who were overall pretty close to our car, most of the time thanks to our guide Elemes. His English was really good and he was very often the first car to drive into the high grass and off the roads to get close to animals like leopards and lions. Safari is ofcourse an expensive experience but we would pay it again immediately without a doubt. Totally worth your money and the guide and cook both really go out of their way to make sure that yoi have a good time!
Chantal
–
Visited: March 2022
Reviewed: Mar 1, 2022
Email Chantal | 20-35 years of age | Experience level: first safari
Amazing safari
We had an amazing day trip safari to Tarangire Park. We saw many different animals. There is not an hour gone by without spotting new animals. The driver was really nice, he provided interesting facts about the animals and nature, asked us about our wishes and spoke English very well.
Had the most amazing day! Totally worth the money.
Taras
–
CA
Visited: March 2022
Reviewed: Feb 28, 2022
Email Taras | 35-50 years of age | Experience level: 2-5 safaris
The Sunset Adventure Safari team went above and beyond to make our trip exceed our expectations.
This was our second Tanzanian safari and trip to Zanzibar. We began planning our trip almost the minute we returned from our first trip 2 years ago. About a year ago we began actively gathering quotes from numerous tour operators including the company that handled our first safari. During this process we sent a brief description of the places that we wanted to see and a few accommodations we wanted to book. We ended up deciding on Emma at Sunset Adventure because her willingness to listen and customize our trip to our wants and needs. This kind of a trip has a-lot of moving parts so get the most out of it communication is key and during the pandemic even more so. Emma was great at making sure she understood our requests and questions and took the time to customize our trip for us.
We booked a 7 day safari, visiting in order Tarangire, Serengeti, Ndutu and Ngorongoro Parks. Our guide Sele was exceptional. Every morning at breakfast he gave us a briefing of what we could see and asked us what we would like to see. Every evening he would ask what we liked about the day and what we were looking forward to the next day. I felt that Sele went out of the way to find everything we were looking for and really took personal responsibility for the success of our Safari. It's people like Sele and Emma that ultimately can make or break a vacation and they both exceeded our expectations.
This is Africa, and things don't always go to plan but when you have people like Emma, Sele and the whole team at Sunset you can kick back and really enjoy yourself with the confidence that you're in exceptional hands.
Thank you Sunset Adventure Safari for an incredible vacation with memories that we will treasure forever.
Disclaimer
All corporate and/or tour info is provided by Sunset Adventure Safari, not SafariBookings
The tours offered by Sunset Adventure Safari are subject to their terms & conditions