Weather & Climate – Ruaha NP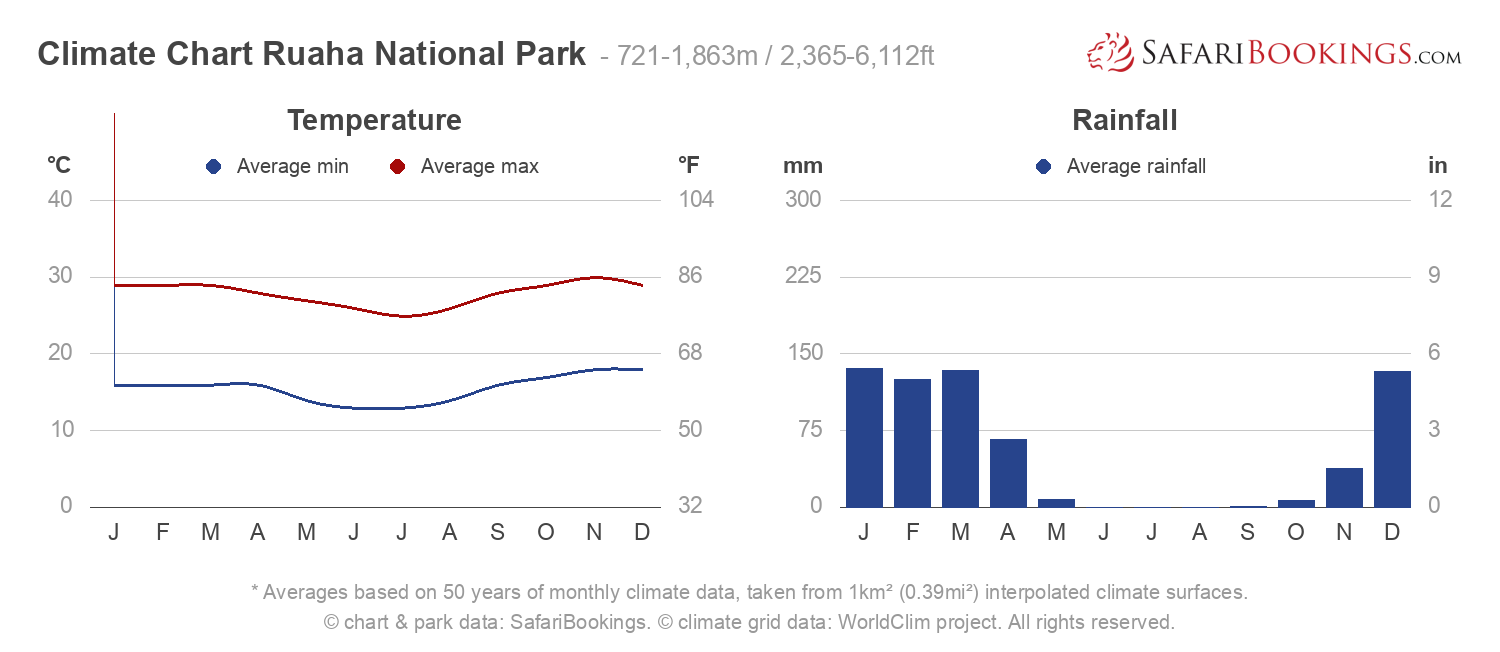 Climate Chart Ruaha National Park
– 721-1,863m / 2,365-6,112ft
* Averages based on 50 years of monthly climate data, taken from 1km² (0.39mi²) interpolated climate surfaces.
© chart & park data: SafariBookings. © climate grid data: WorldClim project. All rights reserved.
Ruaha is hot and dry. Temperatures don't vary throughout the year, which is typical of its location close to the equator. Nights remain warm all year long. The warmest months are October to March, and the coolest are June to August. The altitude changes within Ruaha (from 721 to 1,863m or 2,365 to 6,112ft) cause varied temperatures. They drop by about 6.5°C for every 1,000m you climb (or 3.5°F per 1,000ft). This may not affect tourists much, as the accessible area is mostly at lower altitudes.

The Dry season occurs from May to October. Ruaha has one extended Wet season from November to April. Afternoon thunderstorms are common, but it is unusual for rainfall to last throughout the day.
Dry season
–

May to October
May, June, July, August, September & October – It is dry and sunny and temperatures will range between 27°C/81°F (daytime) and 15°C/59°F (nighttime).
Wet season
–

November to April
The Wet season is made up of hot, humid weather. Average temperatures range from 28°C/82°F (daytime) to 17°C/63°F (nighttime).
November & December – November is the start of the rains, although the exact timing is hard to estimate. The rains won't interfere with your safari since they are mostly afternoon showers. The temperatures increase just before the rain starts, and peaks of over 38°C/100°F are not unusual. Daytime temperatures average 30°C/85°F, while night and early morning average 18°C/64°F.
January, February & March – Like previous months, it is highly unlikely for rains to last the whole day, but they will be more plentiful – usually in the afternoon. Daytime temperatures average 28°C/82°F, while night and early morning average 17°C/62°F.
April – The rains will slow down, as this is the end of the Wet season. Temperatures average between 28°C/82°F and 17°C/63°F.
Want to Visit Ruaha NP?
Ruaha National Park
Ruaha NP Photos
View Photos
(25)