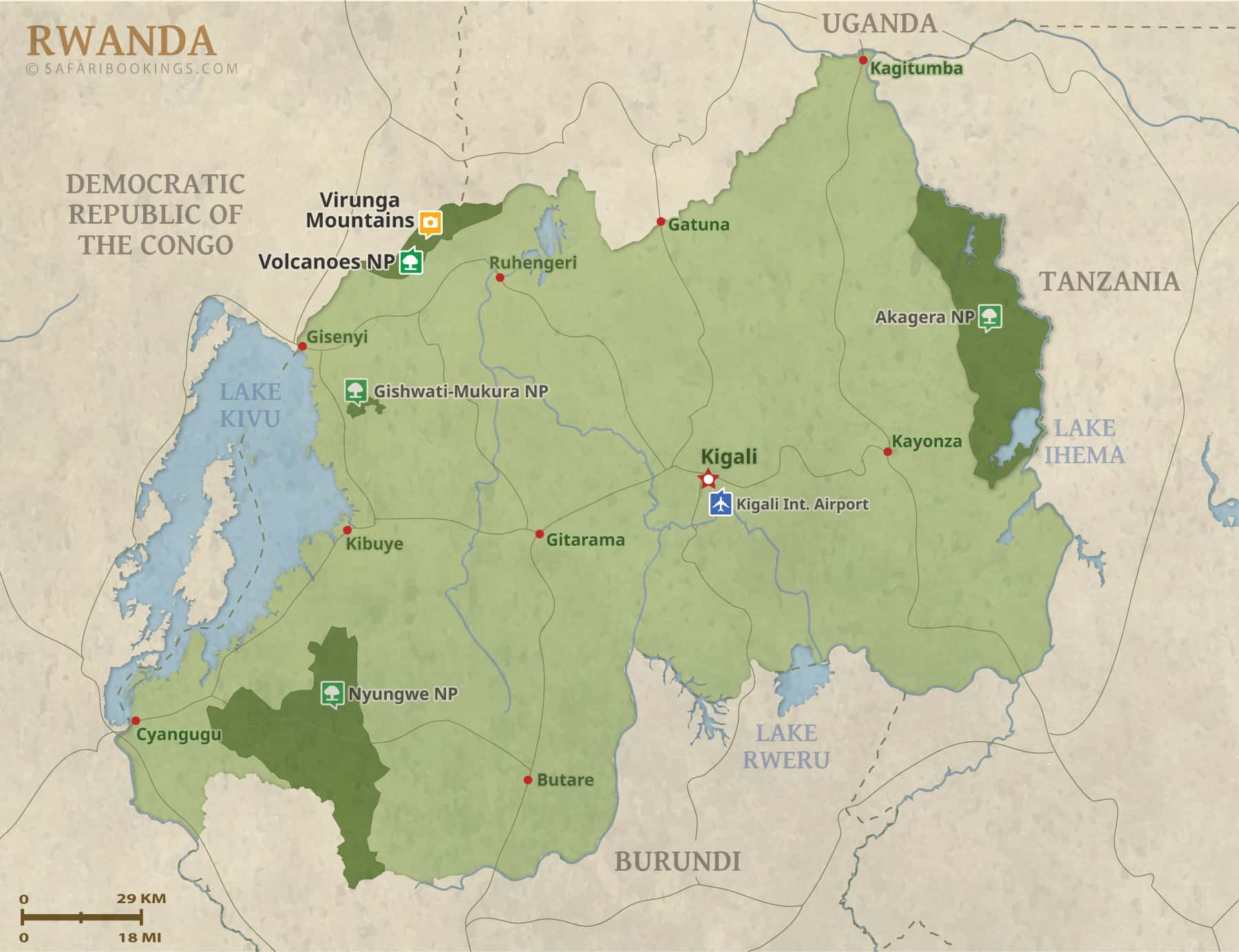 Popular Routes Where Wildlife Viewing Is a Major Part of the Tour
Rwanda is a very small country with just a few parks and the scenic Lake Kivu. If you are visiting only Rwanda, there is one obvious loop to follow taking in Nyungwe Forest National Park and Volcanoes National Park via Lake Kivu. This loop can be done in both directions. The only savannah reserve, Akagera National Park, doesn't fit into this loop. It can be visited first, or at the end, as a separate side trip from Kigali.
The Wildlife Circuit
(1 to 2 weeks)
After arriving at Kigali International Airport, you can spend the night in Kigali, the small capital city straddling several hills and valleys. The genocide memorial and a bustling market are just some of the activities on offer.

Destinations:
Huye

(0.5 to 2 days)

, formerly Butare, is home to both the national ethnographic museum and largest campus in the University of Rwanda system. It is worth an overnight stop, but can also be visited en route to Nyungwe Forest National Park.
Nyungwe Forest National Park

(2 to 4 days)

is a high-altitude rainforest offering stunning views and scenery. The canopy walk is a must and several hikes of varying difficulty are offered. Nyungwe Forest has an amazing variety of primates including habituated chimpanzees. Chimp trekking is one of the key attractions, as well as tracking unusually large troops of Rwenzori colobus monkeys. The birding is spectacular with many Albertine Rift endemics as well as general forest birds.
Lake Kivu

(1 to 4 days)

is a scenic lake located in East Africa's Rift Valley. There are several resort towns along the lake – the largest being Rusizi (Cyangugu), Karongi (Kibuye) and Rubavu (Gisenyi) – and boat trips to small offshore islands are a popular excursion. If you stay over at the lake in the charming town of Rubavu (Gisenyi), you could make this your base to visit gorillas with a very early start.
Volcanoes National Park

(2 to 4 days)

is home to the endangered mountain gorillas. There are 10 troops of habituated gorillas and some people choose to track two troops on consecutive days. Each visit is a unique experience and each troop has a different family structure. Other activities on offer in Volcanoes National Park are a hike to Dian Fossey's grave and golden monkey tracking. Golden monkeys are an endangered Albertine Rift endemic species. From Volcanoes National Park, you return to Kigali.

Popular add-ons:
Akagera National Park

(2 to 4 days)

is the only savannah reserve in the country and this is where you'll be able to see some of the large safari animals such as elephant, buffalo, hippo and giraffe. Lion and rhino have both been recently reintroduced as well. The park is very scenic, with a string of lakes as its focus for game drives. Boat trips on the lake, with a chance of seeing the prehistoric looking shoebill and many other birds, are highly recommended.
Want to Visit Rwanda?