​Weather & Climate – Rwanda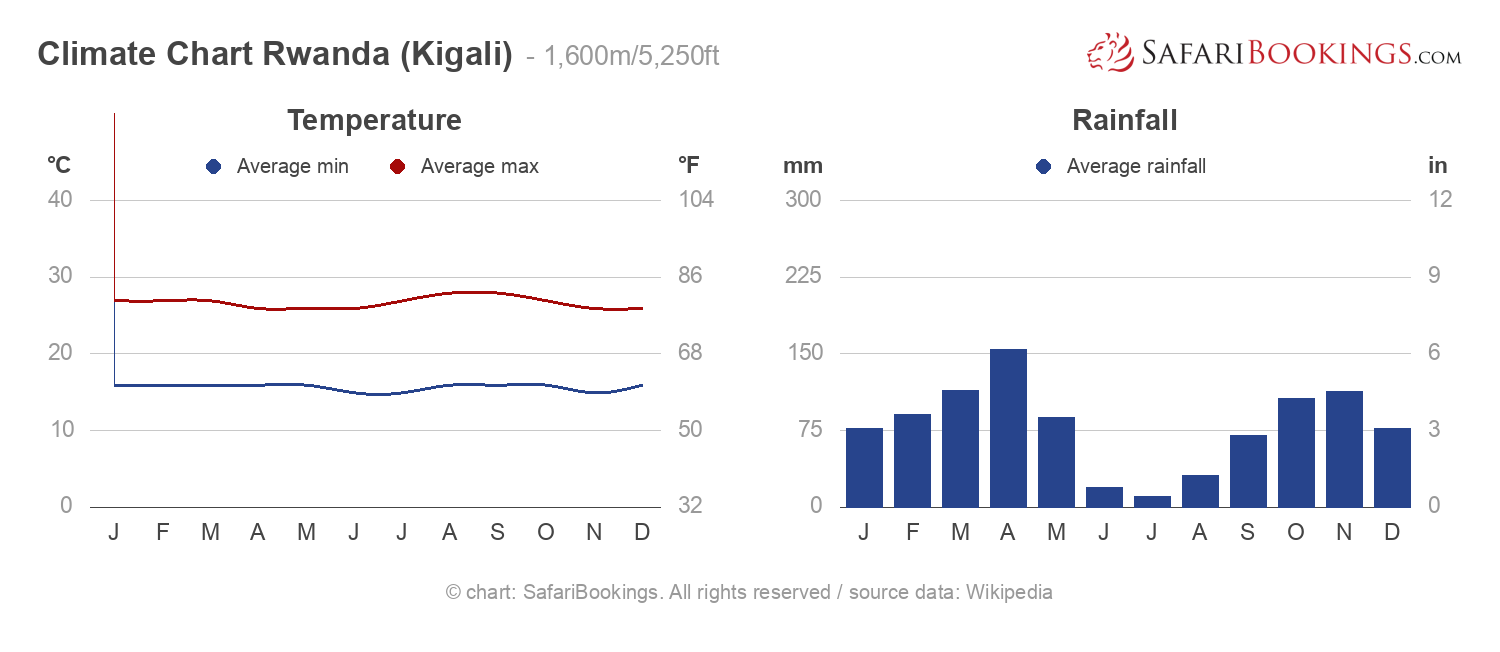 Climate Chart Kigali
– 1,600m/5,250ft
Straddling the equator, there is little year-round fluctuation in temperature and no real winter or summer. There is a defined Dry season from June to September, but in Volcanoes NP and Nyungwe Forest that only means that it will rain less as these parks are wet throughout the year.
Kigali's Climate Compared to Rwanda's Parks
In general, the east of Rwanda, including Akagera NP, shares the warm climate of Kigali. However, it never gets extremely hot due to the relatively high altitude. The parks in the western mountainous area, including Volcanoes NP and Nyungwe Forest NP, are a lot colder with daytime temperatures around 16°C–21°C (61°F–70°F), due to the even higher altitude. The temperature drops by about 6.5°C for every 1,000m you climb (or 3.5°F per 1,000ft). The latter two parks are also a lot wetter due to the mountain peaks and rainforest habitat. The new Gishwati–Mukura NP also shares a similar climate to the larger western parks.
Dry Season

–

June to September

There is little rainfall during these months in most of the country but it can rain at any time in the rainforest.

June, July & August – In the east of the country, afternoon temperatures are usually around 27°C/81°F. In the mountain parks it is a lot colder. Nyungwe has daytime temperatures of around 21°C/70°F, and Volcanoes NP is even colder with temperatures around 16°C/61°F.
September – Early September is still dry, but sometime this month the rains may begin. Temperatures remain the same. The mountain parks will receive quite a bit of rain in September.

Dry Season Photos

+8 Photos

Wet Season

–

October to May

The Wet season is characterized by two periods of rain, the short rains and the long rains, interrupted by a drier spell.
October, November & December – 'Short rains' - Nyungwe and Volcanoes NP tend to be very wet throughout the rainy season. Daytime temperatures in Nyungwe are about 20°C/68°F and in Volcanoes NP it drops to 16°C/61°F. The rains won't likely interfere with your safari in Akagera NP.
January & February – There tends to be a drier spell between the short and long rains. The exact timing is unpredictable. In Nyungwe and Volcanoes NP it will still be very wet and it can rain anytime.
March, April & May – 'Long rains': these are the wettest months. It tends to rain most days, although seldom for the whole day in the drier east part of the country. In Nyungwe and Volcanoes NP, it can rain for days.
Wet Season Photos
+13 Photos
Want to Visit Rwanda?