Weather & Climate – Samburu NR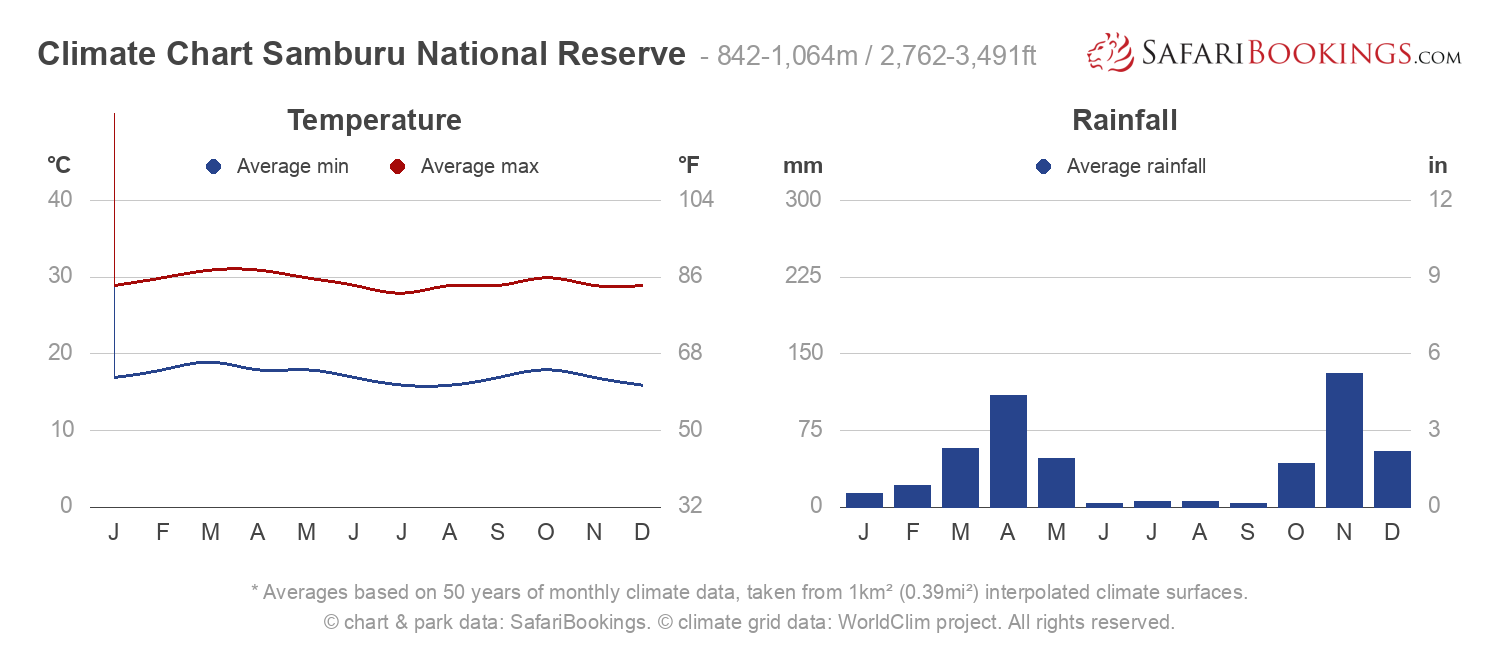 Climate Chart Samburu National Reserve
– 842-1,064m / 2,762-3,491ft
* Averages based on 50 years of monthly climate data, taken from 1km² (0.39mi²) interpolated climate surfaces.
© chart & park data: SafariBookings. © climate grid data: WorldClim project. All rights reserved.
During the day, Samburu's climate is hot and dry, although it cools down at night. The daytime temperature is usually in the region of 32°C/90°F, while the average at nighttime is 15°C/59°F. It is a good idea to bring warm clothing for game drives in the early morning. The rainiest periods occur in April and November, but annual rainfall is low. The 'long rains' usually occur from mid-March to mid-May, and the 'short rains' from mid-October to mid-December.
Dry season
–

June to September
This time of year is marked by hot and sunny days with almost no rainfall being recorded.
June & July – Hot and sunny conditions. Afternoon temperatures are in the region of 31°C/87°F.
August & September – Daytime temperatures are on the rise before the rains cool things down. September's average temperature is around 32°C/90°F, although it peaks much higher.
Wet season
–

October to May
The Wet season is defined by the 'short rains' followed by the wetter 'long rains'. The months of January and February are a dry period that separates the shorter and longer rains.
October, November & December – November is the wettest month. It rarely rains all day, but storms do occur in the afternoon. The daytime temperature is around 32°C/90°F, although it climbs higher before rain and falls when the showers have cleared.
January & February – A dry spell that falls between the short and long rains, though it is difficult to predict the exact timing. February is the hottest month. Average temperature in the afternoon is 33°C/91°F, but it can get much hotter.
March, April & May – Short afternoon showers are usual during the long rains, which typically break in late March. April is the wettest month, and driving on deteriorating roads can be challenging. Temperatures in the latter part of the day are around 32°C/90°F.
Want to Visit Samburu NR?
Samburu National Reserve
Samburu NR Photos
View Photos
(25)