Weather & Climate – Toro-Semliki WR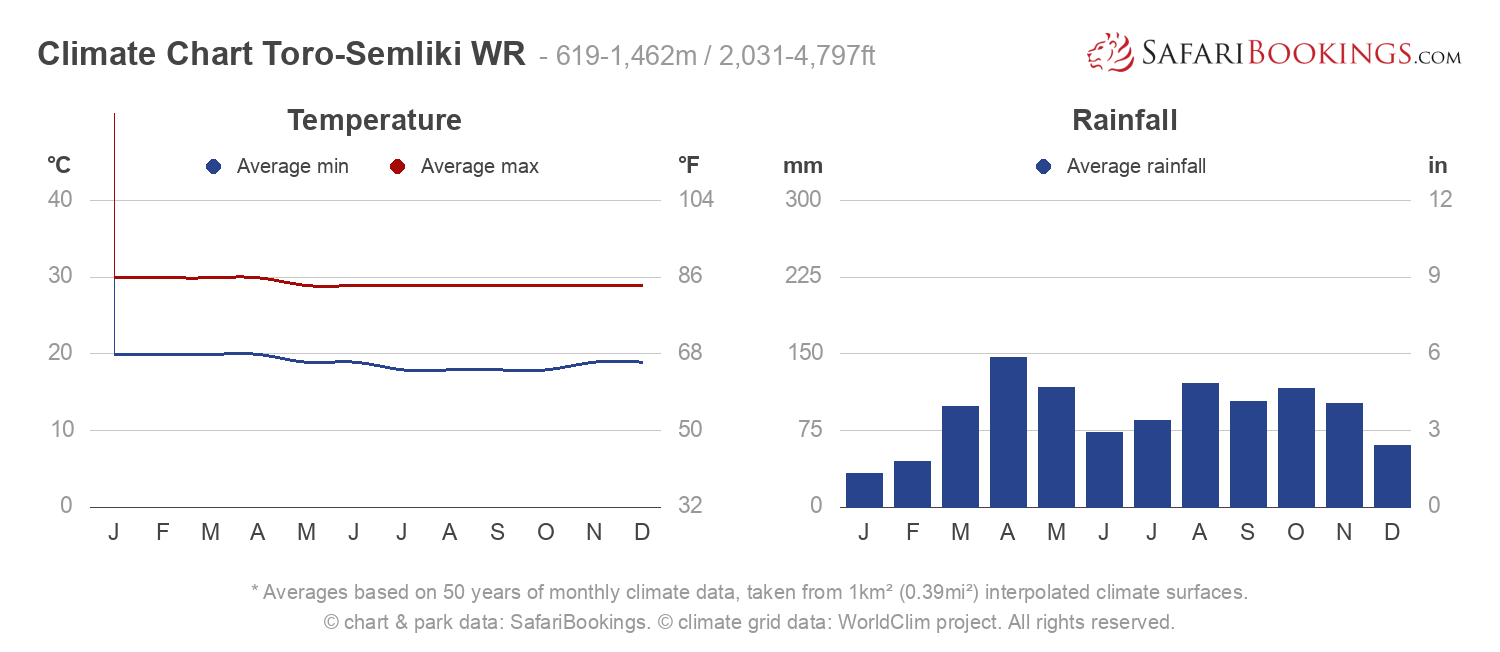 Climate Chart Toro-Semliki Wildlife Reserve
– 619-1,462m / 2,031-4,797ft
* Averages based on 50 years of monthly climate data, taken from 1km² (0.39mi²) interpolated climate surfaces.
© chart & park data: SafariBookings. © climate grid data: WorldClim project. All rights reserved.
Toro-Semliki Wildlife Reserve lies below an escarpment and has a hot climate. These high temperatures remain throughout the year. Daytime temperatures hover at 30°C/86°F, and taper off at night to around 18°C/64°F.

Rain is unpredictable in Toro-Semliki, as there is no true Dry season. Rainfall is less in June and July, as well as the period from December to February. There are, however, two distinctive Wet seasons – from March to May and from August to November.
Dry seasons
–

December to February and June to July
December, January & February – The weather is typically dry, though rain can still occur.
June & July – These are relatively dry months, but rain should still be expected, potentially for a few days at a time. Daytime temperatures average 30°C/86°F, and nighttime temperatures average 18°C/64°F.
Wet seasons
–

March to May and August to November
March, April & May – The region is the wettest at this time, with the rains peaking in April. Average temperatures range from 30°C/86°F in the afternoon to 19°C/66°F at night. All roads in the park including access roads become virtually impassable.
August, September, October & November – Similar weather to March, April and May. Rainfall returns after a period of slightly less rain in June and July.
Want to Visit Toro-Semliki WR?
Toro-Semliki Wildlife Reserve
Toro-Semliki WR Photos
View Photos
(6)