Weather & Climate – Tsavo West NP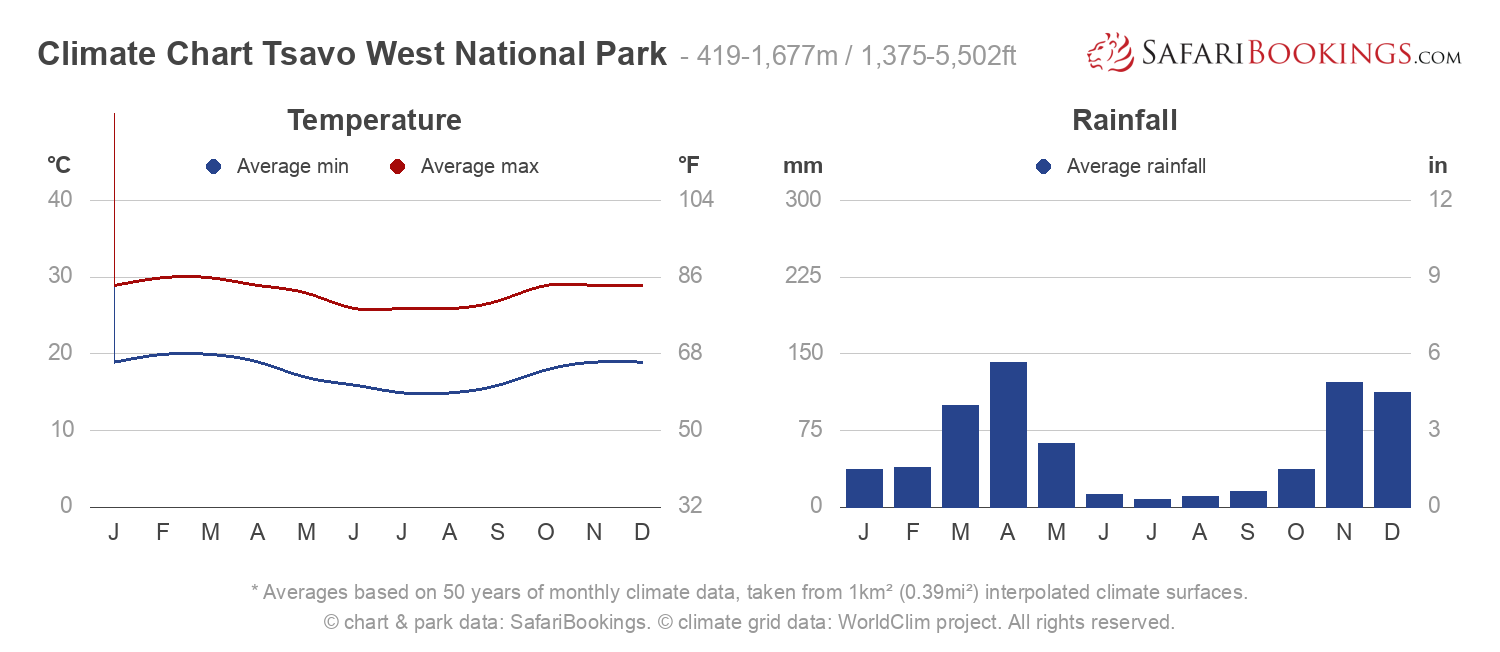 Climate Chart Tsavo West National Park
– 419-1,677m / 1,375-5,502ft
* Averages based on 50 years of monthly climate data, taken from 1km² (0.39mi²) interpolated climate surfaces.
© chart & park data: SafariBookings. © climate grid data: WorldClim project. All rights reserved.
Similar to Tsavo East, Tsavo West NP has a climate characterized by hot and dry conditions. During the day, expect temperatures around 29°C/84°F, while 18°C/64°F is typical at night. Cool mornings mean warm clothing is a good idea for early game drives. Tsavo West's altitude varies from 419 to 1,677m (1,375 to 5,502ft). Temperatures fall by roughly 6.5°C for every 1,000m you ascend (or 3.5°F per 1,000ft), so there are wide climatic differences within the park. Rainfall peaks in April and November.
Dry season
–

June to September
The coolest months are also full of sunshine, but very little rain.
June & July – Sunny afternoons see temperatures reach about 25°C/77°F.
August & September – The breaking rains halt the increase in daytime temperatures. Although temperatures rise far higher, the average in September is 26°C/79°F.
Wet season
–

October to May
The 'short rains' followed by the 'long rains' comprise the Wet season. In between these two wetter periods is a drier stretch which falls in the months of January and February.
October, November & December – November is a peak time for rainfall. The rains generally begin in October, although the exact timing changes from year to year. Afternoon storms often sweep through. It averages 30°C/86°F in the daytime, although rain cools things down.
January & February – February is the hottest month: average afternoon temperatures are 32°C/90°F. These months represent a dry spell between the short and long rains. It's not possible to know exactly when they will begin/finish.
March, April & May – The long rains generally begin in the second half of March. Brief afternoon showers are normal. April is the wettest month, and road conditions often worsen in April and May. Afternoon temperatures climb to around 29°C/84°F.
Want to Visit Tsavo West NP?
Tsavo West National Park
Tsavo West NP Photos
View Photos
(20)