Weather & Climate – Addo Elephant NP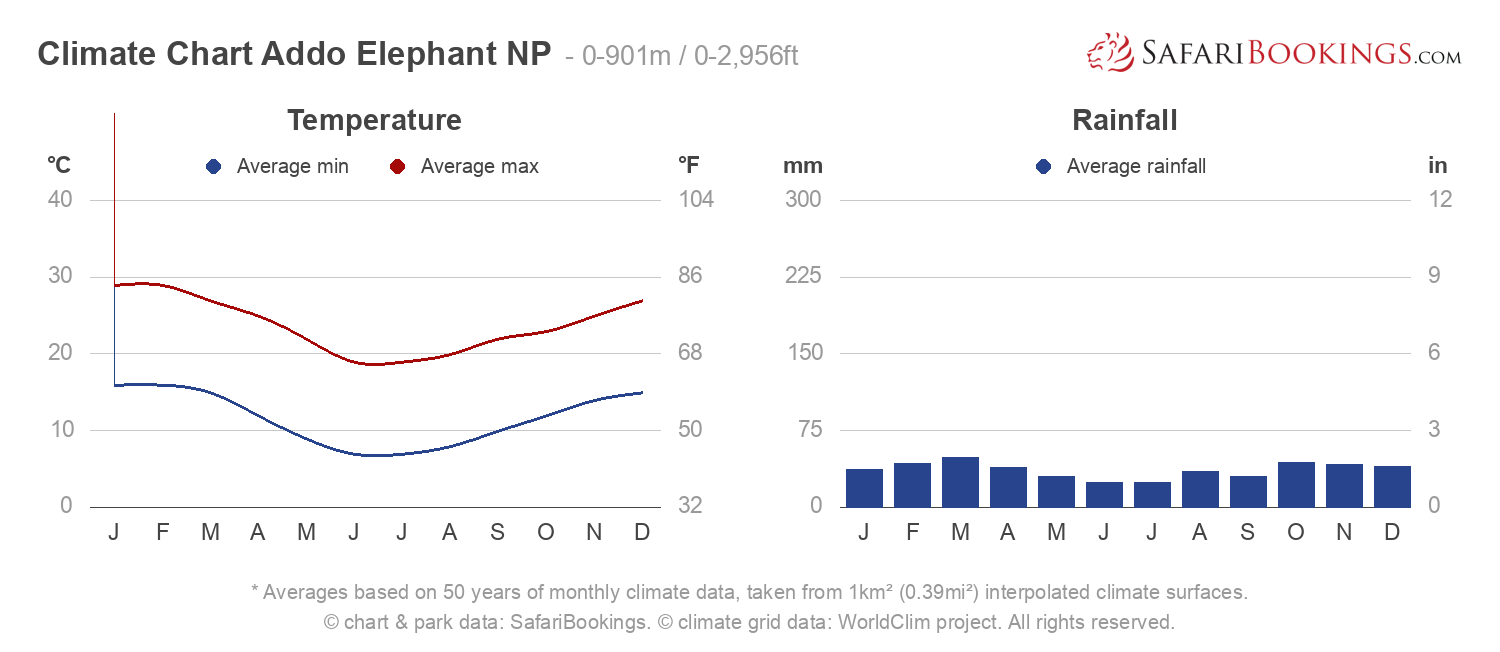 Climate Chart Addo Elephant National Park
– -14-901m/-46-2,956ft
* Averages based on 50 years of monthly climate data, taken from 1km² (0.39mi²) interpolated climate surfaces.
© chart & park data: SafariBookings. © climate grid data: WorldClim project. All rights reserved.
Addo Elephant National Park receives an average rainfall of less than 450mm/17.7in per year. Unlike the summer rainfall pattern covering most of the country, rainfall is relatively evenly distributed throughout the year, but there are two peaks: in February-March and October-November. It can cool down to freezing in mid-winter. The park ranges from the coast to the Zuurberg Mountains, creating a wide range of altitudes. The main park area is at low altitude (under 250m).
Winter
–

May to September
The winter months are very cold at night and in the early morning. It is advisable to bring winter clothes – especially for open-vehicle game drives during these times. Winter sees even less rainfall than summer and the skies are usually clear.
May – This is the beginning of winter. Temperatures cool down to a typical 8°C/46°F in the morning and 22°C/72°F in the afternoon.
June & July – These are the coldest months. The average morning temperature is 6°C/43°F, but it sometimes gets to freezing at night. Afternoon temperatures are around 20°C/68°F.
August & September – It is gradually getting warmer, with an average temperature of 23°C/73°F in the afternoon. Mornings are not quite as cold with temperatures around 8°C/46°F.
Summer
–

October to April
Summer has more comfortable temperatures and a bit more rainfall. Some days might be cloudy, and it might drizzle for a day, but it is mostly sunny.
October & November – It gets warmer, and temperatures are between 12°C/54°F in the morning and 25°C/77°F in the afternoon. October is a peak month for rain. It won't rain every day, but it might sometimes drizzle for the whole day.
December, January & February – These are the warmest months with afternoon temperatures reaching 29°C/84°F. Mornings are comfortable at about 16°C/61°F. December and January have less rain, but this picks up a bit in February.
March & April – March is the wettest month, but it seldom rains for days on end. It starts to cool down again with an average daytime temperature of 27°C/81°F in the afternoon and 14°C/57°F in the morning.
Want to Visit Addo Elephant NP?
Addo Elephant National Park
Addo Elephant NP Photos
View Photos
(30)