You are here:

Best Time to Visit
​Best Time to Visit – Ankarana SR
Expert
Philip is a renowned Africa expert and author of many guidebooks to African destinations, including the Insight guide to Madagascar.
Philip is a renowned Africa expert and author of the Insight Guide to Madagascar.
Philip is the author of the Insight Guide to Madagascar.
Jan
Feb
Mar
Apr
May
Jun
Jul
Aug
Sep
Oct
Nov
Dec
The Dry season months, from May to October, plus November, offer the best conditions for a visit. The Wet season is more challenging as it is hot with high humidity and heavy downpours can interfere with activities. The west of the reserve tends to become inaccessible during the Wet season months and due to risk of flooding, some of the caves can't be visited at this time either.
Best Time
May to November

(Best hiking weather)
High Season
July/August holidays

(Park gets busy)
Low Season
January to March

(Low-season rates might apply, less busy)
Best Weather
April to November

(Little rain, less humidity)
Worst Weather
January and February

(Wettest months)
May to October
–

Dry Season – Winter
It rains only a little and the forest paths are dry
Hiking is easier in cooler, less-humid conditions
All caves are accessible
Lemurs can be found throughout the year
Reptiles and amphibians are less active from June to September
The park gets very busy in July and August
Wildlife Photos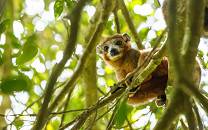 View Photos
(5)
November to April
–

Wet Season – Summer
Lemurs are more active
Low season means less people and lower rates
Orchids bloom from October to December
September to December are the best bird-watching months
Lots of rain and high humidity
Some lodges are closed from December to March
Some caves are not safe to visit
Best Time to Go to Madagascar by Major Park
Want to Visit Ankarana SR?