I can't help being in awe of leopards. For me, wildlife viewing has never been about ticking off the Big Five (a safari wish list that includes lion, buffalo, elephant, rhino and leopard). When in the bush, I'm happy to see a variety of animals in their wild habitat. Any animals. But whenever I set eyes on the most elusive of these safari icons, my adrenaline spikes and I get goose bumps on my skin.
This solitary, well-camouflaged, agile hunter is the most resilient of the big cats. They thrive in all habitats, ranging from rainforests to deserts, and even on the edge of urban habitation. Although extremely widespread, leopards are notoriously hard to spot, except in a few select locations where they have become habituated to humans. Read on for some of the best places to see leopards in Africa.
1. MalaMala Game Reserve – South Africa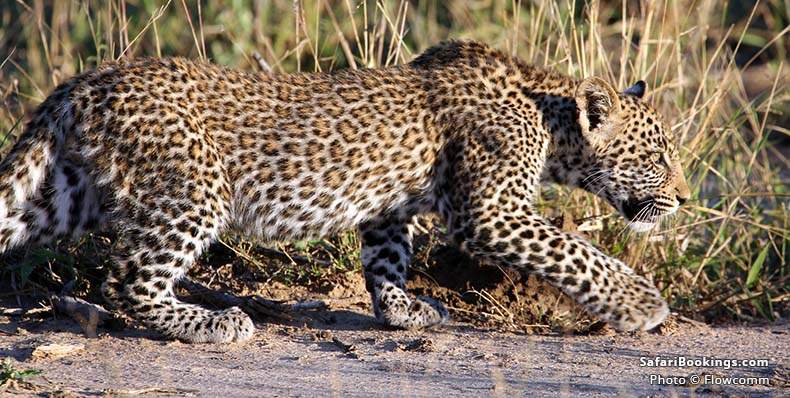 flickr.com/photos/brainstorm1984/32615325542
I can't think of a better place to see leopards in Africa than MalaMala GR. With its extensive river frontage, it is home to one of the densest leopard populations in the world. The MalaMala guides usually view more than 20 individuals every month, and you might well see three or four different leopards on a short stay. And while it's great to see lots of different leopards, for me it's the quality of the sightings that really excites me here. Due to years of careful habituation, you can appreciate each individual's personality, habits and badass attitude.
2. South Luangwa National Park – Zambia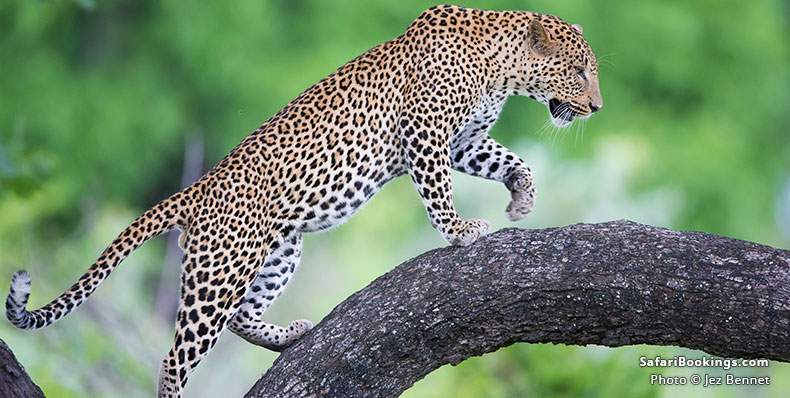 Leopard climbing a tree
South Luangwa NP is another great leopard hot spot. The park is renowned for its expertly guided walking safaris, but it's the superb night drives that are most rewarding for spotting these secretive big cats. Leopards are highly nocturnal. Under the cover of darkness, you might find a male patrolling his territory, a mother teaching her cubs to hunt, or a pair performing their elaborate mating rituals.
3. Masai Mara National Reserve – Kenya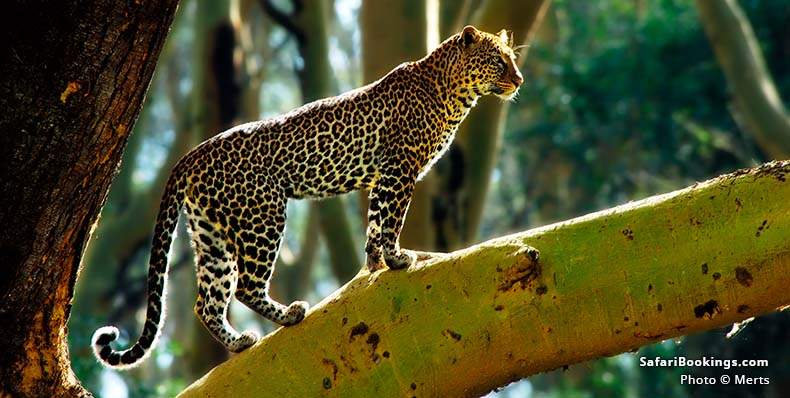 Leopard standing on a tree branch
The Masai Mara NR offers excellent viewing of all the big cats. The open savannah is most rewarding for cheetah and lion, but there are plenty of leopards here too. Females often hide their cubs in the kopjes (rocky outcrops). The inquisitive youngsters might be seen playing around the rocks while waiting for mum to return from a hunting trip.
4. Serengeti National Park – Tanzania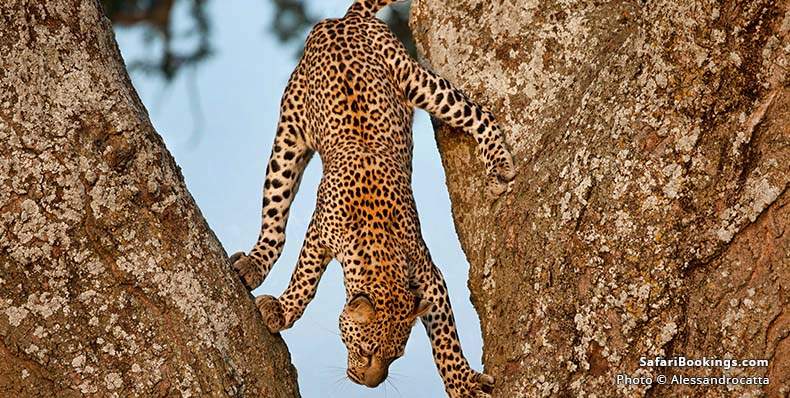 Leopard climbing down a tree
The Serengeti NP reliably delivers when it comes to leopard sightings. You just have to know where to look – and the guides always do. A drive along the Seronera River in Central Serengeti is a good way to start your search. I've often seen a leopard lazing on a thick branch of one of the sausage trees that dominate the riverine forest. If you don't have any luck here, there are other places to look too. The open savannah is dotted with lone acacias, and some of these are well-known leopard trees. This might be because the individual tree is particularly suitable to haul up prey or as a vantage point to check out the surrounding areas. More likely, leopards, just like us, are creatures of habit with favorite hang-out spots.
5. Sabi Sand Game Reserve – South Africa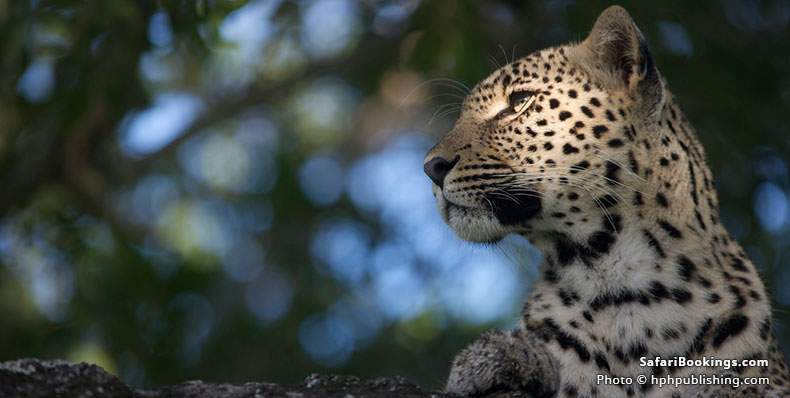 Leopard in a tree
Sabi Sand GR is known as one of the best, if not the best place in to see leopards in Africa. It has open borders with the world-renowned Kruger National Park, which adds authenticity to the wildlife viewing (something often lacking in fully fenced private reserves). Kruger NP itself isn't a bad place to see leopards, but for near-guaranteed close-up encounters of this powerful big cat you need to stay in Sabi Sands. The reserve is, in fact, a mosaic of smaller properties including some of Africa's top lodges, such as Singita, Londolozi and Sabi Sabi. Safari packages to these lodges are usually inclusive of gourmet food, outstanding service and all wildlife-viewing activities in prime Big Five territory.
6. Mashatu Game Reserve – Botswana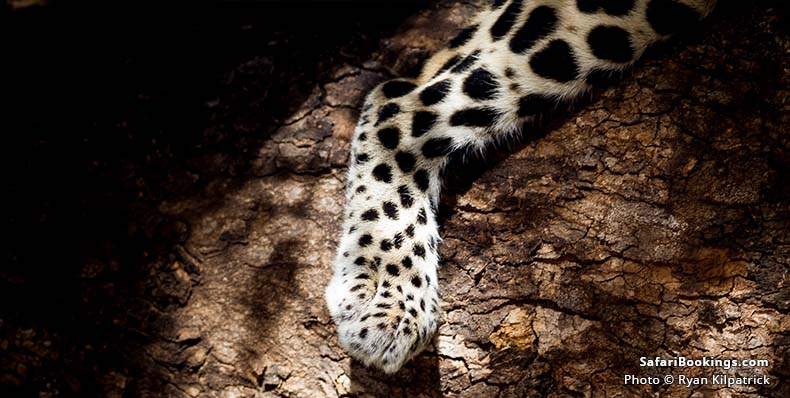 flickr.com/photos/rkilpatrick21/16887827768
Although less well known than the other parks and reserves on this list, Mashatu GR is one of my favorite places to photograph leopards. The arid rocky landscapes form a perfect backdrop for quality sightings of this stealthy big cat. Most of the leopards inhabit the riverine vegetation of Mashatu's seven waterways. They use the dry riverbeds for hunting and the soft sand shows their distinctive paw prints perfectly. Most game drives incorporate some exciting tracking of leopards along these natural animal corridors. And while this can sometimes feel like looking for a needle in a haystack, the success rate is impressively high.