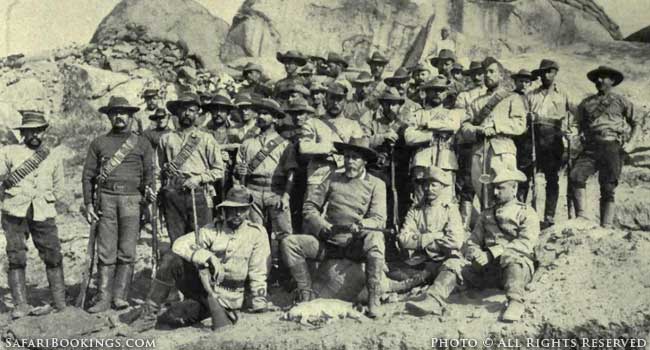 Frederick Courteney Selous
The most famous of the 19th-century 'great white hunters', Frederick Courteney Selous helped make safari fashionable and lay the foundation stones of African conservation. Melissa Shales looks at his life.
It's hard reading A Hunter's Wanderings in Africa, Selous' account of his first few years learning his craft as a professional ivory hunter. Of all the many Europeans roaming Africa in the late 19th century, Frederick Courteney Selous was probably the one who, other than Livingstone himself, most captured the imagination of the public of the day. He is the prototypical 'great white hunter', the charismatic gentleman adventurer with piercing blue eyes and a trademark grey slouch hat, almost certainly the inspiration behind Rider Haggard's fictional Allan Quatermaine (and beyond that a score of other romanticised heroes through to Indiana Jones).
A Man of His Times
Today, we might shrink from the seemingly endless parade of blood and gore in his books, the relish with which he describes the death of scores of elephants and rhinos, the wholesale massacre of Africa's giants in search of ivory and horn and the constant description of the various African people as Kafirs. These are all anathema to (most) modern sensibilities. It seems impossible to equate the slaughter with a man who's given his name to one of Africa's largest game reserves. And he was one of the fathers of wildlife conservation.
Yet the Victorian public lapped up the courage, the otherness, and, of course, the ivory! They turned him into a superstar. Even so, it is not for his derring-do or his ability to shoot that he should be remembered.  There was far more to this complex man than his ability to kill animals. To understand Selous and the profound impact he had on Africa and on the history of safari, you really do have to step back in time and place him in the context of a very different world.
His Early Life
Born on December 31,1851 in London, Frederick Courteney Selous was the son of wealthy and highly educated parents. His father was Chairman of the London Stock Exchange, his mother a published poet. Yet from an early age, young Frederick became hooked on the adventures of explorers such as David Livingstone and fixated on the idea of heading out to Africa to become a hunter.
By 1872, he was there, standing in front of Ndebele King Lobengula, negotiating a concession to hunt elephant. The king roared with laughter at the stripling but the decision to let Selous roam his land freely was fateful. The king was soon proved wrong. Selous rapidly transformed himself into one of the toughest, most successful European hunters ever to set foot on African soil. He also came to know the Ndebele country intimately. That knowledge later became a game-changer when he was hired by Cecil Rhodes to lead the pioneer column north. The year was 1890. To colonise what was to become Rhodesia. And that lead directly to the end of Lobengula's reign and, ultimately, his life.
A Useful Guide
Throughout his life, Selous' mix of knowledge, skills and charm proved to be his ticket to fame and fortune. Throughout the late 19th and early 20th centuries, European settlers were flocking out to Africa. The continent became a frenzy of development. Competent people familiar with the area and local languages, could organise expeditions and act as guides were at a premium. A confirmed believer in the colonial dream, Selous threw in his lot with Cecil Rhodes. Rhodes continued to use him as a guide on engineering works, scouting routes for roads and railways. He also acted as a scout for troops, fighting alongside Robert Baden-Powell, during the so-called Matabele Rebellions. And the infamous Jameson Raid.
He later became one of the first wave of professional hunt guides. He took rich wannabes on safari across East Africa to bag themselves a lion or elephant. He created the safari industry as we know it today. Although he didn't organise Teddy Roosevelt's grand safari (1908-1910) he travelled and hunted with the President. And with many other moneyed luminaries.
A Man of Science
As early as 1881, Selous noticed that the number of large tuskers available was thinning out writing: "Every year elephants were becoming scarcer and wilder south of the Zambezi, so that it had become impossible to make a living by hunting at all." Soon afterward he began to talk of conserving game to ensure that species did not die out completely.
He kept meticulous journals. And he recorded new species, tracking his journeys and explorations and reporting back in books, lectures and articles. He donated over 5,000 plants and animals to the Natural History section of the British Museum. A bust of him still stands in the entrance of London's Natural History Museum in Kensington, opened in 1881. In 1893, he was awarded the Royal Geographical Society's Founder's Medal for his 20 years work on surveys. And in 1902 he was elected an Associate Member of President Roosevelt's Boone and Crockett Club, dedicated to conservation.
An Old Soldier
At the outbreak of World War I, Selous rejoined the army, at the grand old age of 64, earning promotion to Captain in the 25th (Frontiersmen) Battalion, Royal Fusiliers and being awarded the DSO the following year. On 4 January 1917,  he was shot in the head by a German sniper. This occurred during an engagement at Behobeho on the Rufiji River. He died instantly. His grave, under a tamarind tree near where he died, is marked by a simple stone and brass plaque. It reads "CAPTAIN F.C. SELOUS D.S.O., 25TH ROYAL FUSILIERS, KILLED IN ACTION 4.1.17." It lies near Kisaki within the Selous Nature Reserve in Tanzania.
Much Married
Frederick Courteney Selous was survived, in England, by a wife, Marie, and three sons. One was killed in East Africa the following year. He had also, however, married three African women according to tribal custom. He produced at least three children with them and educating them under pseudonyms in South Africa. Although he left them considerable property in Rhodesia, this section of his will was declared null and void. And the property appropriated by the white colonial administration.
Selous' Legacy
Numerous things have been named after Frederick Courteney Selous, from streets to animals including the Selous mongoose (Paracynictis selousi) and a subspecies of the African Sitatunga antelope (Tragelaphus spekii selousi) and guns (with German gunmaker Blaser and the Italian gunmaker Perugini Visini both naming hunting rifles in his honour). The feared Rhodesian special forces (equivalent to the SAS) were known as the Selous Scouts before their disbandment in 1980.
But perhaps the most fitting legacy of all is the vast Selous Game Reserve (now known as Nyerere National Park) in Tanzania. 54,600 km2 (21,100 sq mi) of virgin bush. And a UNESCO World Heritage Site with some of the richest wildlife reserves in Africa. Much of it is still set aside for carefully controlled hunting; the rest is the province of photo safaris, a balance which would surely please the grand old man.
The final word should perhaps go to Roosevelt who wrote, on hearing of death of Frederick Courteney Selous:
"He led a singularly adventurous and fascinating life, with just the right alternations between the wilderness and civilization. He helped spread the borders of his people's land. He added much to the sum of human knowledge and interest. He closed his life exactly as such a life ought to be closed, by dying in battle for his country while rendering her valiant and effective service. Who could wish a better life or a better death, or desire to leave a more honourable heritage to his family and his nation?"
History of Safari
At SafariBookings, we've been compiling some compelling accounts of the history of Safari - about people, places and, of course, wildlife. Subscribe to our blog and you'll receive the latest information-packed articles in your Inbox - as they are posted.