Weather & Climate – Lake Bogoria NR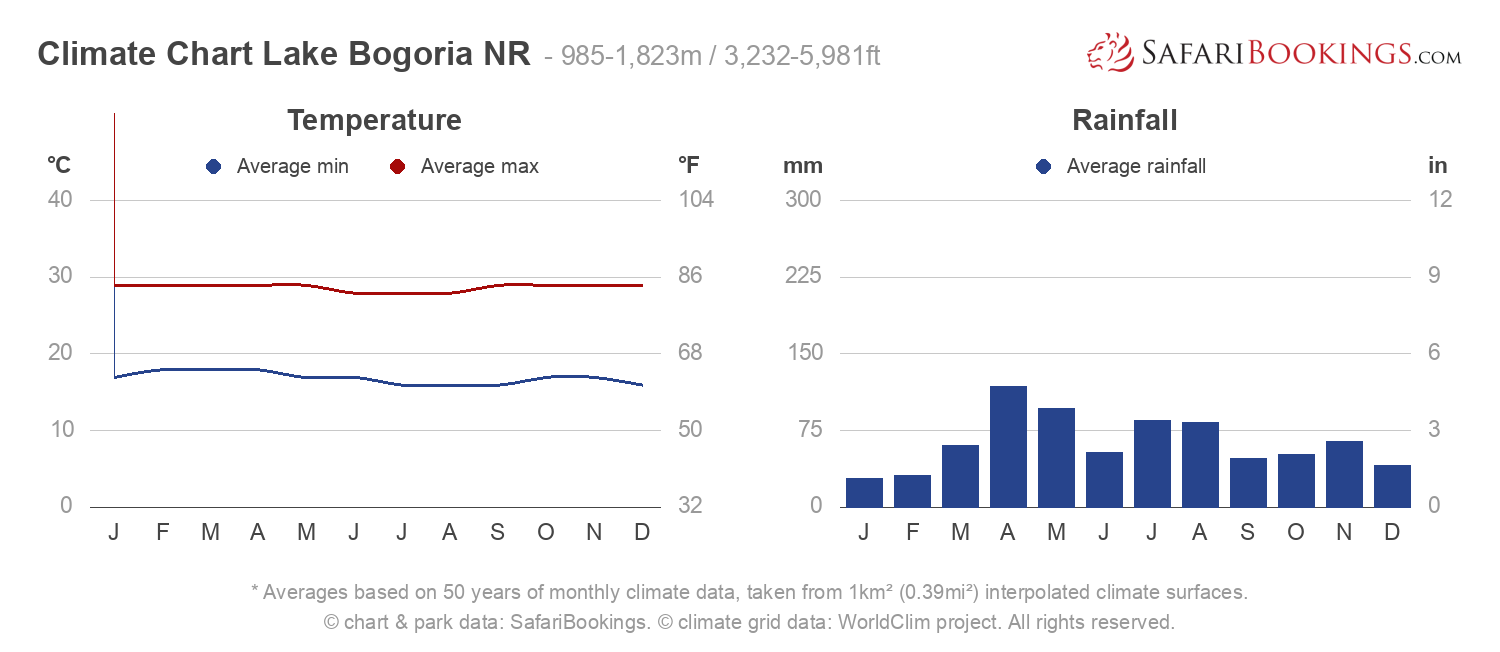 Climate Chart Lake Bogoria National Reserve
– 985-1,823m / 3,232-5,981ft
* Averages based on 50 years of monthly climate data, taken from 1km² (0.39mi²) interpolated climate surfaces.
© chart & park data: SafariBookings. © climate grid data: WorldClim project. All rights reserved.
Being close to the equator, temperatures are quite uniform throughout the year at Lake Bogoria. Daytime temperatures are in the upper twenties, while it cools off considerably at night. Although there is a big altitude variation within the park, visitors are restricted to the road along the lake at the lower altitudes. Along the lakeshore, temperatures are higher than on the top of the escarpment. The area isn't very wet, but there is some rain throughout the year.
Dry season
–

September to February
The weather is very pleasant. Days are usually sunny. It is generally dry, but it can rain anytime. The 'short rains' experienced in November in most of the country aren't very pronounced here, but there is a small increase in rain over that period. January and February are very dry.
September, October, November & December – It is mostly sunny, but it does rain occasionally. Afternoons are pleasant with temperatures reaching 28°C/82°F, but evenings and early mornings are cold at around 11°C/52°F.
January & February – These are the driest and warmest months before the rains. Temperatures reach up to 30°C/86°F and higher. Early mornings stay chilly with temperatures around 11°C/52°F.
Wet season
–

March to August
It seldom rains all day in the Wet season. Afternoon showers can be expected on some days. The heat, which has been building since the end of the Dry season finally breaks when it rains, and then it builds again until the next shower. Afternoon temperatures are around 28°C/82°F. April is the wettest month.
March – The rain might start in March or April. March seldom sees a lot of rain though. Afternoon temperatures are around 30°C/86°F.
April & May – These are the wettest months, but it seldom rains all day on continuous days.
June, July & August – June is drier, but the rain picks up again in July and August. July is the coolest month with afternoon temperatures reaching 26°C/79°F.
Want to Visit Lake Bogoria NR?
Lake Bogoria National Reserve
Lake Bogoria NR Photos
View Photos
(25)