​Weather & Climate – Botswana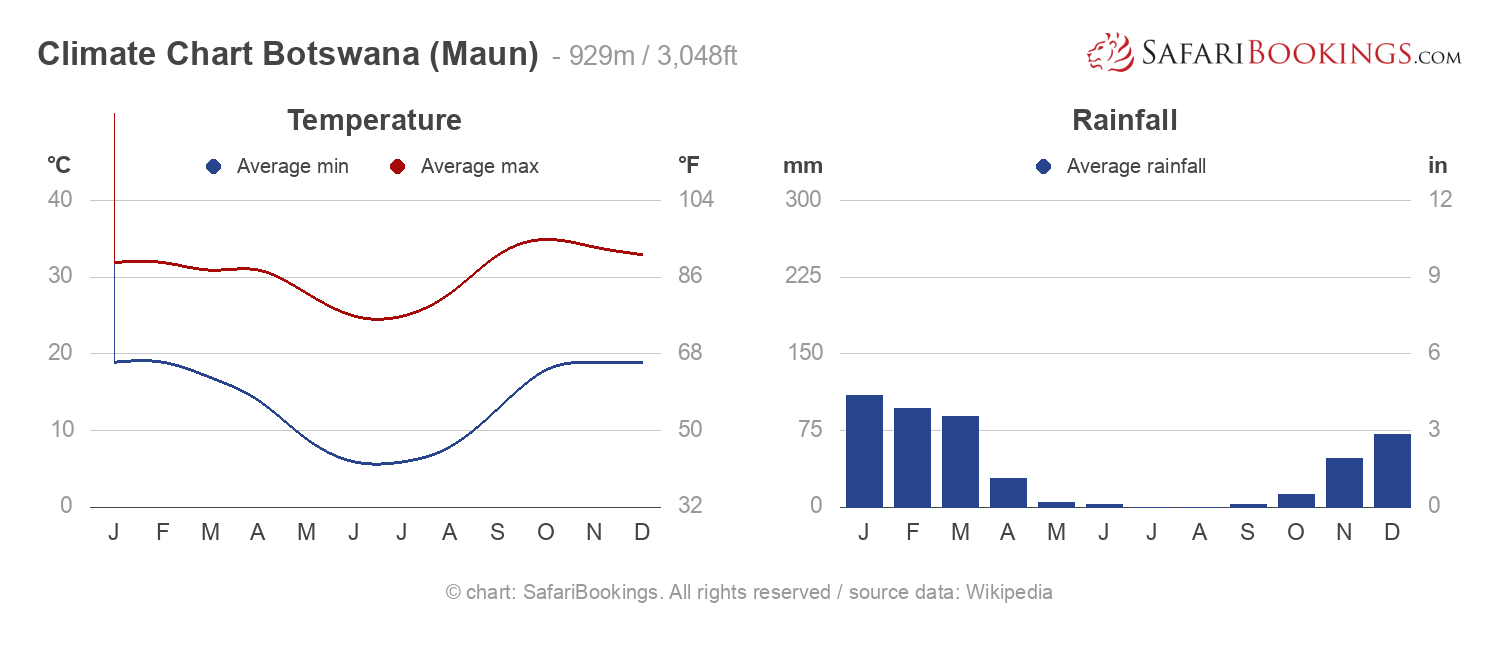 Climate Chart Maun
– 929m / 3,048ft
Botswana has a subtropical desert climate characterized by great differences in day and night temperatures, and low humidity overall. It receives virtually no rainfall for six months of the year, with the wettest months being December to March. Winter and summer is at opposite times of the year to Europe and North America, and they correspond to the Dry and Wet season respectively.
Maun's Climate Compared to Botswana's Parks
The climate of Botswana's northern parks is similar to Maun, but in the Okavango temperatures are slightly more moderate due to the abundance of water. Parks located in the drier Kalahari environment will be more extreme – hotter during the day and colder or freezing at night. The south and west experiences slightly less rainfall.
Dry Season

–

May to October – Winter
There is little to no rain during the entire winter and humidity is low, typically 20% to 40%. Animals will concentrate around waterholes and rivers when other water sources dry up.
May – The temperatures are relatively cool, typically 10°C/50°F in the morning and 28°C/82°F in the afternoon.
June, July & August – Be sure to pack winter clothing because morning game drives will be cold. The average morning temperature is 6°C/43°F. Night temperatures can drop below freezing, especially in the dryer Kalahari areas. Afternoons will be more pleasant, with temperatures around 25°C/77°F.
September & October – The heat gradually builds, and it can get very hot in October (38°C/100°F), but the average temperature remains around 34°C/93°F in the afternoon.
Wet Season

–

November to April – Summer
November & December – Clouds start to appear, bringing cooler temperatures and an occasional late afternoon shower. This pattern of change continues in December, with typical temperatures between 20°C/68°F in the morning and 33°C/91°F in the afternoon.
January & February – These are the wettest months, characterized by torrential downpours in the afternoon, and sometimes continuous rainfall for days. Daytime temperatures are around 32°C/90°F, and the humidity is between 50% and 80%.
March & April – Rainfall decreases and it steadily cools. This trend continues through April, which has lovely, clear weather and few clouds. The nights tend to be cooler, but the days are very temperate at 30°C/86°F.
Want To Visit Botswana?