​Best Time To Visit – Eswatini (Swaziland)
Jan
Feb
Mar
Apr
May
Jun
Jul
Aug
Sep
Oct
Nov
Dec
The main parks of Eswatini (formerly Swaziland) offer wildlife viewing throughout the year. In Hlane and Mkhaya some animals are kept in large drive-through enclosures, making them easy to find. Traditionally, the best wildlife viewing is during the dry winter months, from May to September. While this isn't so important in Eswatini, you might still want to consider this if you are visiting other parks in South Africa.
Best Time
May to September

(Dry season)
High Season
December to January and July to August

(It never gets very busy)
Low Season
April to mid-June and September to November

(Low-season rates may apply)
Best Weather
April to May and September to October

(Mild weather and little rain)
Worst Weather
June to August

(Chilly mornings and nights)

and December to February

(Hot and humid)
May to September
–

Dry Season – Winter
Wildlife viewing at its best as animals gather around water, and vegetation thins out
Blue, blue skies and no rain
Mild daytime temperatures and low humidity
Very dry and dusty
Early morning game drives in open vehicles are cold; warm clothing is required
Wildlife Photos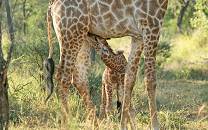 View Photos
(25)
October to April
–

Wet Season – Summer
The scenery is green and fresh
Wildlife viewing is still good
There are many baby animals
Birding is excellent with migratory birds present
Wildlife viewing is not as good as during the Dry season
It is hot and humid in the middle of the day
Best Time To Go by Major Park
Most parks can be visited throughout the year, but wildlife viewing is best during the Dry season when animals are easier to spot. Malolotja is more a hiking destination than a place to see wildlife. Here, the balance lies between beautiful scenery and hot, wet weather during the summer months, or cold nights but pleasant daytime temperatures during the winter months. Perhaps the best time in Malolotja is during spring and autumn, around April, May, September and October. These are also lovely months in the wildlife reserves.
Want To Visit Eswatini?