​Weather & Climate – Eswatini (Swaziland)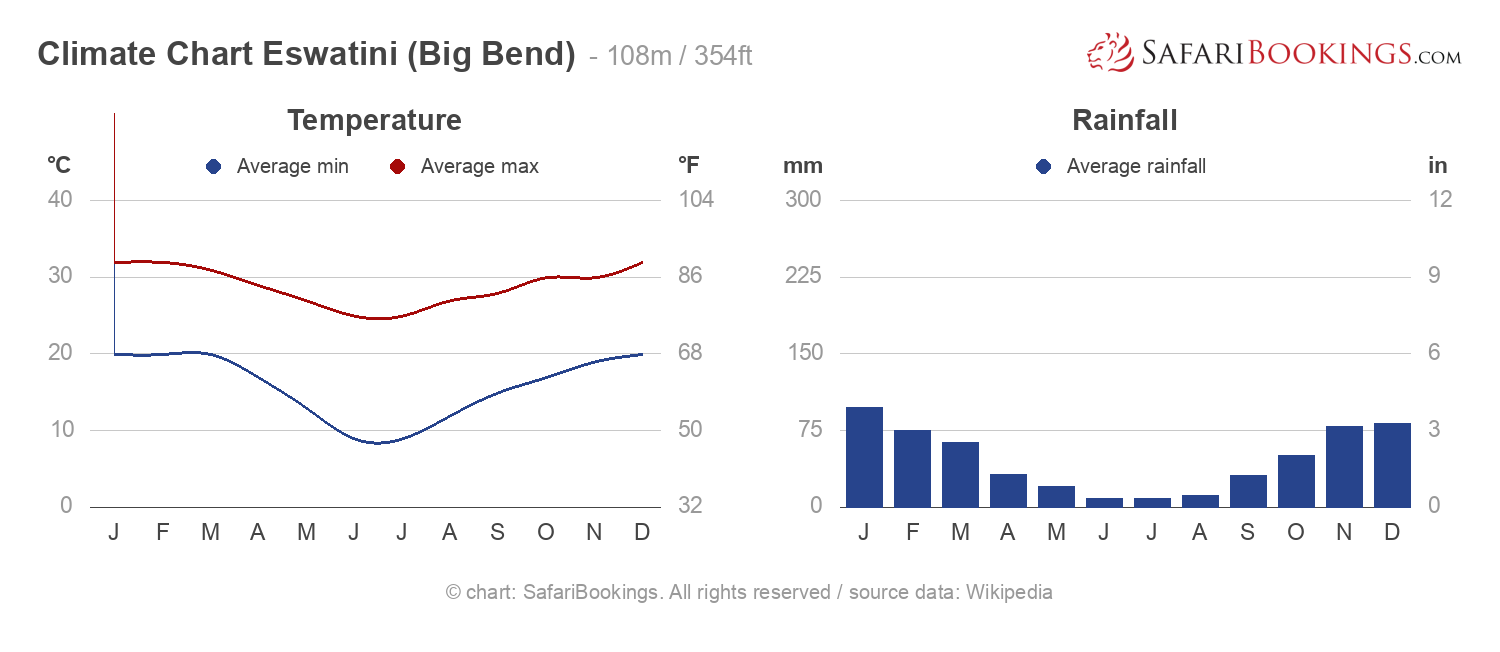 Climate Chart Big Bend
– 108m / 354ft
Eswatini (formerly Swaziland) has a lovely, warm climate with plenty of sunny, dry days. The east of the country, where most of the parks are located, is at low altitude; summers are hot and winters are mild. The west of the country is at higher altitude; it is cooler here and there is more rain.

Eswatini experiences winter and summer at opposite times as compared to Europe and North America. Winter and summer correspond to the Dry and Wet seasons respectively.
Big Bend's Climate Compared to Eswatini's Parks
Big Bend is located in the Lowveld area of Eswatini near, and on the same altitude, as the main Lowveld parks in the country – namely Hlane and Mkhaya. Mlilwane Wildlife Sanctuary has a slightly higher altitude and is therefore a little cooler. It also receives more rain. Malolotja is located in the highlands and gets quite cold in the winter months, from May to September.
Dry Season

–

May to September – Winter
There is virtually no rainfall during the whole winter and humidity is very low. When water becomes scarce, wildlife will gather around predictable water sources.
May – This month brings the end of summer. Temperatures are relatively cool, typically 13°C/55°F in the morning and 27°C/81°F in the afternoon.
June, July & August – Morning game drives in open vehicles will be cold, so it's advisable to pack warm winter clothing. The average morning temperature is 10°C/50°F. Afternoons will be pleasant, with temperatures around 25°C/77°F.
September – The heat gradually builds to about 28°C/82°F in the afternoon, and the first rains bring relief from very dry conditions. At around 15°C/59°F, mornings are pleasant as well.
Wet Season

–

October to April – Summer
The summer rains are usually in the form of afternoon storms and it can be uncomfortably hot, with temperatures up to 32°C/90°F with high humidity.
October & November – It gets warmer and starts to rain more often, mostly in the afternoon. Temperatures range between 18°C/64°F in the morning and 30°C/86°F in the afternoon.
December, January & February – These are the wettest months, characterized by torrential downpours in the afternoon. Temperatures in the afternoon are around 32°C/90°F, and the humidity is high.
March & April – Rainfall decreases, and it slowly gets colder. This continues in April, which has lovely clear weather and few clouds. The nights get a bit colder but are still pleasant at about 17°C/63°F. Daytime temperatures are around 29°C/84°F, and the humidity drops in April.
Want To Visit Eswatini?