​Weather & Climate – Madagascar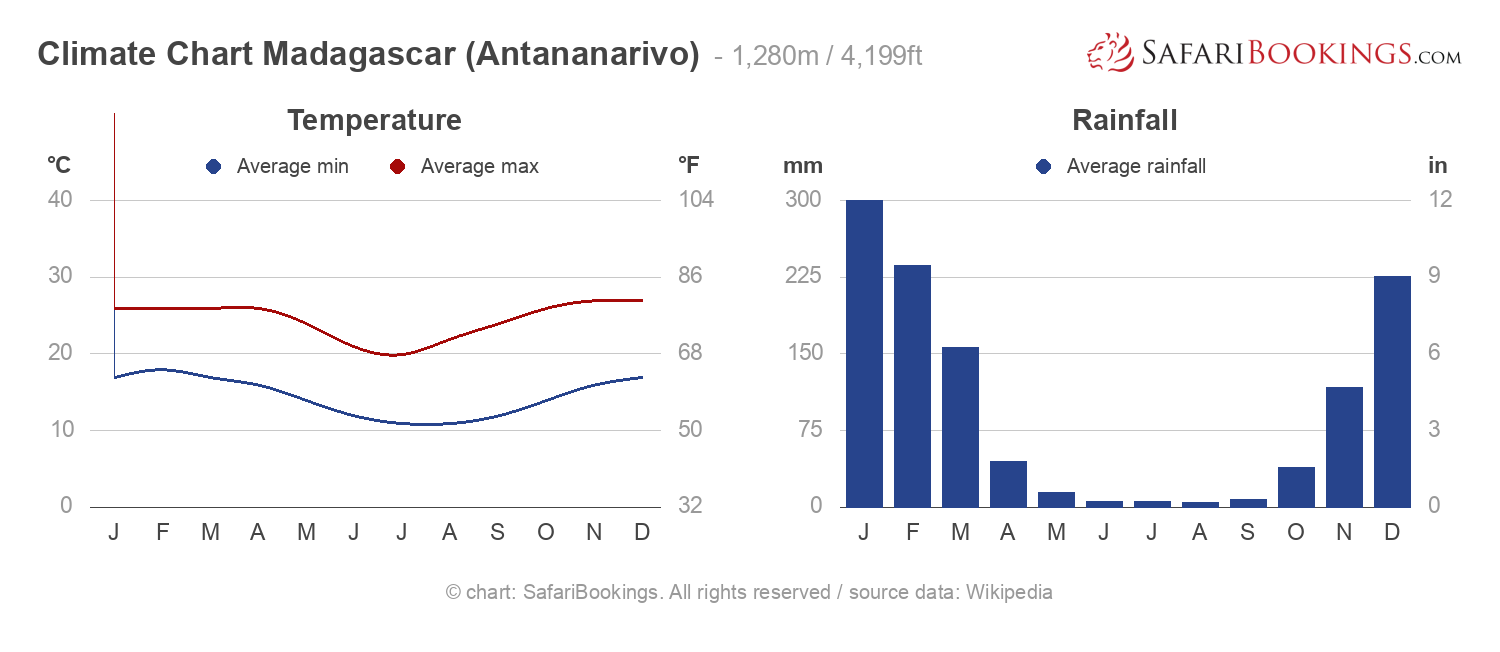 Climate Chart Antananarivo
– 1,280m / 4,199ft
Madagascar has a tropical climate. Winter and summer are at opposite times as compared to Europe and North America. November to April is the hot, Wet season; and May to October is the mild, Dry season. There are however wide regional variations. The highlands of the interior are cooler and less humid than the coastal areas. Rainfall is high in the east and very low in the southwest.
Antananarivo's climate compared to Madagascar's beaches & parks
Antananarivo is located in the central highlands of Madagascar. Andasibe-Mantadia (comprising Analamazaotra NP and Mantadia NP) and Ranomafana NP, some of the country's most popular parks, have a similar climate. The eastern part of Madagascar, which includes Masoala NP, Palmarium Reserve and Nosy Mangabe SR, experiences more rainfall and can be affected by seasonal cyclones. The west of the country is overall drier and sees a more pronounced Wet and Dry season. Parks in this region include Ankarafantsika and Bemaraha NP, Ankarana SR and Kirindy Forest. The driest and hottest of all is the southwest of the island, which includes Berenty PR, Ifotaka Forest, Tsimanampetsotsa NP and Cap Sainte Marie SR. Madagascar's most popular beach destination, Nosy Be, has a hot, tropical climate year-round with regular downpours from December to March.
Dry season

–

May to October

–

Winter
It is cool and the humidity is low. Rain is very sporadic. July is the coolest month with an average high of 21°C/69°F, and an average low of 10°C/50°F.
May – This is a shoulder month. Rainfall dwindles. Afternoons are temperate with temperatures reaching 24°C/75°F, but evenings and early mornings are cooler with temperatures of around 13°C/55°F.
June, July, August & September – It cools down to temperatures of 22°C/72°F in the daytime during July and nights are cold at 11°C/52°F. It doesn't rain very often.
October – It starts to warm up slightly to an average daytime temperature of 26°C/79°F. Nights are less chilly at 14°C/57°F. Rain increases at some point in the month.
Wet season

–

November to April

–

Summer
The Wet season months are humid and warm, but because of the altitude, it never gets really hot in the interior. It rains a lot and waterproof clothing is essential. Daytime temperatures average 27°C/81°F.
November – This is the beginning of the rainy season so don't forget your waterproofs. It warms up a little and daytime temperatures reach 27°C/81°F.
December, January, February – In December the rainy season really kicks in and most days see heavy downpours. It is warm and very humid.
March & April – Rain decreases over this period, although March can still be very wet. Temperatures start to drop in April. In the daytime it gets to around 26°C/79°F and at night temperatures hover around 15°C/59°F.
Want To Visit Madagascar?