Weather & Climate – Marakele NP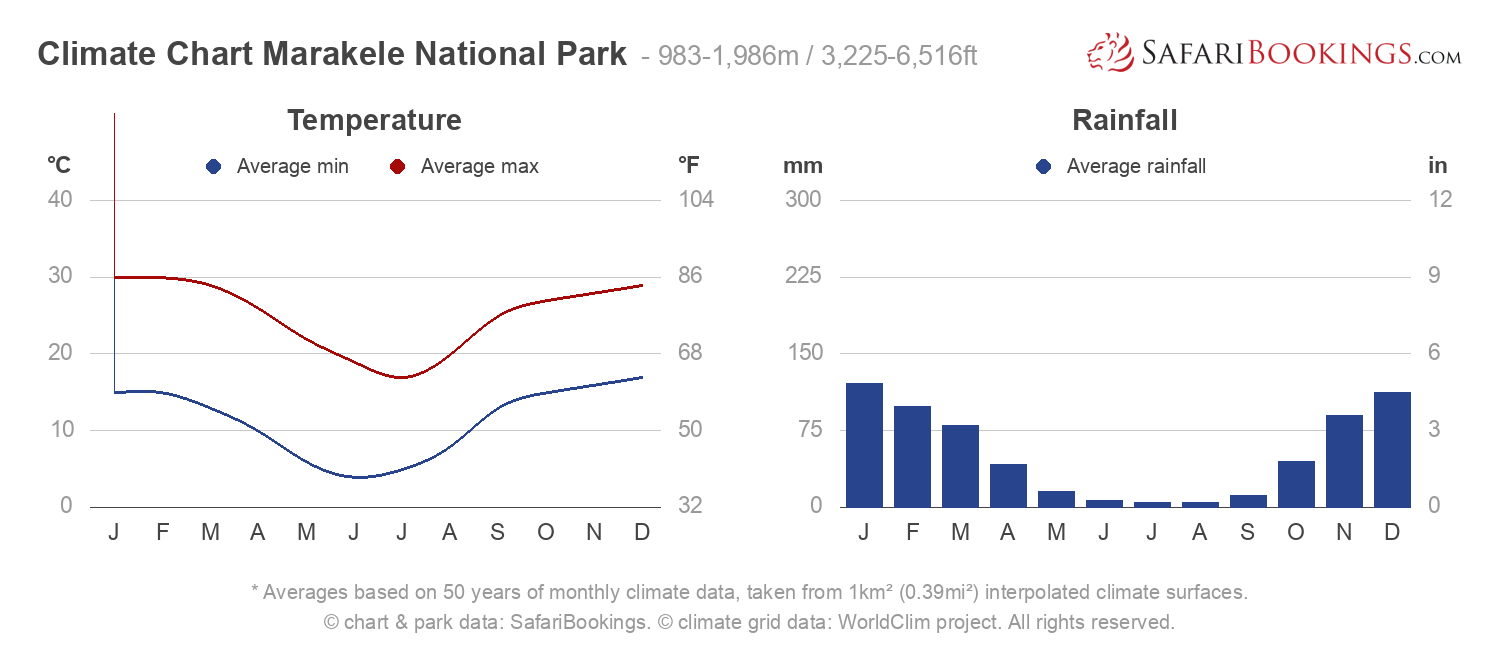 Climate Chart Marakele National Park
– 983-1,986m / 3,225-6,516ft
* Averages based on 50 years of monthly climate data, taken from 1km² (0.39mi²) interpolated climate surfaces.
© chart & park data: SafariBookings. © climate grid data: WorldClim project. All rights reserved.
The wet summer months (October to April) are hot. Dry winters (May to September) are moderate during the day, but cold at night and in the morning, making the packing of warm clothing essential.

Altitudes within the park vary (983-1,986m/3,225-6,516ft), and the climate follows suit accordingly. Even though the upper reaches are inaccessible mountain peaks, temperatures range widely within the park – the temperature lowers approximately 6.5°C per every 1,000m (or 3.5°F per 1,000ft) you ascend.
Dry season
–

May to September – Winter
Rainfall is scarce throughout the winter season and, therefore, humidity is almost non-existent. As a result, water sources dry up and become few, so animals tend to seek out and stay close to those that they do find. Greenery also shrivels, providing optimal conditions for viewing wildlife.
May – Typical temperatures range from 7°C/45°F in the morning to 24°C/75°F in the afternoon during this transitional month, signaling the end of the summer season.
June, July & August – Those warm clothes that you packed come in handy for early morning activities during this time of year, with average temperatures of 5°C/41°F in the early morning. Afternoons are more pleasant and sunny, at about 23°C/73°F.
September – Mornings and afternoons are lovely with a daily average temperature range of 12°C/54°F to 28°C/82°F.
Wet season
–

October to April – Summer
Although the heat and humidity can get fairly stifling during the summer, it isn't as uncomfortable as it can be at the coast. With average temperatures of 29°C/84°F, afternoon rains are welcomed as they break the heat of the day. Drizzle can sometimes occur throughout the whole day.
October & November – Afternoon rains become more and more frequent, greatly diminishing the hazy, dusty air. Temperatures range from 16°C/61°F in the morning to a typical 30°C/86°F in the afternoon.
December, January & February – Expect daytime temperatures of around 30°C/86°F. Most of the year's rain occurs during this period with torrential downpours being typical.
March & April – March sees a significant decrease in rainfall which continues into April, a time of lovely, clear weather. The nights get cooler but remain pleasant at about 14°C/57°F, as are daytime temperatures of 28°C/82°F.
Want to Visit Marakele NP?
Marakele National Park
Marakele NP Photos
View Photos
(19)